Sales Assistant CV: How to Write & Examples | ResumePerk
Sales Assistant CV: How to Write & Examples
Sales assistant job is a perfect starting position if you wish to build a career in retail. This job involves consulting customers, managing merchandise and inventory, resolving complaints and informing about special offers. According to the Bureau of Labor Statistics, about 594,400 openings in retail sales are expected each year.
The pathway to a career in sales starts with a persuasive resume that articulates your strengths as an employee and a customer service focus. In this post, we will guide you through the process of writing a retail sales resume that brings interviews.
Note: You can use the tips below if you would like to apply for a Sales Assistant, Sales Managers, Cashier, Customer Service Rep, or Store Manager position. To receive personalized tips for improving your resume, send it to us for a free review. We will send you actionable tips – strengthen your resume immediately and get results! Get your sales assistant cv examples for a shop assistant or ask for a professional shop assistant resume today!.
What is the best resume format for a sales associate position?
Start organizing your resume by choosing a format that works best for your career situation and skills. There are three resume types. The most popular one is chronological. It works best for experienced applicants with steady or progressive experience with multiple employers. In this case scenario, you list all jobs in reverse chronological order, starting with your most recent position.
A functional format is suitable for students, entry-level professionals or those changing careers with no relevant experience. It emphasizes education and your core competencies, presenting skills and achievements in a separate section. Work history goes after skills and education, and is very brief. You need to use this resume format only in the situation when there's no relevant experience to write about.
If we combine the first two types, we will receive a combination resume. It presents a detailed work history and a list of relevant skills and accomplishments. It is effective, provided that information is not duplicated in the Skills and Experience sections.
Most employers prefer chronological resumes, but you can use the other types as well if they are better suited for your career situation.
Writing a Summary of Qualifications in a sales associate resume
A Career Summary section is meant to serve as your elevator pitch and catch the recruiter's attention. Here, you need to write something that distinguishes you from the competition.
You can list key achievements, highly relevant experience, skills or measurable results of work. Exceeding KPIs, customer service excellence and dedication matters more than lengthy job descriptions. If you retained customers, exceeded sales goals, cut costs or improved the efficiency of the store, mention some of your top accomplishments in this section to draw attention.
In this section you can also mention your personality traits and attributes, such as relationship building, communication skills, and stress resistance. Yet, avoid simply listing these traits – speak through examples instead. Avoid mentioning any personal information in this section.
Make your Summary section concise – 3-4 sentences or bullets are enough to briefly introduce your experience to the employer and encourage them to read the rest.
Here's a good cv template for sales assistant of a career summary:
Organized Sales Associate with 2+ years of experience in retail environments. Experienced with providing excellent customer service, maintaining the inventory, handling cash and resolving customer complaints. Achieved a 20% increase in sales by using effective upselling and product display techniques.
Listing work experience in your retail CV
If you have had many jobs, you needn't include all of them in a resume. As a rule, listing 4-5 most recent positions will suffice to let the employer evaluate your qualifications and potential. In addition to company names, job titles and dates, it is helpful to indicate the industry and the company size. This will help to access your performance precisely.
As a rule, the responsibilities of a sales associate entail customer service, active listening to help clients choose products, managing the inventory, operating a cash register, displaying the products, informing about discounts, and more. You needn't list all of your daily responsibilities – focus on those most relevant to your target job.
Avoid copying and pasting job descriptions from the internet, as such a resume isn't likely to get you an interview.
In addition to responsibilities, list your accomplishments with figures. The employers will prefer hiring someone with a track record in exceeding sales targets, boosting customer satisfaction and managing the store efficiently.
If you have no sales experience yet, list other work experience, even if irrelevant. Focus on customer service skills, ability to build relationships, manage complaints, oversee the stock and other competencies related to retail. Emphasize your willingness to learn and build a career in retail sales.
Education in the sales assistant resume
Sales assistants and associates needn't have a college degree to get hired – a high school diploma will suffice. If you are a college student or graduate, include the college name, degree, and graduation date in resume. In this case, listing a high school is not necessary.
If you attended courses or additional training, list them as well as specialized training can give you a competitive advantage over other applicants. Make sure that the courses you list are relevant to your target position in retail.
Skills and key competencies for a sales resume
Hard and soft skills often serve as a decisive factor for hiring a sales associate. Employers prefer hiring someone who knows the product well, is proactive, looks confident and can build rapport with potential clients, and upsell if necessary.
When applying for a position, make sure to list specific skills required for it. Use the skill names from the job posting to show that you meet the required qualifications. Moreover, if you use the exact skill names, it will help you pass the ATS as skills and competencies often work as keywords. Thus, you'll have a good chance that your resume will be shortlisted.
Here are the examples of skills that your resume will benefit from:
Product knowledge
Customer service
Handling objections
Active listening
Consultative sales
Conflict resolution
POS systems
Interpersonal skills
Negotiation and persuasion
MS Office
Cash handling
Inventory management
It is best to format your skills and competencies as a bulleted list and put it under the Summary section so that the employer could review it instantly. If you have plenty of skills, you can break them down by categories, i.e. computer proficiency, languages, soft skills, etc.
Personal qualities also matter for choosing an applicant for the role. The ability to learn quickly, attention to detail, positive attitude, time management and dedication are highly important. Yet, it is best to show these traits through specific examples of how you used them in the workplace.
Additional sections for a sales assistant CV
If you have other things to tell about besides studying and work, feel free to add more sections. For example, if you were a volunteer and interacted with customers and visitors at some event, you can add a Volunteer work section and describe such an experience in detail.
Other resume sections you may add include: Community work, Publications, Awards, Certifications and training, Projects and Hobbies. But be careful – when describing projects and interests, focus on those relevant to your target career.
5 expert tips to make your CV more efficient
Keep the resume to 1-2 pages
Hiring managers prefer concise resumes that take up to 2 pages, and may not read long ones. Entry-level customer service professionals can keep the resume to one page, and experienced professionals can use the second page. If your resume takes more than two pages, consider removing irrelevant jobs or positions you had over 10 years ago.
Use strong action verbs
The use of strong words on a resume emphasizes your responsibility and input. Words like Responsible for and Managed are overused, moreover, they show that you simply did what you were assigned to do and did not take initiative. On the flip side, action verbs like Initiated, Completed, Improved or Organized show your proactive position and motivation.
Emphasize the accomplishments
If you drove measurable results, won an award or received another form of recognition, make sure this information is visible on your resume. You may create a separate section for achievements or to include them in your Summary of qualifications section so the recruiter could see them immediately. Add figures and percentages that prove your impact, if possible.
Tailor it for each job posting
Today, 99% of Fortune 500 companies and lots of smaller ones use ATS systems that automate the selection of candidates. To be considered for the job, you need to meet the requirements from the job posting. Thus, you need to customize the resume for each job, using keywords and adapting your experience for the demands of each company.
Proofread before sending
Recruiters don't like grammar and spelling mistakes. Run your resume through the online spell checker and then proofread it manually to fix all types of mistakes. Make sure that every sentence makes sense, the language sounds professional in every line and the punctuation is consistent. A spotless resume immediately makes a good first impression.
Sales assistant CV examples
Now that you have learned the basic rules of writing a strong resume, take a look at some good examples:
Example 1: Sales assistant resume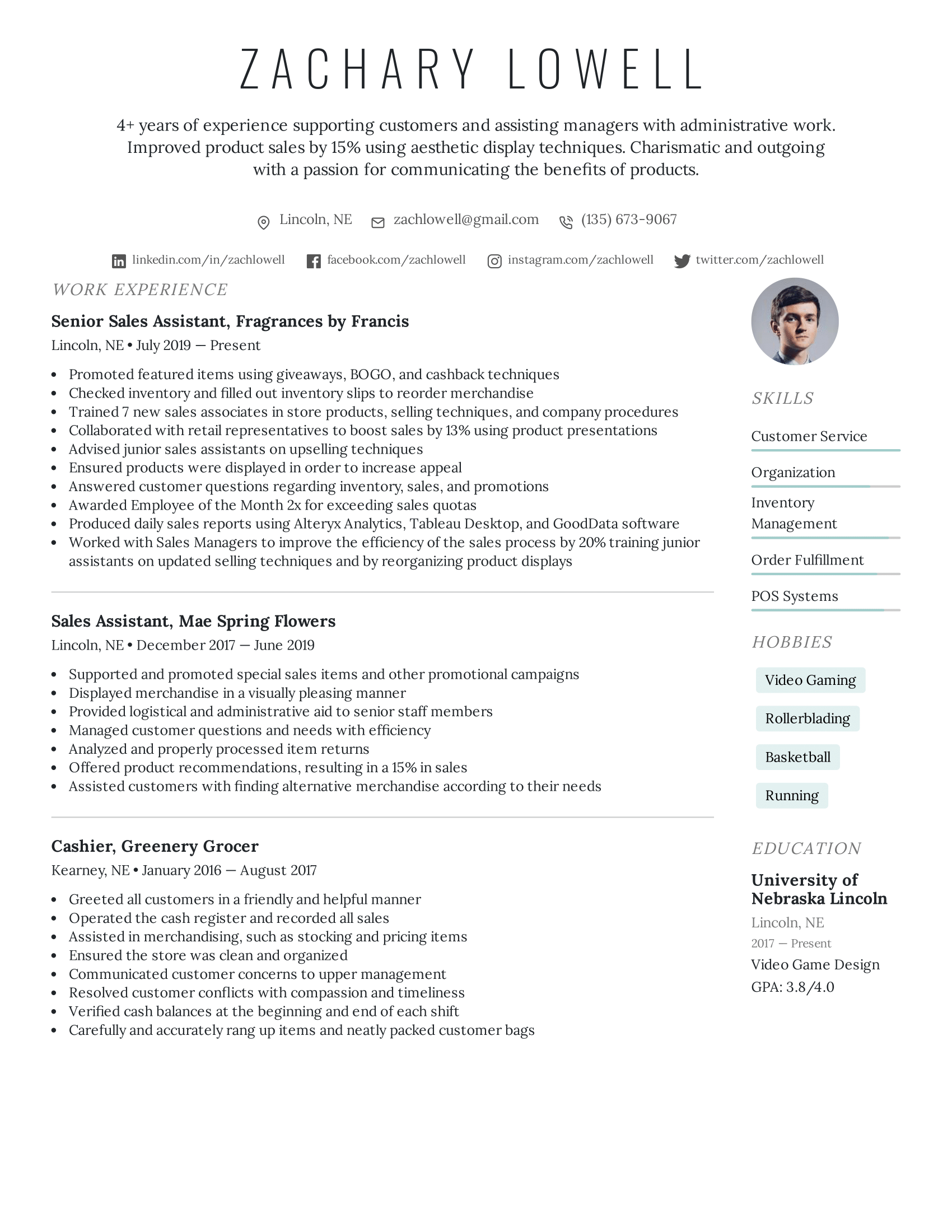 This Sales Assistant with 4 years of experience uses a chronological resume and presents a detailed work history that fits into one page. Here's why it is a good resume:
The resume starts with a short summary that shows accomplishments right up front, as well as areas of expertise;
This candidate lists skills and social media links for more information;
Professional experience is described effectively and presents the important facts for a sales professional, such as promoting featured items, training sales associates, filling out the inventory, and preparing reports;
The candidate also presents accomplishments (such as boosting sales and Employee of the Month award).
Example 2: Sales associate resume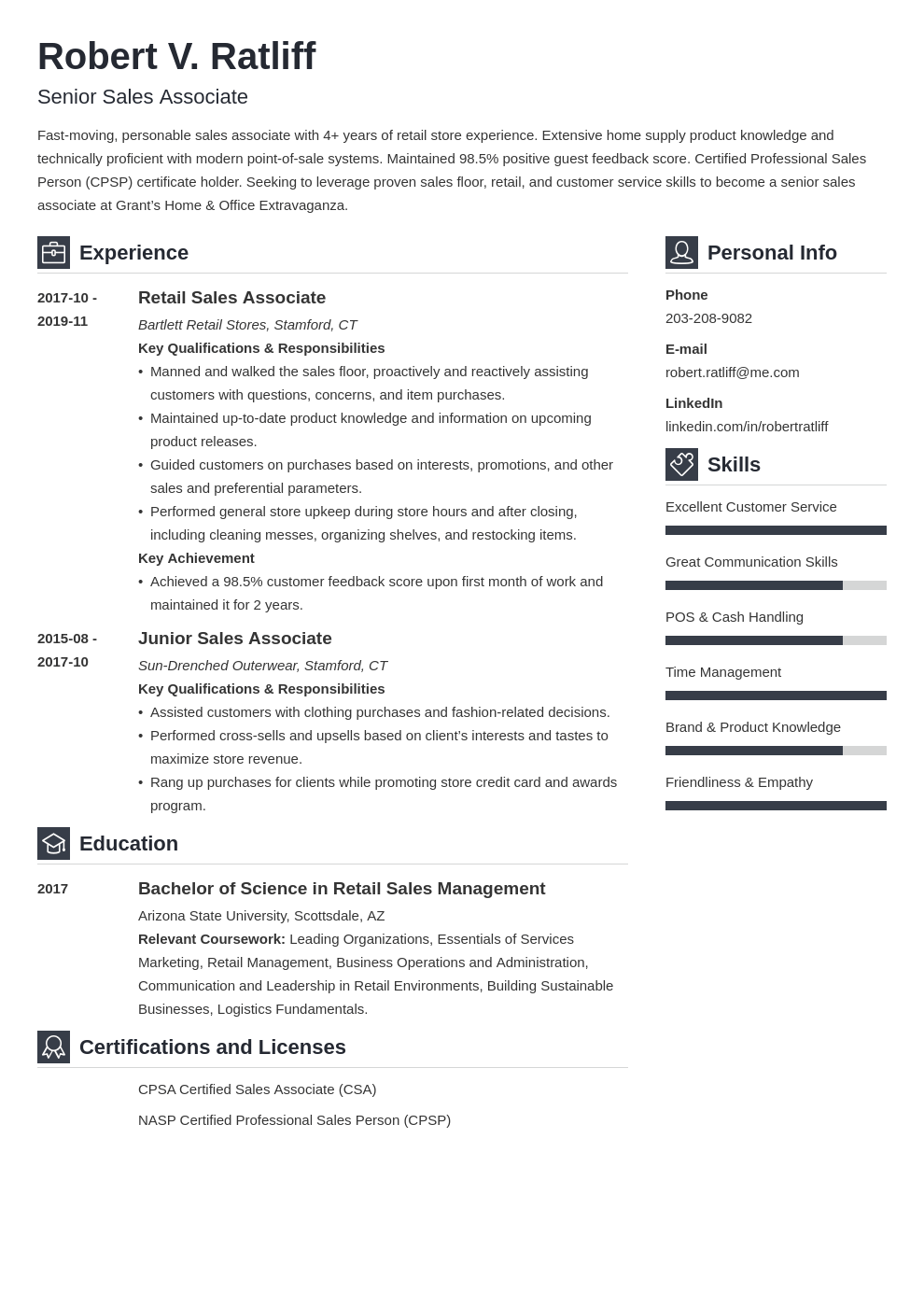 This resume is designed in black and white and the candidate is looking for a Senior Associate position. It is well-structure with all the needed information in place. Why is it a good resume?
The summary explains the candidate's career goals, as well as lists the accomplishment and a Certified Professional Sales Person certification;
Job descriptions have under 5 bullet each, yet the candidate manages to present the main responsibilities and strengths;
This resume lists skills and certifications.
Retail sales professionals are constantly in demand, and you can significantly increase your chances for a job by giving your resume a quality update. Follow the tips and examples above to strengthen your resume and make the next important step in your career!
Still have questions about writing your sales resume? Contact us for a resume review. A resume consultant will analyze the efficiency of your resume and respond to you with detailed suggestions for improvement. You'll receive personalized tips for making your resume appealing to the employer in a few business days. It is free and does not oblige you to buy something.