Pros And Cons To Make Online Resume
The Interned is flooded with websites offering you to create attractive, professionally looking resume at no cost or at a cheap fee. The optimized process and fancy designs they have to offer look so delightful that you're tempted to get started straightaway… Wait! Is it all that good? And will resume maker online really help you find a desired employment?
Before you make an online resume, it's a good idea to learn the pros and cons of using online software. Let's start with the advantages of hugely advertised modern method of resume creation.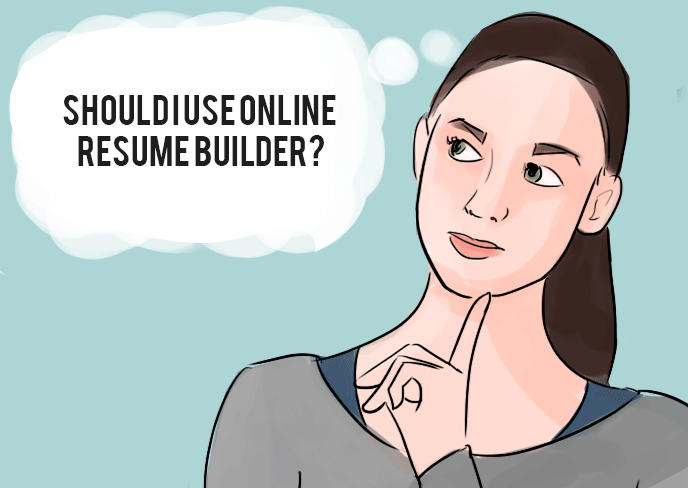 It's ok to use resume builders if:
You don't have any resume
You're a student looking for the first job or you're already working but you didn't apply with a resume… To top it off, you don't have ANY resume and barely have an idea how to compose it and which structure to use. In this case, resume software like Resume.com can help you put your thoughts together.
You need an example of how a good resume should be written
When writing is your weak point, it may be hard to list your achievements at the workplace and evoke the reader's interest. By browsing sample phrases and expressions offered by the program, you will learn how it's better to describe your own experience.
You want a bright resume to share it in social media
It's not a secret that graphic resumes are ATS-unfriendly. However, if you share a visual resume in social networks, it will evoke more interest to your professional experience than a text resume would.
You need a resume straightaway
Let's say you've occasionally spoke to a hiring manager of your dream company and he is willing to hire you, but needs to have a look at your resume the same day. If you don't have a properly written resume, you'll be really stressed. Here's when a resume builder may help – you quickly log in, write a brief overview of your experience and that's it.
The disadvantages of resume builders
Despite the simplicity of process and attractive designs, online builders have their own pitfalls. I'm not trying to discourage you, but in certain cases a fancy-looking online resume is the reason why you struggle getting an interview.
Dozens (or even hundreds) of other applicants have already used this template
When you make online resume, you choose the design and layout that appeal to you and fill it out with your professional details. Now, imagine a recruiter or a hiring manager that received, let's say, 20 similarly looking resumes in response to one job opening. Will these candidates be taken seriously? I doubt it.
Reputable Professional resume services usually develop design depending on your needs to make your data look more attractive. Thus, if you get your resume done by a professional, there will be hardly any resume looking like yours.
Resume builders use cookie-cutter phrases that can't adequately reflect your experience
There are verbs and phrases which are so often used in resumes that they only irritate the recruiters and add no value to your actual experience. The examples of such words are 'best of breed', 'responsible for', 'highly qualified', 'hard-working', 'team player', etc. If your resume still has these words, it's highly recommended that you remove them. Nevertheless, online resume software is stuffed with buzzwords like these.
If you are hesitating about which words to use instead, check out our 185 powerful verbs and 45 adverbs to create a resume demonstrating your professional value.
Online generated resumes are very ATS-unfriendly
Resume builders make the stress on the visual appearance of your resume, not its functionality. As a result, the resume you'll get will look marvelous. Nobody will appreciate it, though, because this resume will not pass ATS because of its complex formatting.
When composing your next resume, make sure it's designed in the format that is recognized by ATS and has no pictures, charts, tables, etc. as such resumes hardly ever pass the computer selection.
Really helpful options are usually paid
It's true that you can make a online resume without paying a cent. Most of online software allows you to create and edit your resume at no charge. However, to get full advantage of a newly created document, you'll likely have to pay. Want to store your resume, download it in one of the popular format or edit it as many times as you wish? Well, a fee applies in each case.
If you are willing to pay someone for assistance with your resume, it's better to hire a writer who will edit or completely rewrite the document.
When you sign up for an online resume builder, the front page claims it's totally free. But then, after you've spent hours composing the resume, it turns out that you have to pay to continue creating it, or to download it, or… Hidden charges may wait for you where you don't expect it and the prices are generally not advertised on the site. And even if the process of making a resume is free, to use this resume fully, you'll need to proceed with payment.
Trying to save money by using a 'free' builder, you can end up paying more than you'd pay to a resume writer for resume review or editing.
The bottom line
Resume builders are a great option to liven up your resume or consolidate your thoughts when you lack inspiration for writing it. Nevertheless, consider all the downsides before using template designs or phrases to preserve uniqueness of your resume. Or, if you are unsure about resume quality, order free resume critique to check your odds to succeed in finding a job.
Have you ever used online software to create your resume? Did such a resume help you to find a job faster?