Professional Resume Cover Letter Writers: How We Work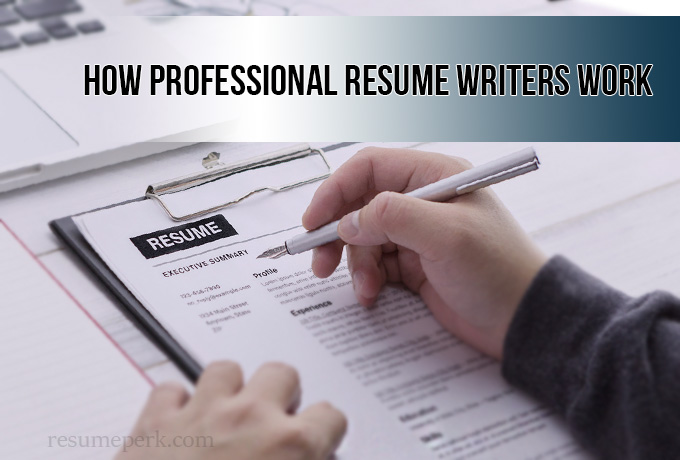 As a job-seeker, you probably have bumped into lots of ads from resume writing services. Have you ever considered getting professional help with your resume but unsure what to expect? Or maybe, you don't realize what exactly you pay for when purchasing a resume made by a pro writer? 
A professionally done resume can go a long way for your career, provided that you hire a qualified specialist and take your collaboration seriously. Today, we are going to reveal how resumes are written here at Resumeperk, how to make a CV that exceeds expectations and how to get most out of your writer's expertise. 
Resume And Cover Letter Help: Hire A Professional
At Resumeperk, we are extremely picky about our staff writers. All our writers have BA/MA degree, 2+ years of experience in resume writing or HR background. We have crafted hundreds of resumes and know what works in resume writing and what doesn't. That's why your resume will be free from popular resume mistakes and written in accordance with the standards of modern resume writing.
Also in this section:
Our Resume Writing Process
Step 1. Send your employment details to the writer
As you place an order with our resume cover letter writing services, you'll be asked to send your old resume and fill out the questionnaire. It's recommended that you do both since your resume might not contain the full information about you or might simply be outdated. Be as detailed as possible when describing your experience, education, skills and other professional activities – the more information you provide, the better resume we'll create for you.
What deadline to choose? The process takes from 24 hours to 5 days, and if you're not in a hurry, we recommend that you opt for a longer deadline. In this case, the writer will devote more time to creating and editing your documents.
Resume or CV? If you are located in the US or Canada, you need a resume to apply for all non-profit and for-profit organizations. CV is needed only to apply for academic jobs, research projects or in the university. If you are based in Europe, choose a CV option.
How is the writer assigned? We match you to the best suitable writer depending on your industry, qualification and years of experience.
Have you quit/been dismissed only recently and don't know where to start your job-hunting with? Check out the secrets of the world's best job-seekers.
Step 2. Answer the writer's questions
Quite often, a writer might need to ask you extra questions to find out more about your background, to access your current career situations and goals and to fully understand your expectations. We recommend that you respond to writer's inquiries as soon as possible since communication with the writer is one of the key factors for a successful writing project.
Which communication methods do we use? At our website, you can talk to your writer directly through our messaging system. We understand that you are busy and that's why we don't conduct lengthy phone interviews. If you answer the writer's messages timely, it will help them access your situation better and create a better resume to support your career needs.
Why sending a job posting is important? The writer is likely to ask you to provide a job posting (or several) you intend to apply for.  It's necessary to tailor your resume for a specific type of job and make your application more effective.
If you are doing a salary research as the part of your job-hunting, be sure that you've taken into account the problem of the wage gap depending on the race and gender.
Step 3. Receive the first draft
As the deadline expires, the writer will email you the first draft of your resume. If you've provided detailed information about your background and answered all writer's questions, the first draft of your resume and cover letter is likely to be the final version you're going to use. But if it doesn't fully meet your expectations, don't worry. You'll have two weeks to request the necessary changes free of charge.
Free revisions – upon the delivery of the first draft, you can review the documents and contact the writer anytime to request the changes. The writer can slightly edit the content, add minor pieces of information that you've forgot to mention or change the formatting.
Satisfaction guarantee – we guarantee timely delivery of your resume or full refund. Your satisfaction with the product is our priority as well, that's why you can request as many edits during the free revision period as necessary.
Step 4. Use your brand new resume to find a dream job
Our resumes are delivered in .docx format, so you can edit your resume, use the content to apply via online form at the company website or print the document and apply with a physical copy. Today, a lion's share of job-hunting is done online, so you might be interested in the most effective and safe ways to submit your resume online: http://resumeperk.com/blog/how-to-submit-your-resume-online.
Additional benefits of professional help with resume
High-quality writing. For any industry and career level, quality resume content matters. Since the resume is the presentation of your professional capabilities, each sentence matters. The words you use, the way your statements are constructed and the tone of your covering letter all contribute to the impression you make.
Our writers use the best resume writing practices and powerful language to impress the hiring manager with the high quality of writing and communicate your strengths and accomplishments.
Saving your time. Have you ever tried to calculate how many hours you actually spent writing, rewriting and editing your resume and other documents? Probably, it takes you entire evenings after work or long hours every day if you're unemployed. Meanwhile you could have spent this time more effectively and productively by delegating your resume writing to a professional.
If you're job-hunting, a lion's share of your time should be spent on networking, community involvement or freelance work – anything that can increase your chance for an interview or help you make extra money. As you collaborate with the resume writer, you'll get that resume issue solved and have more time for your main activities.
Get more interviews, faster. Although resume writers can't influence the hiring process directly, they do secure you more feedback and interview calls from potential employers. Expert writers know what makes a resume effective, how the recruitment process works and present your qualifications in both machine-friendly and reader-friendly way. As a result, employers clearly see your strengths and want to meet you in person.
So, if you have an impressive experience and stellar workplace skills but struggle getting a single interview call, your resume must be a deal-breaker. If you doubt you resume quality, contact us for a free critique to understand your resume's weak points.
Your difficult situation is no longer a problem. Do you have noticeable career gaps and issues of job-hopping? Are you going to relocate for the job or start a career in a completely new field? All these situations should be addressed in your application documents. Our writers know how to handle career issues and still help you look as a perfect candidate.
Want a higher-paying position? Read how to negotiate a raise in the right way.
Grow your online visibility. It's no surprise that the vast majority of HR managers start sourcing new candidates via LinkedIn. Therefore, having a 100% complete, quality written profile makes you visible in their search results and helps the job find you with no effort from your side. In addition to a resume, your writer can also fill out your LinkedIn profile to help you get the most out of this professional social network.
Why resume builders don't always make the cut?
Modern resume builders are highly popular among the job-seekers as they allow creating a resume with fancy design quite fast. However, those builders work not for everyone. If your resume content isn't well-written, no builder can change it. And even if the hiring manager gets attracted by a design, grammar errors, weak statements and lack of relevant information will quickly turn them away. Also, resumes created via builders aren't good with ATS as the content might be mixed. If you know for sure that the company uses ATS, apply with the plain Word document with minimal formatting.
On the contrary, if your resume will be reviewed by a person only, using a resume builder is worth a shot. Check out our review of the most popular resume tools: http://resumeperk.com/blog/best-online-tools-to-create-a-modern-resume.
Principles of our cover letter writing services
When writing cover letters for our dear clients, we adhere to certain rules and standards. They help us present job seekers in the best possible light. 
• A research-based approach
A cover letter writing process begins with the analysis of your job description and professional duties. In such a way we strive to create the best cover letter that will meet the expectations of your hiring managers. 
• A persuasive tone
When we write cover letters, we apply mild techniques of persuasion. For years of experience in the sphere of professional cover letter writing services, we have learned thousands of ways of what style and words to choose for such documents. 
• A personalized approach to cover letters
Due to our professional experience and creative skills, you always receive a great cover letter written precisely for your situation. Alongside classic rules and modern trends, we always attentively consider the client's personal recommendations. 
Our terms and conditions are openly published on the website. If you have any questions related to your job application documents, the opportunity to choose the same writer for your new order, prices, deadlines, etc., we are ready to answer all of them. Our chat works 24/7.
A cover letter written according to the above principles is valuable to every client. It is just what you need for your successful job search. 
What makes us the best professional cover letter writers
Our professional writers possess all the necessary key skills to compose a good cover letter for you. 
• Insider knowledge of how to write cover letter
Our authors are practicing specialists in real companies, and we know from experience how to write resumes and cover letters. Besides, we communicate with other experts and career coach consultants, specializing in writing resumes, CVs, and other career documents. 
• Significant professional background
We have been working in the sphere of both resume and cover letter writing services. For more than ten years of practical experience, we have honed our talents, collected a database of helpful materials, and established efficient methods of work. For now, you can enjoy the results of our awesome cover letter services.
• Maxim attention to your projects
Our cover letter writers carefully consider all the details from the first to the final paragraph. It's about grammar, punctuation, logic, informativeness, and other aspects of the professional cover letter service.
• A suitable writing style
The best cover letter writers know what tone to choose for your career documents. We always analyze the specifics of your profession to come up with the best solution. 
Our understanding of a well-written cover letter
A stellar cover letter is one that brings you a new job. All other features of the professionally written cover letter come out of this principle:
a compelling cover letter;
a logically structured text;
perfect grammar;
an original manner of presentation (if allowed);
conciseness and meaningfulness.
What you get with our professional cover letter services
Professional cover letters by our authors bring you numerous benefits. 
• Stay confident in a perfect cover letter
The final draft of your cover letter is an impeccable document. You do not need to revise, edit, or change anything. No more worries and doubts about your career documents.
• Get more free time for your priorities
The cover letter writer will create all the necessary career documents for you. Save your time and devote your life to things that you like. 
•  Enjoy our awesome writing service
Being our client is fun. Please, read our helpful blog and learn tips on how to get prepared for a phone interview, what to wear for your first meeting with a recruiter, how to answer the HR manager's questions, etc. Plus, you can discuss your order or our services on the chat. 
Due to this cover letter writing assistance, you receive a research-based, informative document, highlighting your most suitable strengths. Our writing coach will convince your potential employer that you are a worthy candidate.
Do you need any other documents apart from a brilliant cover letter? It is convenient to purchase a package of several services here. Thus, a resume writing service is also available. Our professional writer will compose a well-thought-out resume and adapt it to the algorithms of the modern applicant tracking system.     
Resume writing looks frustrating? We're here to help
The writers of our team can help you at all stages of your writing projects, be it creating a resume from scratch or editing and polishing the existing ones. Our process is transparent, so now you realize for sure how the collaboration with your writer will look like. A professional cover letter writer will prepare the entire package of application documents, staying in touch with you and taking into account your unique situation and requirements. Moreover, we keep our prices affordable for everyone – our prices for resume writing start at just $87!
Popular Posts: