Best Online Tools to Create a Modern Resume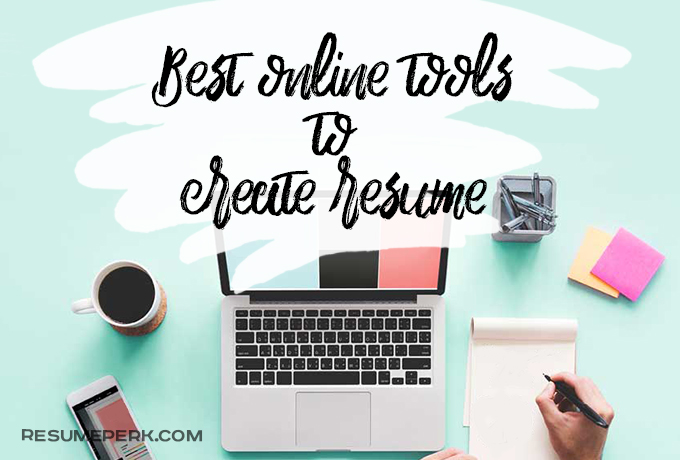 Your resume is incredibly important for the success of your job search. Given the enormous amount of resumes recruiters receive and the fact they spend less than 6 seconds reviewing each one, it becomes a real challenge to create an eye-catching document. So, which strategy to make winning resume online should you choose to get noticed in a modern world of work? In the 21st century, a plain black text on a white sheet of paper doesn't work anymore. With the availability of online tools allowing creating a bright and well-structured resume a text one might look too pale.
Moreover, creating a resume requires extensive writing skills and HR experience to access the needs of employer and present exactly what they're looking for. An understanding of basic design principles will do you any harm as well, since visual and graphic resumes often look like design masterpieces.
Looking to impress a hiring manager with a visually attractive resume? Below, we have collected the information on best online tools for creating resumes. These websites can save your hours of hard work of writing, allowing you to structure and design your application in a way that you and the potential employer will love. Alternatively, to reach your job search goal, you can buy writing services from professional. The HR perspective and writing abilities of a certified professional resume writer can help you out to make a job faster.
10 best online tools for creating a resume
As you may have noticed, Resumeperk is not on the list as we don't offer services of online resume creation. We value individual approach and believe that each career situation is unique. Our company matches you with a qualified resume writer who writes a new resume from scratch to help you reach your career goals. Moreover, our prices are affordable for everyone – we offer discounts for first-time users.
Also in this section:
Can you create a professional resume without special software?
To create a competitive resume, you'll basically need three things: business writing skills, knowledge of design principles and familiarity with word processing/desktop publishing software like AdobeInDesign. If this is about you, you don't need any online builder to succeed with your resume creation. However, if you don't, writing your own resume becomes quite a challenge.
All of the online tools listed above are basically designed to ease resume writing process. They don't create a resume for you – they only help to organize and visually present what you've already got. Some of the resources offer basic writing assistance, i.e. they give you resume writing tips along the way and correct typos and grammar errors. Therefore, if you don't know where to get started with your resume or don't have any special skills, a resume builder can simplify things a bit for you.
Should you apply with a resume or a CV?
To make your application a success, you need to send in the right document type. In the United States, most employers expect you to apply with a resume. CV, or curriculum vitae, is less common.
So, what's the difference between these two documents? CV is mostly used in academic settings and differs from a resume in length in the first place. While a typical resume is often 1-2 pages in length, a CV can exceed 5 pages. CV documents your entire work history starting from college and includes additional sections, such as academic publications, conferences, honors and awards, research activities, etc. and doesn't need to be shortened or tailored for a specific position. Longer CV typically indicates more experience and more participation in academic activities, which increases your chances to get the job accordingly. Therefore, if you apply for jobs in America, you'll only need a CV for academic field.
The situation is quite different in Europe, though. Resume and CV look pretty much the same there. 
Creating a modern resume: best expert tips
Include relevant experience, always
As the surveys show, 77% of hiring managers look for relevant experience in the first place. This news can be pretty frustrating for career switchers who haven't gained any relevant experience yet. However, there's always a solution. If you don't have a track record of employment, focus on other options: volunteering, internships, community service, freelancing, etc. Showing that you've got what it takes to perform basic job duties considerably increase your chances to be considered for the role.
If you are looking to continue your career path with the new company, remember to focus on the most recent and most relevant experience. In other words, remove the job which was outside of your career path. When describing responsibilities and achievements, pay more attention to those which may be helpful for a prospective role. Being relevant is the key to being hired.
Don't exceed 5-6 bullets per section
Resume experts typically recommend that you use bulleted lists instead of plain text. However, when you create a list containing of 10+ bullet points, all your efforts come to nothing. Lengthy lists are as hard to read as blocks of unstructured text.
When creating a modern resume, it's helpful to incorporate the principles of web content writing. Your resume should be well structured and consist of short blocks of text which are easy to read and skim through. In this case, the odds your resume will be read through increase dramatically.
Keep your job descriptions and accomplishment sections short. Follow the previous point and remove the unnecessary details. If you've been in the same role for over 5 years, consider breaking your experience into subsections.
Do enrich it with relevant keywords
It's not a secret to anyone that big companies scan the resumes via applicant tracking software before the hiring manager actually sees them. Their primary goal is to weed off irrelevant applications and release the hiring managers from reviewing hundreds of incoming resumes. In fact ATS eliminates over 75% of resumes out of consideration. If your resume isn't keyword-enriched (or you didn't bother much about it when choosing a fancy design from your resume builder), you lose your chance for a job.
So, what can be done about it? First, scan the job posting for the required qualifications and skills – these are probably keywords – and include them in your own resume. Look for keywords samples in your industry in the web. Read our guidance on resume keywording and make sure that your resume is ATS-friendly before submission.
Put first things first
Most traditional resume builders use design tricks to draw more attention to the top of your resume. The best tactic is to collaborate with the software and concentrate the juiciest facts from your career in resume summary. Using a resume objective is now considered obsolete – it only makes sense for recent graduates and those making a radical career change. A resume summary placed at the top of the document naturally draws most attention and therefore serves as a key selling point. If it sells, the hiring manager is likely to read your resume through. If it doesn't, the document goes to 'No' pile.
When filling out the information for your Summary sections, list your key capabilities for the prospective job, your biggest accomplishments or recognition. However, keep it short – 5-7 lines are more than enough to evoke interest.
Make it look airy
Why people love resumes created via resume software so much? Documents generated by resume builders often look light, airy and pleasant to read thanks to the use of design and typographic tricks. On the contrary, old-fashioned text resumes look heavy of text and appear like a long and dull read.
If you want to make your resume look modern and fresh, don't overload it with much unnecessary text. Delete the experience which is over 10 years old and your college hobbies. Cut down your job descriptions to the key selling points. Remove any details which won't be helpful in your prospective role. Leave a plenty of white (or any other color you choose to use) space on the page to make your document look attractive for the hiring manager.
Be selective about including skills
Most resume builders allow you to include professional skills before (or after) the experience section. It's highly recommended that you do so – not only you can present your strongest abilities at the same place, but also give your document a better structure. However, most of job-seekers fail to fully benefit from this section as they simply list things they believe they're good at.
So, how to fill out your skills correctly? First, you need to focus on those you've acquired professionally (such as web programming, budgeting, program management, etc.). The skills list of an experienced professional can turn out pretty lengthy – so, you'll need to stay on skills helpful for the prospective role.
Secondly, although including soft skills is not a mistake, avoid overusing them. Limiting your skill section to "initiative, result-driven, organized" is a poor tactic. If you really possess these traits, it's better to show them by providing results of your activity. And finally, omit the obvious skills. Familiarity with MS Word in 2018 won't add you any points, as well as ability to work in a team – it's assumed by default. You might be also interested at which qualities and skills make a perfect worker from the employer's perspective.
Online resume tools often offer you to indicate level of proficiency of each particular skill. Using this option will save a lot of the employer's and your time, as they won't have to contact you back or interview you just to find out they need someone with different level of proficiency.
Hobbies: yes or no?
Today career experts tend to recommend the job-seekers to keep their hobbies and interests out. But this restriction comes from the fact that most applicants include an unstructured and useless list of activities that has nothing to do with the job they're applying for. Honestly, what all this "cooking, cycling, watching fiction movies" is meant to say about you if you apply for the role of a finance analyst? However, if your hobbies include writing for finance literacy blogs, running a social media page or participating in industry events, this can really make the difference.
Therefore, it depends whether to list your hobbies or not. It depends on the nature of work and on what your hobbies are.
Keep personal references out
In 2018, references should not be presented on your resume. There's a common practice of having a separate reference sheet and provide it in upon the employer's request (or when the employer specifically mentions this in a job listing). Personal references, in their turn, shouldn't belong to your resume at all. (If you want your friend to say how awesome you are, he/she can do it on the social media). Limit your reference sheet to listing professional referees only.
Staying on a good note with your ex coworkers and boss can go you a long way if you once want a reference from them. One of the best ways to preserve good professional relationships is avoiding touchy discussion subjects with colleagues.
Editor's choice:
Perfect your resume content before pasting it into a resume builder
Online resume software is a perfect solution for those looking to create a compelling resume. It requires neither special knowledge nor design skills. Nevertheless, the biggest disadvantage of resume builders is that they can't actually write you a resume.
In other words, most of your writing mistakes such as style, grammar, typos and poor tailoring will remain in your resume even after it's visually polished. Here are a few hints on how to improve your writing:
If polishing your resume text seems quite a challenge, consider hiring a resume writing to do this for you.
How we can help you
Even if you strictly opt for a visual resume, having a traditional one at hand will do you any harm. If you apply for a big company, you'll need a text version to pass that ATS selection. The skilled writers of our company have 9+ years of expertise crafting interview-winning resumes across the US and Canada.
Whether you need to edit your current resume and improve its language and style, or create a totally new one and tailor it for your dream job posting, we're here to help. With our affordable pricing policy, you can get a new copy of your resume under $100. You won't have to puzzle over resume writing any longer, and will be able to focus on getting creative and finding new employment.
Have you tried any of the online resume software listed above? Were you happy with the quality of your resume?
Popular Posts: