Professional Resume Editing: Cheap & Fast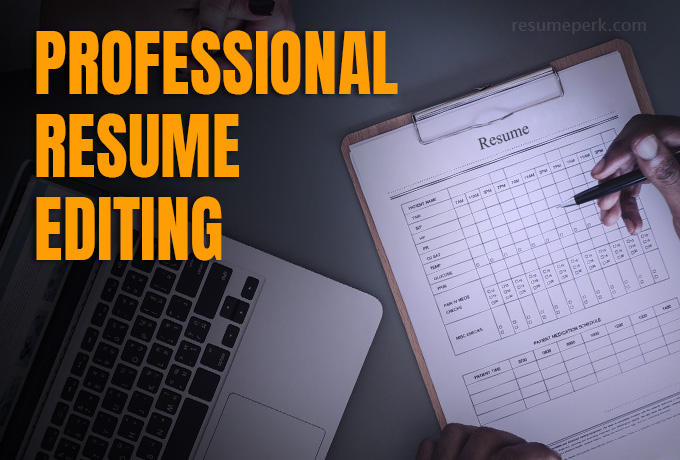 As a professional, you deserve the best resume that money can buy. But what if your resume just isn't that impressive? What if you look at your resume and immediately get the feeling that it could look much better? If your resume doesn't wow you, it's the first sign that your resume is in need of a quality, in-depth editing.
Wonder no more how to make CV for job.  The resume wizards of Resumeperk have got all what it takes to improve your current resume and make it shine. With strong understanding of resume writing, human resource and hiring processes, we know how to position candidates for the job they'd like to get.
Professional resume editing services: why it works
So, what's the thing about professional resume editing services? When you order this type of service, we don't actually write a brand new resume for you. However, we do rewrite, restructure and reorganize content in a way that makes your credentials, experience and accomplishments more visible for a hiring manager. You'll be surprised at how simple editing can make your resume look a whole lot differently and eventually make the difference to your job search!
Here's exactly what your resume editor will do:
Revise your resume sentence by sentence using strong action verbs to highlight your business impact;
Edit the entire document for clarity, consistency and readability;
Apply the resume structure which is most effective for your career history and experience;
Eliminate any grammar, punctuation and style mistakes, including the most common resume mistakes (check if your resume has any donts of modern resume)
Use an eye-catching formatting and design to highlight your strengths.
Since we are speaking of making things better, there's one asset you need to take care about – your professional reputation. If yours leaves much to be desired, read our guide on why managing your work reputation is crucial and how to fix things if something went wrong at work.
Also in this section:
Repairing your reputation at work: is it possible?
In addition to your education, skills and career accomplishments, your reputation in professional circles is one of the key factors that influence the course of your career. In other words, if you've damaged your reputation, no cheap resume services will help you land a new job or get a promotion, as bad reputation spreads quite fast by word of mouth. Ideally, you should do your best to preserve a reputation of a reliable, competent employee who is pleasant to work with.
Unfortunately, we all make mistakes. If you've missed project deadline and the entire team was penalized, fought with your boss or spoilt the relationships with key customer, your reputation in the office will inevitably suffer. However, it is possible to repair. If you've failed, here's the number of strategies that you can use to restore your good name:
Acknowledge your mistake and apologize
If the workplace conflict took place due to your lack of attention, poor time management skills or bad temper, the first thing to do is to take your mistake or misconduct on your stride. When you let your team or boss down, or failed the project, acknowledging your mistakes won't erase the consequences and won't restore your reputation at once. However, by doing so, you'll make the important first step to getting over it, while ignoring the unpleasant fact or denying everything will leave a spot on your reputation.
It's a good idea to also apologize to everyone affected by your mistake. Don't write e-mails and say you are sorry in person. Also, don't make excuses for your behavior – just admit it and promise to do better in the future.
Quite often, workplace mistakes and conflicts occur due to your inability to accept criticism from others. If you don't know how to handle criticism from boss or colleagues in the right way, read our guide here to avoid confusing situations and conflicts: http://resumeperk.com/blog/effective-ways-to-face-criticism-at-the-workplace.
Fix the consequences, if possible
In many cases, it isn't possible to make up for the mistake you've made. Let's say that you've missed project deadline and the client terminated the agreement which cost the company tons of money and a loyal customer. In this case, there's nothing to repair except for your trustworthiness and a professional reputation.
However, if you are given the second chance, grab it and go the extra mile to meet the expectations of the team, your boss and anyone else involved. Be ready to work late hours or on weekends to fix the work poorly done. Apologize to everyone if the professional misconduct took place. Finally, ask if there's anything that you could possibly do to mitigate the effects of your action. The sole fact that you're trying to make up for it will be taken positively in the office.
Be helpful and reliable
Most of our mistakes in the office cost a lot to our colleagues and supervisor. Therefore, to restore or rebuild your bad reputation, you need to fix the relationships with others at work. You want to come across as a helpful, reliable and friendly coworker. And, since the others were affected by your wrong attitude or lack of attention, the best tactic is to help others, take on extra work and ease the life of your coworkers.
For example, you can offer to help your boss with documentation or routine office tasks while they are busy with creating strategic plans. Or, you can take initiative in training a new coworker on using the internal company software. Or, you can share a few insights that will be helpful for your colleague who is working on new PR materials. By being helpful and reliable, you'll soon be liked by colleagues and your shortcoming will stay in the past.
Building positive workplace relationships is the hard work. For example, it's a good idea to avoid certain subjects of conversation to remain your discussions positive. Here are the topics which are better not to discuss at the cooler: http://resumeperk.com/blog/top-taboo-topics-you-should-never-discuss-with-colleagues.
Show that you're serious about making it up
The biggest problem with your workplace shortcomings is that you are no longer trusted. The boss passing you by with challenging and interesting tasks and the urgent and complex assignments are given to others. As a result, you don't grow professionally.
To fix this, you need to display serious and hard-working attitude. Remember how you were earning trust when the company just hired you. Probably, you would come to the office early, did a little more than requested and kept even the tiniest details in focus. That's exactly what you should do. By coming up to the office before your boss, creating the plan for a successful and productive day and sticking for it, anticipating the needs of your boss and meeting them proactively too, step by step, you'll fix that bad reputation. Keep in mind that it won't happen in one day. The bigger your setback was, the longer it will take to fix it; however, staying hardworking and persistent, you'll achieve it
Prepare to answer unpleasant questions during the interview
If you quit the previous job under quite the unpleasant conditions, be ready to answer this question during an interview. For instance, if you had a huge fight with your boss or were quite irresponsible in your previous role, the prospective employer might find out. That's why lying on the interview isn't the best tactic – nobody wants to work with a liar.
In this case, you need to admit your mistake and also show how you've overcome the situation or how your attitude changed since then. Willingness to work on your weaknesses and grow always makes the positive impression.
Are you preparing for your next interview? Then, check out the surprising job interview tips you probably haven't heard before.
Maintain the positive attitude
The fact of making a huge mistake or spoiling the relationships with the half of your team probably stresses you out. However, beating yourself too much won't improve the situation. What you need to do is to face it and start taking steps to overcome it. To do it faster, always check your attitude while in the office. Remember, you want to be helpful, super productive, on time and reliable for every task out there. By displaying this attitude and hardworking approach you'll restore a good reputation in a matter of weeks. And, in its turn, a good reputation will continue to work for your career progression.
What if you use our professional resume writing services?
We'll turn your existing resume into a perfect career document. And meanwhile, you can be free to do what you like.
A professionally written resume turns you into a promising candidate
Our vast practice shows that job seekers get more invitations to job interviews due to our editing services. We know what a quality resume must look like, and we have enough knowledge, experience, and human resources to ensure a brilliant resume for everyone.
Professional resume writer saves you time
A job search is a tedious process: a job seeker has to study a job description, compose a resume and a cover letter, fill in a LinkedIn profile, prepare for a job interview, etc. Our career experts make this process easier. Professional writers and editors cope with your orders in the shortest possible time. Whether you need the best resume writing services or editing assistance, we'll do everything with skill as soon as possible.
Stop worrying about your resumes and cover letters
With our professional writer, you can finally forget about stress. A resume writing process is not so nerve-racking if you have a reliable helper nearby. Our team is here to make your job search process less painful.
A perfectly edited resume significantly improves your chances to receive a dream job. Receive more interviews with the help of our resume writing services and editing assistance.
Advantages of our professional resume writers and editors
We have rightly earned a reputation as a professional resume writing service. The mission of our resume writers and editors is to contribute to your career success. And the only way to do it is to provide reliable and efficient resume service.
Experienced resume writing service
An ideally completed resume is what we always guarantee. This promise is proven by our solid practical background in the sphere of writing services. For more than ten years we have been delivering top-notch career documents to our clients.
For this period, we have honed our skills, built an awesome team of talented specialists, learned how the applicant tracking system works, etc. Hence, today you can count on a keyword-optimized resume composed in accordance with current trends and requirements of HR managers.
Professionally written resumes for all levels
We fruitfully work with any career level, beginning from an entry-level resume to an executive resume. Our team understands all the nuances of writing resumes for every stage of your professional growth. We'll pick the most suitable words to highlight your strengths and impress hiring managers.
Fast writing services
Our capacity is enough to ensure expedited delivery of professional resume service. Our resume writing services work quickly without compromising the quality. 
We provide future resume updates
We are confident in every professional resume by our author. Still, if you find any mismatch between your Order Form requirements and the final draft, we'll correct everything for free during our period of revisions.
A personalized approach to every customer
We never use resume templates blindly in our work. Every resume or cover letter is a unique presentation of the client's talents, achievements, work history, etc.
Additional services from our resume writer
Alongside resume writing and editing services, we are also good at career coaching. If you need a piece of career advice or recommendations for a potential job interview, please, let us know. Our specialists are good at consulting services too.
Please, send us your first draft, and our experts will transform it into a professionally written resume. We make the modern applicant tracking systems notice you. 
Our services help you reach your career goals. Try now, — place your order here!
Make your big career dreams possible with professional resume formatting services at a fair cost
While restoring your professional reputation is totally up to you, giving your resume a new life is something that we excel at. So, if you believe that your resume doesn't present you at your best, don't waste a single minute and let us know. With 9+ years of expertise with resumes of all kinds and all career levels, we know how to wow the employer with your qualifications and accomplishments. Our prices are very affordable – you won't have to waste hundreds of dollars on overpriced resume services! Needless to say that we preserve your confidentiality and guarantee satisfaction.
Questions? We're ready to chat anytime. Click on the chat button to talk to our support specialist live.
Popular Posts: