Why You Should Try Professional Resume Design Services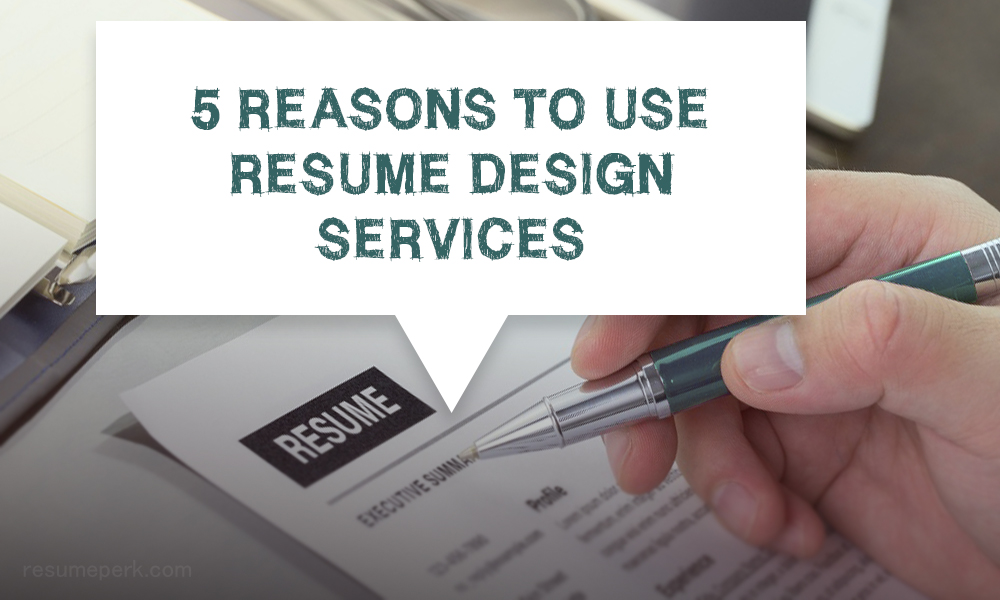 If you keep sending your resume to the job postings and rarely hear back from someone, it's time to change the strategy. How about using professional design services to make your resume look excellent? Employers receive up to 400 resumes per job. And it's only a perfectly designed resume that can catch their attention and can motivate them to call you.
Our professional resume company knows how to help your resume stand out. We can build a custom creative resume that highlights your best positive traits for your target employers. Pick a graphic design resume template, and our designer will work in conjunction with an experienced resume writer to create an interview-winning visual resume. Need a traditional resume as well? At Resumeperk.com, you can get a resume written according to your requirements. We can edit or proofread your existing resume as well.
5 reasons to buy a modern resume design in 2019
If you've never had a creative resume before, the idea of applying with an infographic resume might seem slightly over the top. However, we insist that you give it a little consideration. And here's why:
Show off your creativity
Creativity is one of the top skills employers will look for in 2020. The world of work is rapidly changing, and the top companies no longer look for employees to perform routine tasks. They seek creative problem solvers who see things under the different angle. A creative resume is your chance to communicate these abilities right up front.
Get noticed by the hiring manager
Hiring people are busy looking through dozens of similarly looking resume. Quite often they look through the application automatically, paying little attention to what the resume says. Now imagine them bumping into your resume, full of colors, charts and figures which are easy and enjoyable to read. Your chances to get a closer consideration skyrocket!
Appeal to the millennial recruiters
Millennial recruiters and hiring managers share the passion to everything modern, innovative and attractive. That's why sending a non-traditional resume will at least make them stop and pay attention.
Cool resume design ideas are meant for social media
You probably already know the importance of social media for your career. And maybe, you've even posted or submitted your resume through Facebook or another platform. Yet, in the world of vines and memes, traditional Word resumes look dull. Meanwhile, posting a multimedia resume which is bright and engaging can actually help you land interviews through social media.
Make your important skills and accomplishments pop up
In the paper resume, your most important career information can get lost among the secondary details. In this regard, creative resumes are extremely focused. They don't have much text, so the pictures and charts communicate the most important details (such as job-critical skills and achievements) to the hiring managers.
Graphic design resumes are especially popular among professionals in creative industries. Yet, they can enhance the job search of the professionals in nearly every field. The only problem with these resumes is that not every job-seeker has strong creative resume design skills. So, it's better to seek the help of design professionals who will create a personal resume design for you.
The best online services for resume design 2019
Whether you want to build a programmer, administrative assistant or UX designer resume, it's always better to use specialized services. A lot of websites offer you to choose among eye-grabbing templates or pay to have a graphic resume done for you. Here's our pick of the best resources for creating a perfect visual resume:
How to create a perfect resume design?
Creating an astounding resume design is no walk in a park. (Using Comic Sans as a font and changing the document background don't count as a design!) Here are the key rules that a high-quality resume design should follow:
Use simple fonts
Such fonts as Arial or Calibri became go-to options for all kinds of writing for a reason. They are easy to read, they don't distract the reader from the main message of your writing and they open correctly on any device. Let alone the fact that recruiters have an eye for them. So why reinvent the wheel? The best resume designs always use a simple, popular font.
Readability is the king
When creating a resume design, it's imperative to ask yourself a question "Is my resume easy to quickly read through?" Because it's easy to get carried away when giving your resume a makeover, you can end up with having a white font on a yellow background. And this will make your resume totally impossible to read. So, make the readability your main priority and creativity is the second one. Which brings us to the next point…
Use color wisely
All resume design efforts are pretty much about using the right color in the right places. Professional resume writers and designers choose colors strategically and align your resume colors with the brand or the psychological perception of that color. If you're not a professional designer, don't use more than 3 colors (including black). Opt for 'safe bets' in professional writing – grey, green, blue, or red and keep the colors calm.
Make sure your creativity is appropriate
When your target job lies in the industry of design, arts or media, don't limit your creativity. See your resume as another way to demonstrate that creativity and out-of-box thinking. But if you are in a traditional industry, you probably don't need an all-color resume with charts in pop-art style. Simply giving your conventional Word resume a few touches of color and professional formatting will go a long way to get you noticed.
Keep it brief
It's great if your creative resume fits onto one side of A4. Two pages are less cool but still appropriate. Three pages show that you cannot prioritize and organize your career history, and no design can improve it. The best resumes always make your qualifications literally 'pop up' at the very first page. If you see them at a glance, the recruiters will as well.
The right resume design matters a lot, but don't forget about the resume writing basics. Write it in the third person, use strong action verbs and don't neglect the importance of puntuation marks. We hope that this advanced advice will be helpful for creating a strong graphic resume.
Where to get the best graphic design resumes?
When it comes to creating a perfect creative resume, nothing can compare with resumes which are professionally designed. At Resumeperk com, your resume is written by a certified resume writer and then graphic designer makes it visually perfect. Most importantly, all our pro designs are customized – which means they are created individually for you. It also means that you won't find such designs anywhere online.
Our well designed resumes are done by American writers with 1+ years of resume writing experience. Once you've placed an order, you'll have the opportunity to discuss your project with the writer directly. Since we work exclusively online, our pay for resume writing is very cheap. To get a quote for a graphic resume, contact us via email or chat. Get a competitive advantage with a professionally written and designed resume this month and receive a 20% discount.