Is It Worth Paying for A Professional Resume?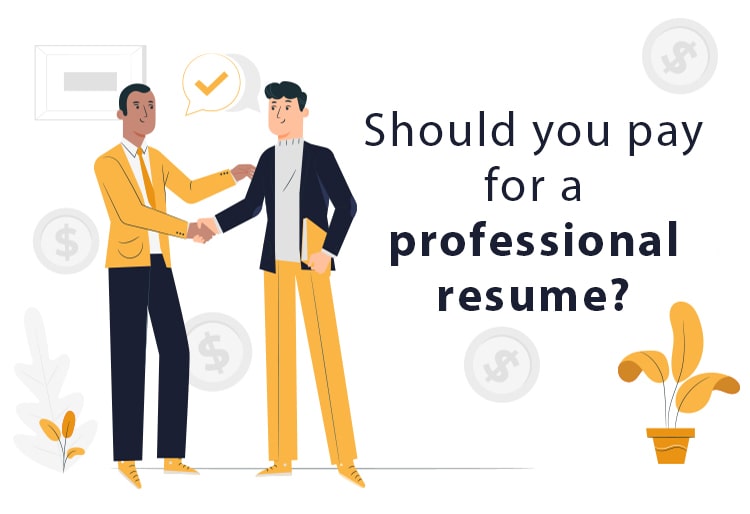 When you should pay for resume services?
A good resume opens doors and gives you the opportunity to start a career of your dream. A weak resume that doesn't communicate your strengths in a proper manner, on the other hand, holds you back. However, not all great professionals are also naturally good writers. Some job-seekers resolve this issue by hiring a resume writer to strengthen the copy of their resume and market their skills better.
Working with online resume writing services is no longer a luxury. More and more professionals prefer hiring a pro to improve their resume. Have you considered buying a resume but not sure if the investment (often starting at $100) is worth it? Curious what exactly resume writers charge money for? Wondering whether this option will be a good fit for your career situation? Continue reading to figure out the pros and cons of getting your resume professionally crafted.
A quick note: here at Resumeperk.com we staff a versatile team of writers who help professionals in any industry, from finance and IT to academia, to strengthen their resumes. A well-trained writer will fix your old resume to make it more marketable or write you a brand new one. The writer works one-on-one with you until you are satisfied.
The pros of ordering professional resume writing online
Understanding of the resume writing tricks and principles
Unless you write resumes on a daily basis, you probably don't know the ins and outs of effective resume writing. Simply listing your daily duties and degrees no longer makes the cut in today's competitive labor market. Here's when the expertise of a resume pro can go you a long way. As a rule, they stay abreast of the resume writing trends and best practices to help you stand out from the competition. In fact, you are paying for the knowledge of a writing professional who can turn your dull resume into a persuasive copy.
Matching the expectations of modern employers
Hiring managers receive hundreds of resumes, so they are pretty selective of the candidates. If you don't know for sure what exact experience and skills the employers look for in your resume, you'll struggle to land interviews. Resume writers with years of experience know what potential employers are looking for and highlight these exact characteristics in your resume. Moreover, a good writer will always tailor it for a particular job posting or industry to maximize your interview chances.
Criticism at work might be discouraging if you don't know how to respond to it professionally. Check out the proven ways to deal with negative criticism.
Unique and professional design
Forget the days of downloading resume templates from the internet. Resume writers use design to additionally showcase the important information and guide the reader's eye. They use their own templates you won't find anywhere or apply a customized formatting and design. Therefore, a professional resume looks distinctive from the DIY one – all colors and fonts are handpicked to highlight the important facts instead of distracting the reader from them. As a result, such a resume makes a great first impression, which stimulates the hiring person to spend more time reviewing it.
Want a bright infographic resume? Learn where it's appropriate to use them and how to get a custom visual resume: http://resumeperk.com/blog/our-new-service-custom-infographic-resume-writing.
Result-driven resume
You've probably heard that a good resume should be accomplishment-oriented, not responsibility-driven. However, people tend to be modest about their achievements and contribution. If you're like most job-seekers, you might think you haven't accomplished anything worth mentioning. This modesty can cost you lots of great opportunities. A professional resume writer will revolve around your achievements and results while writing your resume and will make them visible for a hiring manager. Since the employers are interested in results in the first place, a result-driven resume will increase your odds of getting shortlisted.
ATS optimization and keywording
Does 'ATS optimization' sound Greek to you? If yes, you are not alone. However, this doesn't change the fact that resume optimization is a must if you want your resume to be read by a human recruiter. Along with writing and design, a professional resume creator will also add a bunch of industry and job-relevant keywords to ensure that you pass the ATS. Moreover, resume writers create resumes which are optimized for ATS screening, and use ATS-friendly formatting and design.
Want to master the basics of resume keywording? Read our guide here: http://resumeperk.com/blog/why-keywords-are-so-important-for-successful-resume.
Higher response rate from employers
The professional resume maker takes care of every element of your resume: the writing style, tone of voice, document structure, formatting and design, keywords, and more. A professional resume is free from typical mistakes job applicants make: grammar issues, spelling, poor formatting, and irrelevant information. Moreover, the writer not only lists your experience and competencies but also markets it, creating a high-impact presentation. As a result, professionally done resumes have a higher response rate from employers and generate more interview calls than DIY ones.
If you think that all jobs are boring, take a look at our list of the strangest jobs in the world.
Confidence and support
If you aren't the HR professional, it's hard to objectively evaluate the quality of your resume. The abundance of resume writing rules make it even more confusing – for example, remember the debates around 'one-page rule'. As you collaborate with a resume professional, you no longer hesitate if your resume is good enough. You know that your application document is in safe hands and you'll get an effective piece, and this fact gives you more confidence during the stressful job-hunting period. Moreover, a resume writer serves as your trusted advisor, and you can ask them any questions about your resume and other career documents.
The cons of working with a resume help company
Might be expensive
Depending on the service provider, you'll have to pay between $100 to $500+ for a single resume. If you add a cover letter and a LinkedIn profile makeover, the investment might be substantial. The price depends on many factors: location, deadline, and additional services. However, the price doesn't always reflect the quality: you can buy a great resume for $150 and a mediocre one at $400. Resume Writing Service Cost is one of the most important factors you should consider when choosing a resume writer.
Lack of personality in writing
Since a professional writer doesn't know you in person, the final document is probably going to lack your personality. In other words, the writer will probably use a different writing style and choose different words to describe the same fact from your career bio. Lack of personality is especially evident in cover letters which are more personal than resumes. The solution? You could use a bit of editing to give the resume written by a resume professional a touch of personality,
Everything depends on the writer
When you outsource resume writing, a lot depends on this person's experience and qualifications. A good writer can go an extra mile to help you land more interviews, but perfectly skilled writers are hard to find, and you don't want to risk the success of your resume. Try browsing online reviews prior to making a purchase to hear what other job-seekers can say about collaborating with a resume company. You might also want to check testimonials or industry certifications.
Although collaboration with a resume professional has a plenty of cons, the advantages definitely outweigh. A qualified resume writer understands what it takes to craft a perfect resume and can use this knowledge to help you beat the competition for the best jobs out there.
How much should a professionally written resume cost?
If you do some research, you'll find dozens of professional resume writing services on the internet. The cost of these resume services varies from $20 to $1,000 and above. Your fee will depend on the writer's experience and location, the industry and the resume writing process.
Career coaching experts warn against using the cheapest resume services. Quite often, low-end resume services are offered by students, unexperienced people or overseas freelancers. Such a poorly written document won't help you get job interviews.
At the same time, you needn't pay $500 or $700 for a professional resume service. You can order a resume of a decent quality between $100 and $200. Here at ResumePerk.com we offer professionally written resumes starting at $117. This fee includes customized resume writing, direct contact with your writer and free, unlimited revisions for 2 weeks.
We have a network of professional resume writers in the US, UK and other English-speaking countries. Thanks to the model of remote work, we manage to keep prices affordable while providing every client with a quality resume.
Can you get a professional resume for free?
If someone promises you writing resumes for free, they are probably scam. No experienced resume writer will work for free, as each writer needs to be fairly compensated. However, our agency does offer some free perks to job-seekers.
The first one is a free resume review provided by our existing resume writers. Our expert will analyze your resume and describe its strengths and areas for improvement. And second, be sure to check our free blog articles. We offer helpful tips on career development, job search and writing tips for a self-written resume.
5 tips to choose a professional resume writing service
To choose among many professional resume services and find a reliable company, pay attention to these signs:
Look for a professional resume writer, not a freelancer.
Before you pay for a resume service, ask about the writer's qualifications. Ideally, look for a certified professional resume writer or simply a professional with 1+ years of experience with resumes. The best resume writers might also have hiring experience in your industry.
Ask if their resumes are optimized for applicant tracking systems.
Many professional writers prepare resumes prepare well-designed, cute resumes that don't open correctly on an applicant tracking system. Look for a writer who can write a personalized resume that is targeted for a job description and compatible with ATS.
Ask about the resume writing packages.
In addition to a resume written, trustworthy companies also offer a cover letter, LinkedIn profile and a thank-you letter writing. A good resume writer realizes that a full packet of application documents tailored for the same position boost your presentation and chances for an interview.
Do they provide guarantees?
The best resume writing agencies are focused on customer satisfaction. For example, our website guarantees timely delivery (even if it's 24-hour expedited delivery). In case you didn't get a resume on time, you can request a refund. And for all written documents we offer 14 days of future resume updates free of charge. These rules work for both student and executive resume.
Make sure you are comfortable with the process
Many resume writers offer different ways of cooperation with their clients. Some resume makers meet their clients in person, while some schedule a phone call or opt for email communication. Clarify how many days the writing process will take, how you are going to communicate with the writer, and if the company offers revisions.
Our company allows clients communicate with their writer via messaging system anytime. Placing the order takes 15 minutes only, and the deadlines varies from 24 hours to 5 days. As a result, you receive a professional resume designed for your job searching targets and long-term career goals. Our consultants are always online on live chat and ready to answer your question. Get a first step to your professional growth and a dream job – order resume improvement services today!
Looking to pay for someone to write my resume?
If you are looking for reputable resume writing sites online, you've come to the right place. Our company staffs experienced resume writers who specialize in many industries. We can assist with writing a resume after college, for management jobs, career change or overseas job. To ensure your satisfaction, we offer 2 weeks of free revisions so you could claim the adjustments if necessary.
As we operate only online, we can keep our resume prices affordable – check out our list of services and prices. Moreover, this month all first-time users get a welcoming 15% discount.