Reasons To Join A Startup From Best CV Website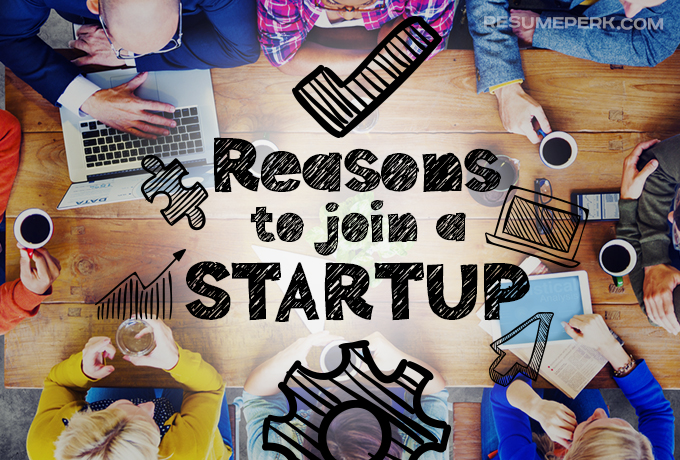 Are you an adventurous personality who is excited by the world of tech and would like to make a difference? Or maybe, you're a recent graduate who is looking for professional challenges at the beginning of your career? Or you're an established, mid-level professional who feels the growing pressure in the strict corporate environment?
In all the above cases, joining the startup might be an excellent career choice.
Despite the growing number of startups, some people still hesitate to make the final choice. They say "I'm too old for joining a startup; wish I could have done it 10 years ago" or "It's too risky to join the startup in this economy – what if the entire thing fails?" Our executive resume services reveal the misconceptions about startups and prove that anyone, from anywhere in the world can join a startup. And if this has been your ambition for a long time – don't hesitate to make it come true!
Also in this section:
You won't get this sort of experience anywhere
Seriously. What happens when you join a huge company with dozens (or hundreds) of employees? You are being assigned a set of responsibilities within your role and you just fulfill them day to day – until you get promoted (if this day ever comes). The situation with the startup is quite different.
Your responsibilities will be unlikely restricted by one role you were hired for. In startups, every work day isn't the same and you'll likely try several roles within a short period of time. Best CV website states that it's a great way to develop a well-rounded set of skills you'll unlikely get anywhere else. Moreover, as the startup grows, your role and set of responsibilities will grow along with it – so you can grow from an entry-level from an executive position within just a few years. Isn't it exciting?
You get surrounded by creative, open-minded individuals
The adventurous nature of work in startups attracts the likeminded individuals. If you lack fresh air in a company with multiple restrictions, including the topics of conversations with your colleagues http://resumeperk.com/blog/top-taboo-topics-you-should-never-discuss-with-colleagues, our CV online sites are confident you'll enjoy the startup environment. Startups are often filled with innovative individuals, who are open-minded, focused on professional growth and dream of changing the world. You'll never get bored when working with people like these.
You will truly make the difference
In the larger company, each unique person can barely affect the company.  Even if you have the ideas and your own vision, it's a way too complicated to make changes into all business processes. On the contrary, startups provide you with a unique opportunity to make decisions which actually can ensure the success of business.
If you have an entrepreneurial mind and inner drive for not only fulfilling your daily duties, but also look strategically at the future of the business and would like to realize your ideas through it, don't hesitate to look for opportunities in startup!
You'll forget about the company bureaucracy
If you have ever worked for a big company, you know how the things are from the inside. First of all, they are the realms of bureaucracy, so in addition to work, you waste time generating endless, reports, memos, e-mails, and so on. Secondly, the strict hierarchy sets the decision-making and the tone of communication. Even if you want to come up with a suggestion, you need to find and impress the right person, and then wait for approval – and the whole process can take quite long, CV site UK states.
While working in a startup, you are actually encouraged – and even expected to offer your suggestions as they help move the company forward. Moreover, your suggestion – if approved by other team members – can be approved the very same day. And this speed in implementing working ideas and getting rid of ineffective methods of work enriches your professional experience and helps the startup succeed faster.
The workload will be high yet flexible
Again, the startup culture is free from bureaucracy. This means that despite you'll have a lot of work to do, you'll get more flexibility than if you worked in a bigger company.
Startups have different culture, which involves different leadership style and fewer restrictions at the workplace. For instance, you'll likely dress casually (however, you do need to watch your outfit for the interview – click here to pick the winning clothes: http://resumeperk.com/blog/what-to-wear-for-a-winning-job-interview) and will be able to have a chat with the company's CEO. More importantly, as the startups rarely have strict rules as per the working day, you'll likely be able to vary office hours or leave early for an important family event.
You'll learn how business works from the inside
If you have an ambition of starting your own company one day, this is another reason for you to join a startup. As a part of small team, you'll get involved in all aspects of running a company. The business management tasks which are handled by several departments in a bigger company will be the shared responsibility of a startup team. So, you'll be able not only to expand and broaden your professional skills, but also learn the basics of business administration, as CV sites UK say.
Be a part of creating something unique and innovative
Most startups are created to change the world. They usually aim at creating a technological product, service, or application which, if everything goes by plan, will go viral and gain a worldwide success. Not all of businesses will walk this way through – around the half of new businesses fail within 5 years, and most of them remain the traditional small businesses. However, if your startup manages to succeed, you'll get a reward and recognition you've never dreamt of, both financially and professionally. If you can't wait to find a startup job, you can type "rate my CV website" and our experts will evaluate your resume. Also, make sure that your resume is free from words can destroy resume.
Risk is everywhere
Some professionals hold back from joining a startup because of the risk. They assume that joining a startup involves a great deal of risk as the startup can fail anytime. It's true to some extent, but let's look at the situation differently: in fact, there is no risk-free employment in this economy. Even a big company can become a bankrupt or dismiss a few employees or the entire department. Moreover, even if you join a predictably stable company, it won't make you happy if you don't enjoy the corporate culture or the nature of work. To succeed in any field, you need to feel the drive and passion for what you do. And, if you feel that the startup give you the opportunities for creativity you want, it makes little sense to reject this chance in favor of a regular paycheck, online CV websites recommend.
Are you now motivated to start a career in a startup?
A startup experience can provide you with modern and diverse set of skills you won't get in a corporate environment. Moreover, your business can be catapulted into stardom one day, ensuring you a professional success and recognition. Nevertheless, if it doesn't become the next big thing, the experience you gain and the unique startup culture will definitely contribute to your personal growth in the long run.
Can't wait to apply for startup jobs? Make sure your resume corresponds with this goal. Check the resume templates free to get an idea of how a great resume should look like. Also, to impress the reader with your resume statements, use verbs from the list of necessary resume words.
Need an effective resume right now?
If you need a resume that will bring results, you'll benefit from using the help of professional resume writers. Our resume experts will follow all your requirements and create a brand new resume for you, in accordance with the latest resume trends. Learn more about our packages and prices – they'll pleasantly surprise you! Moreover, you'll save time on rewriting your resume over and over again, so you could focus solely on seeking a startup job.
Have you ever worked for a startup? Did you enjoy this experience?
Popular Posts: