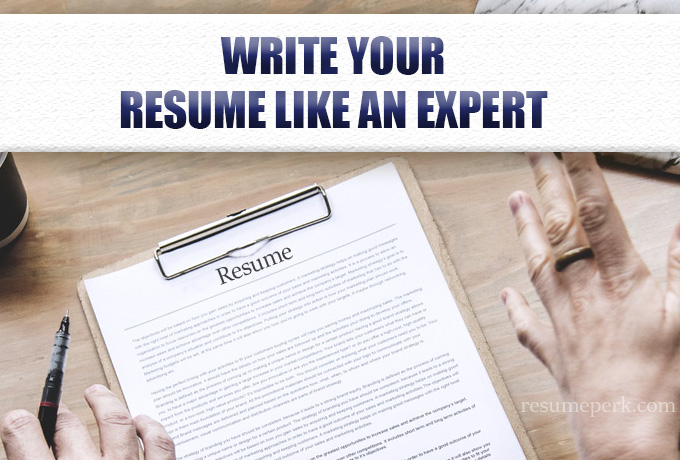 A well-written resume often plays a decisive role in your career. Like it or not, it's this one- or two-paged self-presentation that determines whether you'll get interviews and eventually end up on the job you're aiming for. While creating a resume is a manageable task for all job-seeker, producing a really high-quality application that will generate interview calls from the best employers is a huge challenge. And if you aren't experienced in resume writing or human resource, you'll likely make the resume mistakes and miss out on the job opportunities.
Use The Writing Techniques from Expert Resume Writers
The internet is flooded with resume writing advice which is contradictory, unstructured or simply outdated. If you need resume advice that really works, you need to refer to the experts in job-hunting: HR managers, resume writers and career coaches.
Today, we are going to share the tricks and strategies that professional resume writers of our company use while producing resumes for our clients. With 9+ years in the resume writing market and hundreds of satisfied clients, we've made it clear what works for the success of your resume and what leads to it being trashed. If you were looking how to write CV, read below. You'll instantly improve the appearance, structure, and content of your resume and look at your resume from the employer's perspective. 
Also in this section:
How To Create A Resume Like A Professional Writer?
Pass your resume through a 15-second test
To instantly access the effectiveness of your resume, pretend that you're a hiring manager looking for a candidate to fill the position. Open your resume on a computer screen (or grab a paper copy) and look through it in only 15 seconds. Are your job titles/company names impressive? Is your career summary attention-grabbing or it sounds like a bunch of meaningless buzzwords? Are your biggest accomplishments and contributions noticeable at first glance? And finally, would you hire this candidate?
If answers to some of the above questions is 'no', it's time to get down to work. On our website, you can get best resume critique for free to get the weaknesses of your resume accessed by a pro.
Concentrate the most important information at the top
With limited time to review each resume, hiring managers primarily read what's at the top of your resume, and read other information carefully only if the summary captures their attention. Objective statements are hopelessly outdated, so you want a strong, 5-7-line career summary (or 'executive summary', or 'qualification highlights'. Focus on your crucial and relevant qualifications, soft skills and achievements. Basically, your summary is an elevator pitch on paper and should clearly answer the question why you're the best person for the job.
Want more ingredients of a successful modern resume? Check out our list here: http://resumeperk.com/blog/must-dos-and-donts-for-modern-resume-you-should-know.
Use keyword optimization
Today's all mid-sized and large employers use applicant tracking systems, or ATS. When you send your resume to the company or fill out an online form, it is scanned by the software for relevance. Only if your resume contains the necessary qualifications, job titles or skills, it passes the checking and is forwarded to a human for review.
Our writers take keyword optimization seriously, that's why we ask our clients to provide a sample job posting to adapt your resume for a specific company and role and help you win the competition.
If you optimize your resume on your own, the key secret is to use the same language as the employer uses in a job posting. Include all the skills and qualifications required – provided that you have them. For more keyword optimization advice, see our post here: http://resumeperk.com/blog/why-keywords-are-so-important-for-successful-resume.
Give your resume a sharp focus
If you intend to write one version of your resume to apply for all kinds of jobs out there, your strategy will fail. The above mentioned ATS software weeds out the generic resumes as irrelevant, so you might send out literally hundreds of resumes and get no response.
To succeed at the application stage, your resume needs to be very focused. Tailor it for a specific company type, role type, or both. Eliminating the irrelevant experiences, be sure to recollect every single accomplishment or responsibility than can make you an attractive candidate from the employer's perspective. Unpaid and voluntary experiences count, too!
Rewrite your experiences using PAR approach
What distinguishes an effective resume from the mediocre one? First of all, it's the orientation on result. Each sentence in a great resume is written in a way that highlights your contribution to resolving problems and delivering results.
If you want your resume to look really professionally, take each job description in your Experience section and rewrite it using the problem-action-result (PAR) approach. Outline the problem, the action you've taken and the positive result you've reached. When you describe your experience in this way, it gives employer the context, points out at the scale of problems you're capable of handling and demonstrates that you strive for delivering results.
Many modern employers track your actions on the office PC. Read how to detect spyware at work.
Add figures to your accomplishments
If you've ever worked with a professional resume writer, you know that they always ask you about the accomplishments to identify your business impact. Indeed, a resume where the statements are supported with figures looks more professional, captures the hiring manager's attention for a longer time and evokes trust. The number of people you managed, the amount of budget, money and time saved, efficiency increased, downtime minimized – all these figures add up to your competence and show your orientation at result. If you cannot disclose the figures due to NDA, use percentages to quantify what you've done.
Don't forget that the resume is a marketing document, and resumes with figures sell you for the job better.
Remove the irrelevant career details
One of the primary things that a professional writer will do on your resume is removing the irrelevant or outdated experience. This is especially important if you don't have a clear career progression or switched fields. Remember that the employer is only interested in your relevant skills, experience and achievements, so you can feel free to omit the irrelevant details. Deleting such information will help you create a visibility of consistent and progressive career path, and focusing on the most relevant skills you'll look as the perfectly qualified person for the role.
Feel like adding a touch of creativity to your job hunting? Try using a new resume type to get hired.
Take care of formatting and design
A design itself isn't everything; still, when a hiring manager sees a well-designed resume with clear structure and thoughtful formatting, chances are they'll spend more time reading it. Design is the best thing that is noticed about your resume, so you want it to be bright and bold yet professional. Emphasize the important information such as your name, section headings, positing/company names with capitals and boldface. Stay on one of the modern fonts such as Calibri, Arial or Tahoma, and keep it big enough for reader's convenience. Make sure that you use the same formatting throughout the document, and it looks neat in general. Finally, avoid using too many colors on the resume since it's a business letter, not your personal blog.
Proofread it carefully
As you've completed the writing, give yourself some rest and then get down to proofreading your resume. Professionally written resumes must look spotless in all regards, as an occasional typo or misspelling can make the employer question your professionalism. So, proofread your document for several times to make sure it's flawless.
Use various proofreading techniques to leave errors any chance: read the resume backwards, word by word, and run it through a spell checker. Use any signs of punctuation consequently – if you use a period at the end of each bullet point, do so throughout the document. After you've proofread it by yourself, get a friend or family member to give it a review. Another person will read your resume with a fresh eye and point you out at the errors you could have omitted.
All of the above methods are widely used by our staff writers and will undoubtedly take your resume to the next level if you use them right. Remember that employers ask to attach a covering letter along with your resume – check out the rules for creating a winning cover letter.
Need A Professional Resume That Really Makes the Difference?
Professionally written resumes are typically more eye-catching, more informative, and more concise comparing to DIY ones. However, the key thing about a professional resume is that it will help you land a job faster, as it typically attracts more attention from the employer due to the high quality of writing and keyword optimization.
If you feel that your job-hunting process takes longer that you expected, contact us anytime. Our company creates expert resumes with genuine dedication to client satisfaction and supports customers worldwide during their job search. We respect deadlines and create resumes based on your individual career history, allowing you to look your best on paper. You can get a resume for any industry, any career level and it won't cost you a fortune – learn more about our pricing policy.
Have you ever incorporated professional resume writing techniques into practice? Did they work for you?
Popular Posts: