How to Build My Resume Effectively In 10 Simple Steps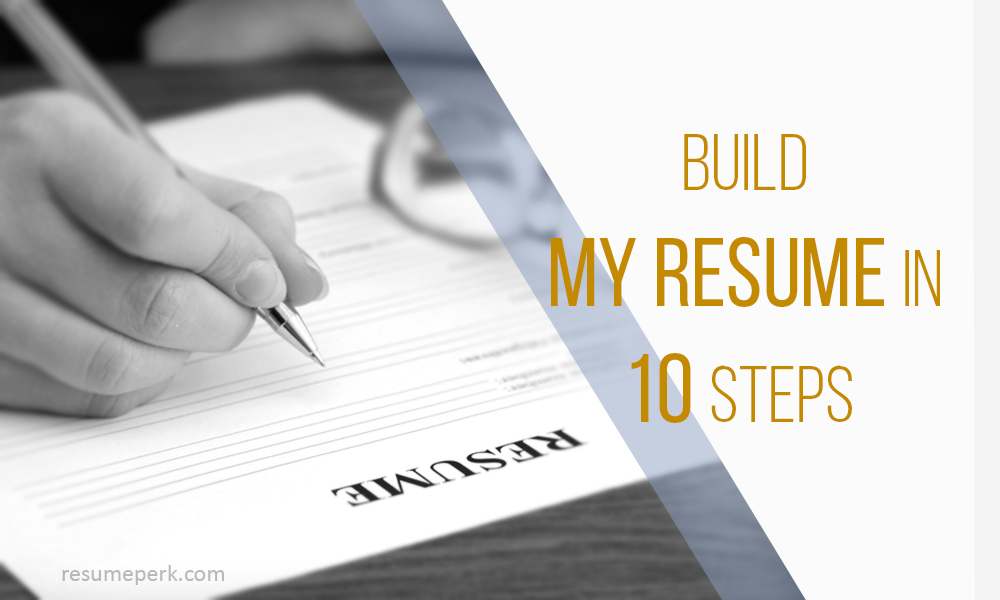 Writing a resume on your own is a time-consuming and daunting task. This is especially true if you've never written a resume before (or if you had written it over 10 years ago as the rules have changed). The tips and tricks offered here and there on the internet often contradict each other and it's easy to get overwhelmed. Moreover, for those who are new to resume writing, terms like "keyword optimization" and "personal value proposition" pertaining to resumes may sound nonsense… So, where do you go about creating an attention-grabbing resume?
Are you a student who needs to obtain the first full-time employment but lack self-presentation skills? Or, are you a recognized professional who are too busy to master the rules of efficient resume writing? Maybe, you're a retired military who wants to translate an army experience into the business language? Whatever your reasons are, here's the fact: you need a new, well-written and effective resume that will take your career to the next level.
Also in this section: 
Our professional resume writers online have exactly what you've been looking for: resume writing expertise and understanding of the employers' expectations. All this, coupled with our long professional history and awareness of the modern hiring practices, helps us to deliver quality and unique resumes for our clients across the globe. Interested? Contact us for more information or learn more about the services we provide.
Build your own resume: 10 essential tips
The first and foremost thing you should know about resumes is that it falls under business correspondence type. Therefore, you need to keep both the language and the appearance of the document simple yet professional. Remember that its primary purpose is to communicate your past experience and accomplishments to a prospective employer and showcase what you are potentially capable of.
Use the .docx file to create a resume
A text file with .docx extension is the most popular format for resumes. It's easy to create and edit your resume using it and the document will open on most computers and mobile devices. Moreover, .docx files are easily scanned by applicant tracking software, guaranteeing that your resume will be read by a human.
However, if the job posting specifically mentions that you should apply with .pdf file, do follow this guidance.
How to take initiative at work to gain recognition and receive a promotion? Read our guide here: http://resumeperk.com/blog/initiative-at-work-to-take-or-not-to-take.
Include the resume basics
Basically, here's the information that your resume should contain:

Your full name and contact info (i.e. your home address, phone number and e-mail, LinkedIn profile if filled out and active)
Education (university name, degree and your major)
Work experience (company names, position names and your responsibilities)
Resume objective or summary (to give a hiring manager a quick overview of your professional capabilities).
Any additional information such as skills, volunteering, trainings, community service, professional certifications, etc. is optional – you only add more sections if you have had this kind of experience.
Avoid including personal information
Resume is a strictly professional document; therefore, your picture, date of birth, marital status and any kind of private information should be left off. Most companies will weed off such resumes to avoid discrimination claims. Your hobbies or interests, if not relevant for the job, can be left off as well. 
Choose the best resume format
There are three resume formats, and the format choice depends on your specific career situation. The first one, Chronological, is best for experienced candidates with clear career progression in the same field. This format assumes that you list your jobs in a reverse chronological order, with a detailed description of responsibilities given for each job. The Functional format, on the contrary, focuses on your skill set and functional responsibilities rather than career progression. Therefore, it's a perfect option for career changers, candidates with employment gaps and tech specialists. The third and the most common Combination or Hybrid format highlights both your skill set and the career progression. It works for most industries and career levels, including entry-level resumes.
Friends and work – can this combination be successful? Read our entry to find out how to save friendship without damaging your career.
Reflect your previous experience effectively
The "Professional Experience" section should contain company name and location, position name, start and end dates and a brief list of your key responsibilities/accomplishments for each role. Avoid copying and pasting job descriptions from the web – this won't secure you an interview. For each job, write around 5-6 sentences formatted as a bulleted list. Make sure your statements start with strong action verbs, such as "Spearheaded", "Initiated", or "Supervised". Whenever possible, support your statements with figures – how many people you led, how much revenue you brought in, etc. Figures draw more attention and eventually make you look like an accomplishment-driven individual.
Develop an eye-catching career summary
Career summary (also called Summary of qualifications or Professional profile) usually contains 3-6 sentences that highlight your major strengths and show at a glance what you can deliver for the prospective employer. This section is used to list your most impressive accomplishments, your areas of expertise as well as career interests.
The content of your summary typically depends on career goals. If you are aiming for management position, showcase the accomplishments and the ability to manage people, relationships and resources. For career changers, it's the perfect place to show how their skills gained in past career translate into the new field. Ideally, the summary has to meet an employer's expectations from the role.
Take care of the consistent formatting
Proper visual formatting is necessary as it helps the hiring manager navigate the most important information in your resume. Use the same font type, size and spacing throughout the document – the best font size is between 10 and 12 pts. Using color is acceptable – but no more than 2 colors should be used. Be sure that each section is distinguished and the entire document is easy to navigate and look through. If formatting isn't your cup of tea, you might want to use a resume builder. However, be very careful about using them – not all resumes created by online builders can be read by applicant tracking software.
Feeling unmotivated at work? Learn how to regain motivation and boost inspiration at the workplace: http://resumeperk.com/blog/simple-ideas-to-regain-motivation-for-working.
Include a list of professional skills
Some resumes also include the applicant's skill set after the resume summary. This immediately gives reader an idea of what areas you are most competent at and is especially helpful for skill-based jobs such as engineering or software development. Write out a list of skills you've gained professionally and choose those which are most relevant for the job you'd like to get. They will form your "Professional Skills" section. Don't use obvious skills such as MS Word proficiency, communication skills or teamwork – these are so common that they won't add any value to your resume and won't distinguish you from other applicants.
Make your resume 1-2 pages
The optimal resume length is between 1-2 pages, depending on how many years of experience you have. It's better to stay within this limit, as it's unlikely that busy hiring managers will read a 4-page document. If a completed resume turned out to be longer than 2 pages, consider cutting off the irrelevant information and the experience that is older than 15 years.
A resume for university graduate should not exceed 1 page. One page is more than enough to reflect your academic background, skills gained at part-time jobs, internship and campus activities.
Have someone else to review your resume
Once the first draft of your resume is completed, it's a good idea to get someone else to look at it. As you build your resume online, you probably make mistakes or typos, and it's silly to get discarded from the competition because of the resume full of errors. Ask your spouse or a friend to review it and tell their suggestions. It's even better if you find a good professional resume writing service and have your resume reviewed by them. A professional resume writer is likely to point at and correct the errors you didn't know existed.
Now that you are aware of the key elements your resume should contain, it's time to get down to writing. Remember that it's important to keep it short, professional and up to the point. In other words, only include the information which is relevant to your prospective role. Try and look at your resume from the employer's perspective: would you hire someone applying with such a resume? If the answer is no, probably, your resume needs more work.
Get your resume improved in no time
Too busy to learn the rules, choose what to include and rewrite the resume over and over again? We have a time-saving solution for you. Our company has 9+ years of experience in the resume writing field and we'll gladly take on all your resume worries. With an awareness of best resume writing practices and hiring trends, we know how to create a resume for any industry and career situation. All you need to do is to send us your old resume, fill out a quick questionnaire and stay in touch with your writer. And if you don't like the first draft, you'll have two weeks to request the free revision. We will make sure to write your resume using the most powerful words.
Need a new resume urgently? Order resume help online for tomorrow and request your discount via online support chat.
Popular Posts: