Why hire a professional writer to do resume online?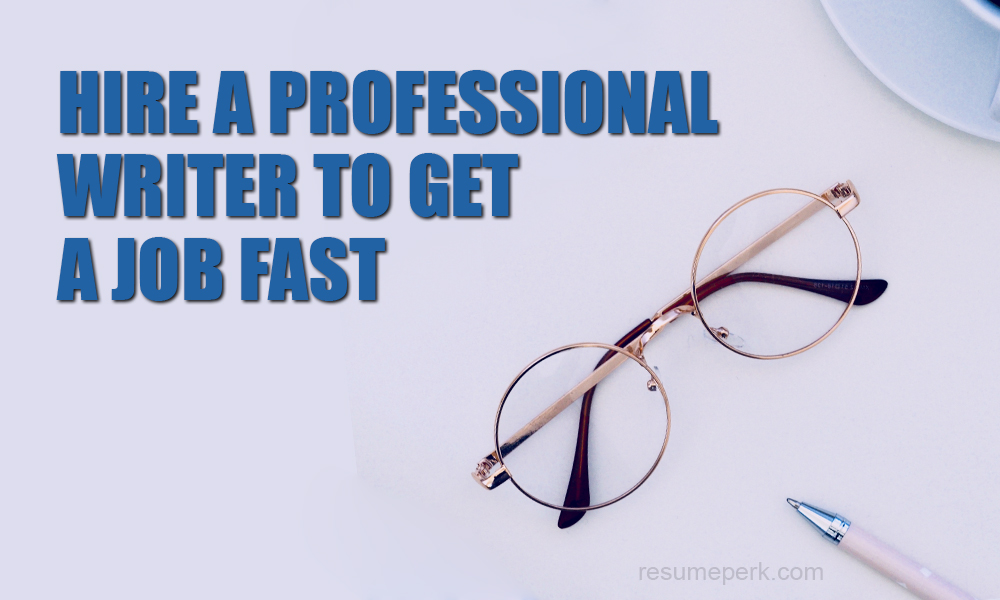 Professional resume writing services grow more and more popular among the specialists across all industries. Students, professionals, and top managers realize that a good resume gives them more chances to get hired fast. What professional writers know about resumes that you probably don't, and when hiring an expert is really helpful – read below.
Why hiring a writer to do resume online is good for your career?
At Resumeperk.com, we've seen hundreds of good, average and below average resumes that our clients sent us for improvement. Creating a strong resume instead of a mediocre or poor one provided by the client takes time, effort and expertise. Our CV writing company staffs only experienced resume writers who are capable of creating resumes that distinguish you from other applicants. And, as the statistic shows, professionally written resumes generate more interview calls.
Pay to get resume done online: why professional writers really help?
Any professional resume service (including us) can't guarantee you an employment. If someone does, it means they are a scam. However, thanks to the experience with resumes of all kinds and understanding of how the modern recruitment process works, professional resumes typically bring a lot more responses. This is happening because of the following qualifications the pro writers have:
They are good writers
Let's admit it – not all of us are naturally good writers. Accountants, office managers or logistic supervisors can build a great career without strong writing skills. Nevertheless, when it comes to composing a resume, business writing is the #1 skill you'll need to get your application noticed. Recruiters are tired of wordy sentences and lengthy, stylistically incorrect writing. The hard truth is 59% of recruiters reject resumes because of poor grammar and spelling. They are more likely to attend to clear, concise, easy-to-read application and give it more consideration.
They are good with formats
If you aren't new to resume writing, you know that there are three main resume formats: chronological, functional, and combination. Although learning how to write them is no rocket science, figuring out when it's the best time to use each one can be tough. For example, using a functional format when it's not appropriate can actually minimize your chances for an interview! Experienced writers know when every resume format works best. Moreover, they modify the existing formats in a way that allows to show the best of you.
Are you a woman who feels underpaid comparing to the male counterparts? Then, you might be interested in learning more facts on gender pay gap for women.
They don't tolerate buzzwords
Majority of resumes are stuffed with so-called buzzwords – cliché statements which are not supported by facts. You can even try and check if your resume has one of the following words:
Team player
Hard-working
Professional
Result-oriented
Creative
Responsible for
Work well under pressure
Hiring managers don't want clichés – instead, they want measurable results and proof that you are good at that skill you claim you have. Good resume writer will spot and remove meaningless words and phrases, putting your tangible experiences in focus.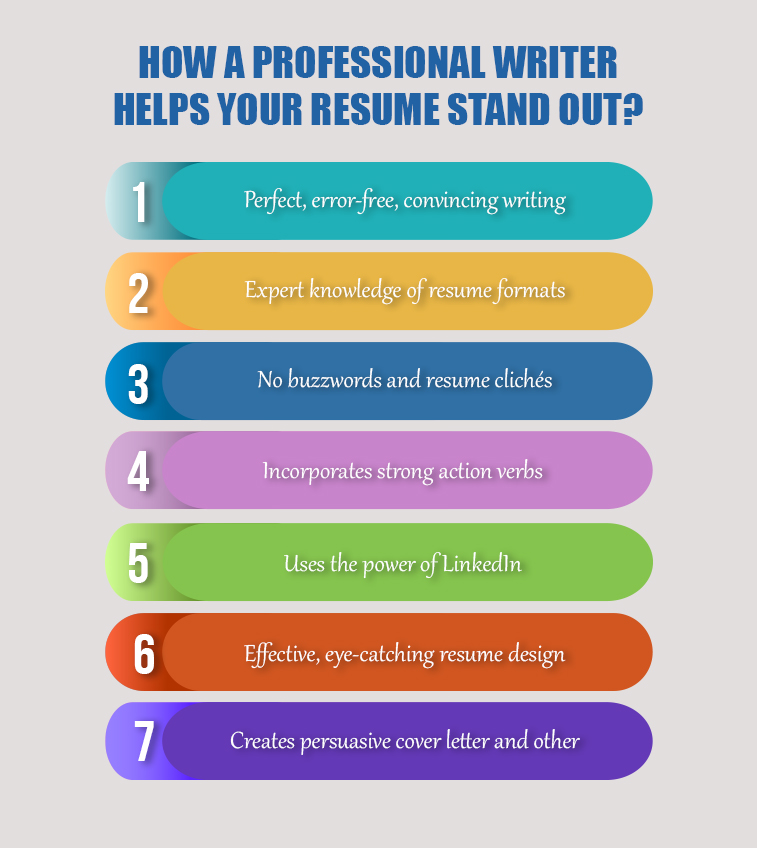 They use the power of action verbs
Starting the resume statement with strong action verbs is now considered 'a golden standard' of resume writing. When descriptions of your experiences and achievements start with words like Incorporated, Facilitated and Restructured, it makes a stronger impact on the reader than if you were to say Managed or Was responsible for. Moreover, action verbs add weight to what you are saying as well. Here are lots of examples of action verbs for your resume: http://resumeperk.com/blog/top-200-most-powerful-resume-words-with-examples.
They leverage social media power
LinkedIn cannot be ignored since it's a powerful job-hunting tool. If your profile is half-empty or is copied and pasted from your old resume, you might be missing on opportunities that recruiters offer online. A professional resume writer can fill out your profile and make you more visible in search results.
They know the importance of great design
Your resume won't have a second chance to make a first impression. It needs to be formatted and designed professionally yet be different from dozens of other resumes. To make the design really work for you, professional writers not only format the document but also prioritize the content to put your key accomplishments into light using design elements. As a result, the resume naturally brags your key qualifications and accomplishments.
Custom resume writing services work wonders on other job-hunting documents, too
A single resume is rarely enough for an effective job search. You'll also need a cover letter and a thank you note after the interview. Reputable resume companies typically offer all job-hunting documents in a bunch to get you 100% prepared. Cover letter is of high importance since it determines whether your resume gets read or not. Expert writers can make that letter attention-grabbing and really winning. 
What you should know about hiring freelance writers for your resume
Today one can find a lot of offers from freelance writers. Hundreds of online specialists from Fiverr and Upwork promise to compose a resume for you. Here are some crucial moments to consider when hiring writers on such platforms.
Resume writing experience
The freelance writing business is a rather broad concept. It covers creating texts for digital marketing, social media posts, SEO copywriting, website copy (including blog post, a landing page), and many more. Make sure, the online specialist has a practical background in resume writing and can create content for your goals — check out the writer's portfolio.
English must be a native language
When hiring freelancers on global online platforms check if English is their native language. Otherwise, you can receive a document with misused words, poor grammar, and weird phrases. Even high-quality writers cannot guarantee perfect results if they lack knowledge of the English language.
Working relationship with a new content writer
Do not buy a pig in a poke on job boards. Ask about guarantees and reliable cooperation. If the freelance writer is interested in potential customers, he/she can prove his/her reliability and efficiency. The best writers offer a free revision period and demonstrate samples of their work, for instance.
Professional opinion: We do not recommend using such websites as Writer Finder, for instance, if you want to choose an author for your resume. Such online platforms usually focus on marketing copy, website content, sales letters, and creative writing. They can be pretty good at the analysis of the target audience and high-quality writing for commercial purposes. Still, career documents are quite another matter.
Advantages of our perfect writer
As our client, you gain access to a huge database of full-time writers. This fact gives you numerous advantages over cooperation with random freelance content writers.
A knowledge-based approach
The Master's degree is a must for our writers. Of course, resumes are not as difficult to compose as research papers, for instance. Still, such education gives broad knowledge and establishes critical thinking. That is why you always receive brilliantly written content, which is logically composed and free from grammar mistakes.
Professional writing is guaranteed
Our specialists write high-quality content for all types of career documents, and these are not empty words. The content writing process is carried out by experts. Plus, we have an in-house editor to double-check all the texts. We are sure you'll like the resume. And if we do not meet the requirements of your Order Form, we'll correct everything for free.
A primary focus is on your uniqueness
Our resume content creation is based on highlighting your strengths. Importantly, our great writers select those of your accomplishments and experiences that will interest your future employer. For instance, it could be marketing professional achievements, creative skills, technical writing talents, web development competencies, etc.
ATS-friendly resumes
The understanding of search engines algorithms is necessary not only for web development and content marketing promotion. Thus, contemporary recruiters use ATS systems to quickly find suitable candidates on the web. Such algorithms analyze headings and texts of online resumes. We have enough experience writing such texts and know how to use keywords in career documents.
Experts note: A full-time writer from a trustworthy agency is the best variant for those who need well-thought-out modern resumes. Foolproof cooperation and awesome results are guaranteed in this case.
Find your new writer for your great resume here!
Do you need expert assistance of the best people who do resumes?
So, if you've come to a conclusion that you need to find a job faster and want a professional resume to help you with that, you're in the right place. Experienced writers of Resumeperk com can prepare a full range of application documents for you, from a resume and curriculum vitae to less known thank you note and interview tips. In either way, we'll do what is in our power to create a compelling resume for you.
Order resume help online US
Our writing services come with satisfaction guarantee – if you don't like your new resume, we'll rewrite it for free. interested? Check out our services and prices and feel free to contact us in chat for personal discounts!
Keep in touch!
Subscribe now and receive information about our services.
Receive free resume tips from our experts every week;

Find out more how to succeed on an interview;

How to define your advantages and disadvantages;

How to choose effective resume writing service;

How to increase efficiency of your job search.
SUBSCRIBE NOW