Climbing Career Ladder: All Is Fair?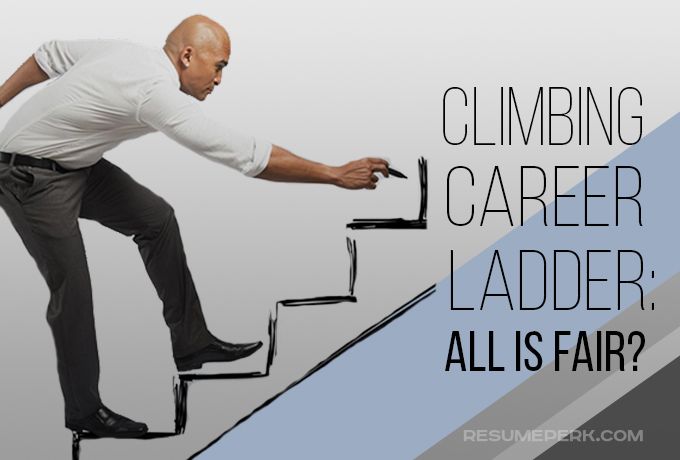 For most of us, professional success and recognition is a dream come true. On our way to career success, we spend years in college, develop a career plan and even refer to professional resume service to help us land better job.  Striving to grow up to an executive role one day, we are willing to go to great lengths, work as hard as it takes and even sacrifice the work-life balance. However, as you may have noticed, the knowledge and hard work alone rarely lead to breathtaking career success. You don't need to be the smartest and the most experienced in your company to go through the ranks. What you do need is a business vision and readiness to take initiative rather than just do your job.
Have you ever wondered why some people are getting promoted faster than the others (often more experienced and talented fellows)? Want to know the ingredients of climbing up the corporate ladder and ready to utilize all fair techniques to achieve your goal? Then, continue reading below.
Also in this section:
Effective tricks for climbing up the career ladder
Keep a running record of your accomplishments
Promotions don't fall from the sky. That's why the first and foremost thing that you need to do when aiming for a promotion is to assure your present (or prospective) employer that you are qualified for one. And here a thoroughly prepared, detailed list of your accomplishments will come handy.
If you've never had a record like this in your career, it's time to get started. Open a notebook or a word processor and write down your accomplishments, promotions and key skills (Want to know which skills differentiate highly successful people from the midst of others? See here: http://resumeperk.com/blog/10-skills-for-career-success-from-cv-proofreading-service).
Here's what you can include into your list for promotion:
Work/industry related accomplishments, preferably with figures (i.e. Achieved 20% faster incoming order processing)

Promotions and bonuses (both monetary and non-monetary) for outstanding performance and exceptional work

Achievements and recognition for non-professional activities, such as volunteering, community service, etc.

Trainings, certifications and skills gained through courses and self-education (it's important that the skill was tailored for the role you are aiming for).
Why is this important? Although being humble and respectful are the traits of a perfect employee (to learn all about qualities employers value most, click here:), being shy of your accomplishments won't take you anywhere. When several people in your office strive for promotion, it's important not only to be one of the best, but also to make sure your boss is aware of this too. A ruthless self-advertising (without excessive arrogance, of course) is what can help you secure a promotion.
Moreover, a list of accomplishment is a helpful tool when it comes to rewriting and updating your resume. When you need to have your resume updated, you won't have to recollect what you have done in a rush, as your major career milestones will be at hand. And you'll only need to paste them into a new resume or to send to a professional resume writer if you need a perfect professional document.
Keep your hand on the pulse of opportunities
We've already mentioned that getting noticed increases your chances for a promotion. And the best ways to present yourself are taking the initiative and being active at work. Taking initiative is one of the habits of successful people – to find out about other habits, see here: http://resumeperk.com/blog/professional-executive-resumes-habits-of-successful-people. However, these statements sound like buzzwords and can leave you unaware of what exactly you are expected to do.
Point out the solution to a problem – if you've noticed that something goes slow or works inefficiently, it's a good idea to pitch your boss with a solution or suggestions on how to improve things. Don't just point out at the problem – you want to look like a guy who offers solutions for business, not the guy who moans about issues.
Be active during meetings – if the meeting was announced in advance, do the homework and come up with your suggestions. Even if they won't be approved, you'll soon gain a reputation of a person who is concerned and ready to take initiative.
Don't blame or badmouth others – even if someone is to blame, focus on explaining benefits of your solution for the company and your colleagues rather than complain of someone's work. Be ethical and only expand on your own contribution.
What kind of opportunities can be? It depends on your industry and role; still, you only need to be more attentive to the working process – there is always space for improvements. For instance, it can be brand new software which is more effective, a new approach to working with clients or any element of the working process which can be optimized.
Walk in your boss' shoes
In addition to the ability to find new opportunities, you will need to communicate them to your boss. Generally, to show that you're one step ahead of other employees in your office, you need to act like someone on the side of your boss. And this has little to do with empty flattering and endless pay raise requests.
To cut the long story short, you need to put yourself in your boss' place and figure out how to make their job easier. He/she is likely to be busy with strategic tasks, and if you release them from necessity to micromanage, you'll stand out in a glance.
Keep them updated with status of your work as well as group projects rather than wait until your boss requests a report. Thus, you'll show the respect to his supervision and demonstrate that you keep things under your control in the same time.
Show opportunities and solutions – as we mentioned above, don't just bother your boss with pointing out at some existing problems (i.e. poorly working software, difficult client, missed deadline) but come up with your suggestions on how to resolve them. It's better if you show the strategic vision and offer how to improve the course of actions for the future.
Stay away from office intrigues and gossip – if you want to maintain a good reputation, keep away from spreading rumors about both boss and coworkers. Keep your relationships friendly yet strictly professional. For more guidance on which topics to avoid discussing with your coworkers, see here: http://resumeperk.com/blog/top-taboo-topics-you-should-never-discuss-with-colleagues.
If you've heard you are being considered for a promotion, use a simple trick. Send your boss a resume updated with your most recent accomplishments and let them know that you've got the necessary skills and expertise to continue working with them in a new role. If you pitch them with a resume written by a skilled professional, it will make a better effect.
You might also like:
Earn extra credit
To demonstrate that you're ready for more responsibility, you need to go beyond the day-to-day office tasks. And one of the proven ways is establishing a reputation as a subject matter expert in your industry.
Get the recognition in your industry – this can be gained through attending industry events, writing an article, or speaking at a conference. You can go even further and participate in a radio broadcast or a TV show. The more people know about you and trust your expertise, the better reputation you gain and your boss get a solid reason to give you a promotion or a pay raise.
Become a mentor – someone in your team has to train and mentor the newly hired employees. So, why not take on this responsibility? First of all, mentoring is closely associated with leadership and expertise, which will boost your trustworthiness in the eyes of management. Secondly, mentoring improve your subject matter knowledge and is helpful for networking. Thirdly, you may surprisingly discover that teaching others is your genuine passion, which can determine your further course of career (if you're still searching for a true calling, here are some tips on finding it: http://resumeperk.com/blog/discover-your-true-calling-tips-from-resume-services-online).
Orchestrate corporate events – if you have a few ideas of company events in mind, why not take the initiative and lead them? There are lots of various trainings, networking and teambuilding opportunities you can realize, and gain the respect of management and your co-workers. Maybe, your boss had had such an idea in his mind but was too busy to make it happen; thus, by taking on this job you'll look like a reliable individual with organizational abilities.
Moreover, one of the working ways to show up at the workplace is helping others. Taking on the most challenging tasks is not the best option, as it's a surefire way to professional burnout (if you experience drop of motivation and inspiration, learn how to rediscover them here: http://resumeperk.com/blog/10-ways-to-find-lost-desire-and-inspiration). However, helping out your coworkers when they got stuck and providing guidance will definitely make you look like someone who deserves a leadership role. It is as simple as buying a resume from a trusted resume writing company.
Take the advantage of e-mail correspondence
We all use a corporate e-mail to announce upcoming events, discuss project details or keep our colleagues up to dated with work progress. So, why not take advantage of it to secure a promotion? E-mail is an effective tool to get noticed and to build you an image of a responsible, dedicated employee. Here are a few hints on how to act:
CC your boss – if you're an active, hard-working individual who did a lion's share of that group project on your own, why not inform your boss about it in a subtle way, even without an eye-to-eye contact? This copy enables your boss to see the chain of emails and see who was in charge and who did nothing.
Turn your signature into a small presentation – when everyone around you is trying to show off, it's silly to limit your signature to your full name and position name. Instead, think of it as a way to highlight your key strengths (just like the header of your LinkedIn profile). The signature will depend on your role, industry and other factors but eventually everything that differentiates you from an average employee will work. "#1 sales manager of the year", "New e-book is out" and "Won a writing contest" are good examples.
Create yourself a workaholic image – e-mailing on days off or during non-working hours (for instance, at 11 pm) show that you spend evenings at your laptop to get work done. The trick is, you don't even have to be at the computer at this time – just schedule e-mails to be sent at a specific time using one of the online tools out there.
Share the positive feedback – if your client left a positive feedback, you managed to negotiate a discount off the purchase amount or performed exceptionally well in any other way, let your boss know about it. However, don't show off in this context; instead, just write that you wanted to inform them about the positive result. Mentioning the positive feedback you receive to your boss helps you stay top of his mind and be considered for a promotion in the future.
Keep your boss informed about the progress – when assigned some long-term project, make sure to update your boss with your current status. Don't wait until the completion to inform them. Keeping your boss informed makes sure everything goes right and shows you're in control and won't miss the deadline.
Effective e-mail writing is a skill too; so, you need to master it to take full advantage of the above methods. Read our guide to writing e-mails that get opened to make sure the e-mail you craft will get the needed attention. If you feel you lack writing skills in general, writing tips for beginners will come handy as well.
Be a good learner
Professional development means that you'll face a new sort of challenges. And, to look like someone who will succeed at overcoming them, you need to be not only dependable, but a good learner as well. Curiosity, intelligence and ability to grasp new things on the go can be the great helpers in getting a promotion.
Be open for feedback – if you gladly accept supervisors' feedback, they'll be more likely to teach you the important aspects of work and approach you with new opportunities. The truth is, all employers like people who are eager to learn from practice and grow. It also means that you need to learn to accept criticism in the right way. Moreover, it's a great way to improve the relationships with your bosses.
Ask questions – in case some aspect of work is unclear for you, don't just shy away from it. Contrarily to the common opinion, asking about something you don't know isn't the sign of weakness. It assumes that you are eager to clarify everything to broaden your knowledge and ensure the success of project.
Have you tried the previous concepts and tricks but didn't get a result? This could mean that your employer isn't able to fulfill your ambitions. In this case, consider updating your resume (you can refer to professional writing services at cheapest prices) and start sourcing new opportunities to advance your career and make a desired step up. You can learn more about our services and contact us if any questions.
Unethical ways to get promoted
Do you believe that the end justified the means? In this case, you will be curious to know about not quite ethical ways of climbing up the career ladder. However, beware of using them: it can damage your professional reputation and can totally spoil your relationships within the organization:
Gift your boss
Bribery is prohibited by law, but nobody can stop you from gifting your boss, especially if there's an occasion (i.e. Christmas, boss's birthday, etc.). The gift should be really lucrative – and make sure that your boss is aware of your desire to get promoted. Nevertheless, this trick will only work on immature personalities.
Exaggerate your contribution
As we have mentioned above, your boss should be aware of your accomplishments and responsibility. However, you can easily exaggerate them, just like people exaggerate accomplishments on resume. All you need to do is to convince your boss that your contribution to the project is significant and you play the vital role in it. You should exude confidence and use a lot of professional jargon to look professional, competent and in charge. However, it will be a hard task to hide the real situation from them.
Flirt with your boss
If your boss is single, why not start hitting on them? The display of affection can take you further than working late nights and mentoring new employees. Assured of your romantic interest, your boss is likely to give a promotion to you rather than someone else in your office. However, keep in mind that taking advantage of them has consequences. If the boss finds out about your plans, you'll likely lose a job.
If you have true romantic relationships with your boss, however, be sure to follow the unwritten rules of office romance to preserve your professional reputation.
Sabotage the work of others
Does your team has a plenty of rising stars you need to get down to go ahead? The best way to do this is through criticism of their work and contribution. You need to be smart and creative enough to know which buttons to push to convince the boss that their work is faulty, unprofessional or – you name it. Moreover, it's risky as those people might find out about your spoiling their image.
Lie about your positive traits
If exaggerating your current performance is simply not enough, try to bring attention to your accomplishments outside of work. You can tell both your boss and coworkers about the amount of charity work you do, your volunteering activities and your multiple awards from the previous employer. And even none of what you have told is true, who will check it? In the meantime, you'll manage to make a very positive impression on the people you work with – maybe, it'll even be enough to secure you a promotion.
Although methods listed above may work for advancing your career, using them is a risky business. If you care about your professional image and reputation, you'll unlikely ever refer to them. So, our affordable resume writing company recommends that you stay on the 'white' methods of climbing the career ladder.
Use professional resume help to advance your career
Going through the ranks and building a stellar career you are dreaming of takes more than just hard work. It is closely connected with your personal development at work and learning new skills. However, the above hints will help you make the difference in your career advancement. You'll see your ordinary work duties under the different angle and learn to identify the opportunities that lead to recognition and promotion.
Want to enter a management role but your current employer doesn't offer such opportunity? Keep in mind that it's possible – all you need to do is highlight your leadership capabilities and make changes into your resume to look like someone who is able to drive others, not just do the work assigned.
If you are looking for a new reputable company to join, don't neglect the importance of a quality written resume. Our career experts will create a resume which will advance your job search at more than affordable fee. We have 9+ years of experience in many industries, including IT, finance, business, engineering, sales, marketing, and academia. A poorly written resume slows down the job search process and career advancement; thus, don't wait another day – contact us anytime to discuss your career needs. You can also get a cover letter written – read free cover letter templates to get the idea of what we can do for you. Accompanying your resume with a cover letter helps you connect with the employer on a personal level and increases your chances for interview even more.
Need some interview guidance? Check our blog and learn which questions to ask employer during interview.
Did you manage to build a successful career and climb up that ladder? If yes, which methods and tricks did you use to fulfill your ambitions?
Popular Posts: