Buy Resume Made By an Expert Writer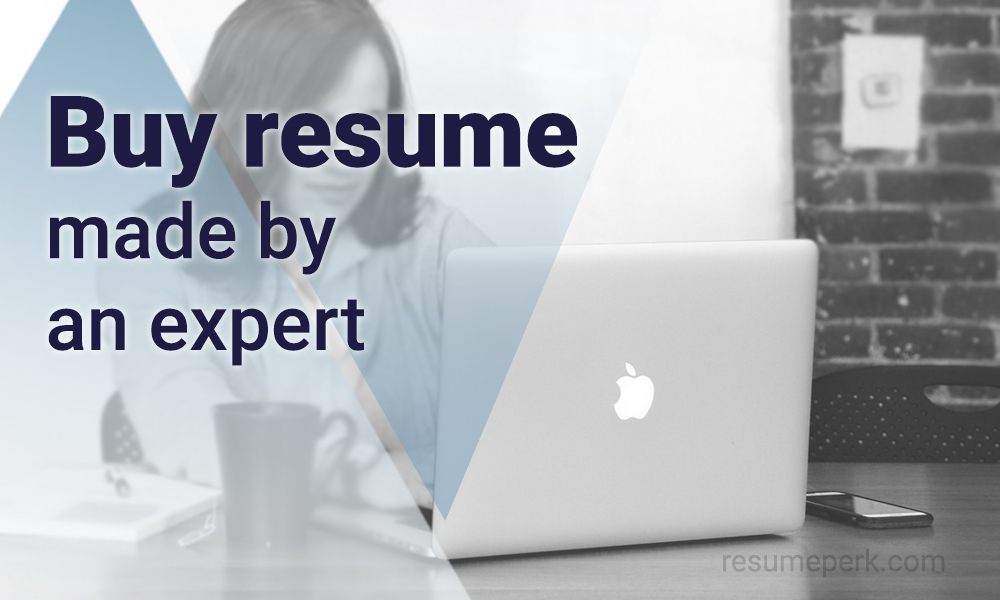 Once upon a time, a resume used to be a white piece of paper with the plain black text on it. The times have changed, and so have the requirements for the modern resume. Today's effective resume must be clearly structured, well-designed, perfectly written with accomplishments clearly highlighted and should support your personal brand.
Needless to say that creating this sort of a resume is quite a challenge, especially taking into account that a corporate job posting typically attracts 250 resumes. Moreover, as a busy professional, you might not have the time to hone your resume writing skills and learn from practice to meet the employer's expectations. When you're in urgent need of a new resume, consider contacting the best professional resume writers.
Purchasing resumes: why a professional resume help is worth it
The biggest advantage of collaborating with a resume professional is that they have a vision you probably don't have. Resume writers typically have a degree in English or Journalism, recruiting experience and have seen hundreds and thousands of resume. That's why they know what works in the job-hunting world and what doesn't, and can write your resume in a way that exactly meets the employer's requirements.
In addition, our writers are committed to quality – we guarantee top-notch original writing and individual approach based on your unique career history. Find out more about our writers and how we can help you. 
Also in this section:
Create My Resume: 10 Rules to Follow
Using LinkedIn effectively in your job search
Although resume is the basis of any job search, digital platforms are getting more and more popular for posting jobs and sourcing candidates. When it comes to looking for a new job, LinkedIn can be especially helpful if you use it in the right way. You can use it not only to create an online version of your resume and stay in touch with former coworkers, but also to look for job postings and let the job find you. Below, you'll find the tricks which will help you to get the most out of your LinkedIn profile during the job search.
Update your profile
Filling out your profile completely and keeping the information relevant and updated are the key if you want to receive more offers. The fact is that complete profiles with a professionally looking picture are shown higher in search results and it gives you a head start when the companies look for someone with your skills and expertise.  While it takes time to browse job listings on boards and customize your resume to apply for all those openings, a complete LinkedIn profile works for you, generating you attention from hiring managers with no effort from your side.
If you've left your previous job recently, you might be interested in the top popular reasons why people quit jobs: http://resumeperk.com/blog/15-common-reasons-why-people-quit-jobs.
Establish enough connections
If you're in the job search, make sure that you have at least 50 connections (100+ is better). For an experience professional, too little connections on LinkedIn might send the wrong message to the hiring manager. Lack of connections either shows that you don't use the platform actively or struggle building relationships with others in the workplace. However, don't just send your requests to people you don't know in attempts to build more connections quickly. If enough people report you indicating that they don't know you personally, your profile can be deleted.
Creating a strong LinkedIn profile takes time, but be sure not to use your office computer for that – many work PCs have computer spying programs these days.
Upload a professional picture
LinkedIn profiles with pictures get 11x more views than those with the blank image space. However, remember that it's not your Facebook account so not every picture is a good option to represent you on a professional platform. Pick the one where you are dressed professionally, preferably from the office or the business event, and where you are looking friendly yet don't overly casual. Follow the non-verbal signals your body is sending: you should use open gestures and look relaxed in the picture.
Be picky about your skills
The skills you list in the profile are typically keywords that the prospective employer will use to search for candidates. Use it to your advantage and update your skill section regularly, adding the new skills you've mastered and removing outdated or those which are no longer relevant to your career goals. Although LinkedIn allows adding 50 skills, the best tactic is to keep the number of skills under 25 to avoid confusing the hiring manager. The most important ones should be at the top and have more endorsements.
Curious how to use other social media except for LinkedIn in your job search? See here: http://resumeperk.com/blog/how-social-media-can-build-or-ruin-your-career.
Get recommendations and endorsements
Recommendations and endorsements are the way for other people to prove your expertise and professionalism. Moreover, a profile with feedback from others looks more credible. Getting endorsements is easier and faster as it only takes one click. The best ways to receive them is to endorse the skills of others (maybe, some of those people will endorse your skills back) or ask your connections about it directly.
When asking for recommendations, be sure to get in touch with people who know your work and can speak highly of you. Excellent recommendations in a profile will increase your chances for an interview.
Follow your dream companies
You probably have a number of companies where you'd like to work at hand. Since most big companies gladly share their updates via LinkedIn, following their pages will help you stay informed about any recent events or job openings. The biggest advantage here, of course, is to become one of the first applicants and by that increase your chances for an interview. However, you can also use the company information and news when composing your cover letter, therefore making your application more relevant for the company needs.
Where to buy resume paper? How to create a winning cover letter? Here's the answer: http://resumeperk.com/blog/how-to-write-winning-cover-letter-for-job-applications.
Create a strong headline
Your name, headline and the company you currently work for are the things which a potential employer sees about you when they use LinkedIn search to browse candidates. Because of this, it is helpful to use a headline to strengthen your personal brand rather than to simply include your current job title in it. Condense what you have to offer into a few words, and your profile will immediately stand out from the midst of those using their titles as headlines.
To increase your visibility in search results, it is also helpful not to remove your current job from the profile even if you were fired. The truth is, most hiring managers are likely to search the current job title of candidates, and if this field is blank in your profile, you might miss a lot of opportunities.
In addition to LinkedIn job hunting, check out where to submit your resume online to find a job faster.
Let the recruiters know that you're available
The new LinkedIn feature allows letting know the company representatives that you are open for new offers. Mark this option if you want to receive propositions from the recruiters.
Some experts recommend indicating that you are job-hunting at the end of your profile summary. However, this may come across as weird if you are currently employed, and if your employer sees this, they may question your loyalty. Explaining what your value proposition is and showing that you are available is the safe bet in this case.
Share meaningful posts
Like any other social media, LinkedIn allows you to write and share posts with your network. However, since this is a professional network, keep the casual posts for other platforms. LinkedIn is great for sharing news in your industry, analytical articles or your point of view on the common problem. Quality job-related posts will engage the attention of your network; and if you decide to use LinkedIn as a blog platform, your expertise will attract even more readers and subscribers. Needless to say that to hiring managers smart posts mean that you are active and passionate about what you do, which advocates for you when it comes to considering you for a position.
Have never written posts before? Check out how to write interesting post for your LinkedIn page.
Use the power of your network
Have you noticed a job posting from your dream company? Don't hurry up to send in your resume and a cover letter on general terms.
First, browse your network to find out which of your connections are somewhat related to the company you'd like to work for. These folks can make introduction for you. Most major companies have employee referral programs, so if they recommend you for the role, it's going to be a win-win situation for both of you. However, more importantly, insiders can share the information about the company you won't learn from anywhere. If you are focused on personal development in the workplace rather than just landing the next job, insider information will help you decide whether the company is a good option for continuing your career.
Look up for jobs in the Jobs page
As you have updated your profile, it's time to browse available jobs on LinkedIn. The website allows to you search jobs by companies, titles, keywords and skills. Also, check the 'Jobs you may be interested in' tab to find opportunities picked for you depending on the information you entered about yourself, and 'Jobs in your network' where your network can possibly open doors for you. You can also manage the jobs you've found by saving them to review later and subscribe for new postings that match your skills and interests. For smarter job search, LinkedIn has a premium option that opens even more job hunting opportunities and makes you more visible.
Last but not least – the best time to use LinkedIn for a job search is after working hours. Contacting hiring manager in business hours, especially if you are currently employed, isn't the best tactic. On the contrary, after business hours they get more active and you may receive a response faster.
Have a perfect resume at hand
A LinkedIn profile doesn't mean that you should neglect a traditional resume. If your one is outdated, consider contacting seasoned resume professionals to buy a resume, and our writers will resolve your resume problem in no time. Quality writing, eye-catching structure and design, keyword optimization and individual approach to each career situation is just a brief outlook at what we have to offer. You can get your LinkedIn profile completed by a professional, too – just send us your career details and let our career wizards do the rest.
Have you been invited for a phone interviews? Learn the key phone interview tips to get noticed and selected for the next interview stage.
Popular Posts: