Changing Jobs Checklist: 15 Things to Do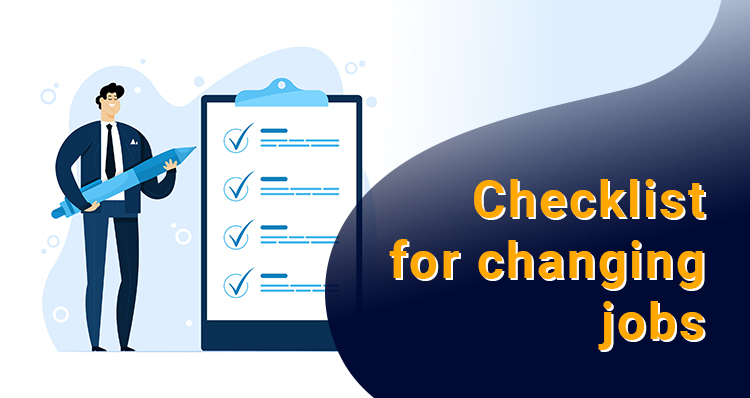 An ultimate checklist for efficient job switch
As stated by the Bureau of Labor Statistics, Americans change jobs every 4.2 years. We always look for career options that are better-paying, provide great work-life balance and career growth opportunities. Rather than changing an employer, an increasing number of professionals decide to pursue a new career. In either case, quitting and pursuing a new job is an important decision that requires thorough planning.
Changing a job is always a challenge, so you want to weigh all pros and cons to make a well-weighted decision that will benefit your career. You also want to follow the best practices during the period of changing jobs to maintain your financial and mental well-being. To help you handle the job switch professionally, our professional resume creator has prepared an ultimate checklist. Make sure you've done these essential 15 things before the day one on a new job.
Need some help crafting your resume?
You only have six seconds to impress the hiring manager. For a resume that shows off your best accomplishments and strengths, contact the professional resume makers of Resumeperk.com. It is the best way to create a compelling and persuasive resume, helping you get noticed by the demanding recruiters. Don't sabotage your career success – get hired faster.
Apart from perfecting your resume, follow other recommendations:
1. Determine what your ideal job looks like
A blurred perspective of what 'perfect' looks like makes your job search inefficient. Before you move any further, define what kind of position are you going to apply for. Applying for every job advertised out there isn't the best strategy – employers know mass-mailed resumes and ignore them.
Think about what you like and dislike most in your current job, where you'd like to go next and what is your top career priority right now. For instance, if you want to grow in terms of skills, your strategy will include applying to top players in your industry, even if the salary or locations aren't ideal. You might even want to write a description of a perfect job and compare the real job ads against it.
2. Create a job search timetable
Unless you got hunted by a competitive company, landing a new job is not fast. On average, job-seekers spend five months looking for a job. So, when planning a transition, bear this time frame in mind. Although you may find a job in two weeks, it's a rare exception.
Career experts recommend that you start looking for a new job while on the current one. It may take you weeks to review job listings, rewrite your resume, and attend interviews. Plan time for these activities in the evening or your time off and take regular efforts if you plan to get hired faster.
3. Complete all open assignments
Before you quit an old job, complete all tasks and projects assigned to you. If you were handed plenty of ongoing projects, delegate them to someone and leave your notes or instruct the person who'll be working on them on the process. Work as hard as you usually did and keep contributing to the team's goals.
Even if you're excited to move on, finish your tenure with the company on the professional note. Remember that your target employers can contact the current boss for a reference, and your careless attitude at the end of the tenure can spoil the good impression about you.
Feeling overwhelmed in the office? Check out the pro tips for managing workplace stress.
4. Don't burn bridges
Has your current job been a source of never-ending stress? Is your boss the most difficult person you've ever worked with? Even if this is the case with you, don't slam the door as you quit and don't tell your boss and colleagues everything you really think about them.
During an exit interview, focus on the positive sides of your cooperation and thank everyone you've worked with. You never know how you'll cross paths with these people in the future, and your occasional anger now can be pretty costly for you in the future.
5. Update your social media profiles
First and foremost, update and complete your LinkedIn page. This social network offers an endless sea of opportunities for job-seekers and allows the recruiters to contact you directly. So, you want your profile to accurately reflect the current state of things in your career, including your skills, most recent job descriptions, and career goals.
Your personal social profiles deserve an update, too. Review them and remove any outdated, too casual and questionable pictures and posts. The potential employers will look up for you online, and you want to make the best impression possible.
6. Freshen up your skills and knowledge
If you've been in the same position for years, chances are that you've missed some big trends or news in your industry. It's high time that you checked the job posting to get an idea of the employers' expectations. Maybe, a new version of professional software is out, the new practices are used or the new regulatory requirements dictate the rules of work.
In addition to sending your resumes, spend your time off gaining the skills crucial for landing a new job. Get familiar with the loudest news and innovative practices. Staying on top of everything in your profession will boost your employability.
7. Reach out to your network
At least 70% of jobs are never advertised and are filled through references and networking. Once you've determined to make a career move, let your network know. Reach out to the trusted contacts and recruiters to ask if there are any interesting opportunities.
It's also a good idea to let your LinkedIn network know that you're open to new opportunities. But if you are still employed, it's better not to use this option and contact the people who can assist in your job search directly.
8. Refresh your wardrobe
As they say, dress for the job you want, not for the one you have. The way we look can not only inspire confidence in ourselves but also determines how others will perceive us. So, check if you have the outfits that can impress potential employers. If not, it's time to shop for some new items.
The way we dress for interviews also highlights our culture fit. To choose an interview attire, learn about their understanding of a good style. Showing up in a suit in an IT company that values casual style is probably not the best idea.
Looking to break into the tech industry? Here's how to do this effectively: http://resumeperk.com/blog/how-to-start-a-career-in-tech-10-expert-tips.
9. Write a good cover letter
Earlier in this post we've touched upon the importance of a professional resume. But a resume alone is not enough to impress the hiring managers. 45% of recruiters will reject a resume at all if it doesn't come with a cover letter.
So, put enough effort to create a persuasive letter demonstrating your connection with the position and highlighting the accomplishments. Reveal a bit of your personality, list relevant skills, and keep it short and sweet. If putting your letter together seems a tough task, consider hiring pro resumes writing services USA 24/7, and a writer will do all the work for you.
10. Allocate time for job search every day
Before we've mentioned that landing a job – especially if you're changing career – is a time consuming process. Yet, you can speed it up by putting in more time for job-hunting activities every day. Don't look for a new job during working hours, though.
Take some time every day to look through job listings, update and send a resume, respond to emails, attend interviews, and follow up. Maximize your efforts if you want results faster – for instance, if you send 5 resumes per day, send 20. Taking regular effort daily, you get the result that impresses you as you'll get more interview calls and more offers.
11. Perfect your elevator pitch
Write a strong elevator pitch and rehearse it well. This is one of the key things you need to do when preparing for a career move. You never know whom you'll meet on a job fair, a professional conference or even at a friend's party. If you cross paths with someone who could help with your career, you'll want to introduce yourself strong and get remembered.
With an elevator pitch ready, you also won't have to puzzle over that 'Tell me about yourself' question. It doesn't have to be an essay on initiative at workplace, though. A brief description of your career history, strengths and achievements will suffice.
12. Evaluate your financial situation
Financial consultants recommend that you have 3-6 months of savings to cover your expenses. The period of changing jobs is often associated with financial instability. You might need to quit your job months before you land a new one, or to train before getting hired. In either case, savings will help you feel more secure during the job search. You'll be able to search for a job that meets your requirements rather than taking the first offer because you need to pay the bills.
Also, think of the ways to cut your expenses during the job search. You might also want to explore the ways to make extra money, such as freelancing or part-time gigs.
13. Clarify on the final paycheck
Before you quit, make it clear what benefits that you haven't used the company may owe to you. This includes unused vacation days, commission payments, outstanding salary, and more. Talk to your supervisor or HR manager to discuss this issue. Do you have stock options with the previous employer? If so, check if you need to exercise them before quitting.
Want to make a quick professional progress? Then, finding a career mentor you admire can help you along the way. Here's how to find and choose a good mentor: http://resumeperk.com/blog/how-to-find-a-career-mentor--transform-your-career.
14. Sort out the relocation expenses
If you relocate for a job, ask the employer in advance who will be paying the relocation expenses such as moving house, storing, travel costs, and more. Does the company offer a full relocation package? If so, you'll save a significant amount of money. 
Yet, it's no time to relax. You still need to calculate the cost of living in a new city as well as consider the local taxes which might be different from the ones in your state. Also, consider if it's more cost effective to rent or buy a house. Access the ways of transportation to work and how much they will cost you as well.
15. Evaluate the job offer carefully
Don't make any changes until you receive a job offer in writing. Once you've receive it, read it carefully and evaluate it based on different criteria. In particular, you'll want to pay attention to the salary – it should be competitive for your state and industry and the amount should be exactly as you've discussed during the interview.
Evaluate the benefits such as leaves, pension plans, tuition reimbursement, corporate car, and extras such as stock options and profit sharing. Savings and career trajectory can also be mentioned in an offer. In either case, if something isn't clear to you or is different from what you've discussed with the company before, reach out to them for a clarification.
Set your mind for a successful job change
✓ Don't make rash decisions. Even if the job stresses you out, avoid quitting in a rush, telling your boss that you want to quit, or taking the first offer you receive. Evaluate each step along the way and keep financial considerations in mind.
✓ Don't stretch the truth. Be sincere in your application documents. Remember that any company will do a background check and your lies can cost you a job.
✓ Don't get upset if things take longer than expected. Landing a new job, especially if you are changing industry, is a tedious and long process. Take small steps every day, stay persistent, and you'll achieve the desired result.
A free professional resume review
Can your resume secure a good position? Send it to our assistants. Our resume consultant will review it and recommend what should be improved in order to help you get noticed by recruiters. It takes 2-3 business days to receive your review and all your private information is confidential.
Need a professional resume urgently and don't have time to wait? Order custom resume at a cheap price. We guarantee 24-hour delivery and free edits until you are satisfied. Contact us via chat to get a 20% discount.