Significant Tips How To Format Your Resume
The modern technology spreads around and now you can find a job posting and apply on Facebook or Twitter. Nevertheless, don't underestimate the power of good old resumes. The traditional resume is a must when you start looking for a new job and it is considered your calling card until the hiring manager meets you in person, so you should put an extra effort into making it information and visually appealing to a reader.
Although content is a king, don't underestimate the importance of quality design and layout in your resume. Quite often it's design that determines whether your resume will be read from the top to bottom or trashed after a few seconds. Not sure how to format your resume? Contact our resume professional or check the key formatting rules below to give your resume a professional makeover: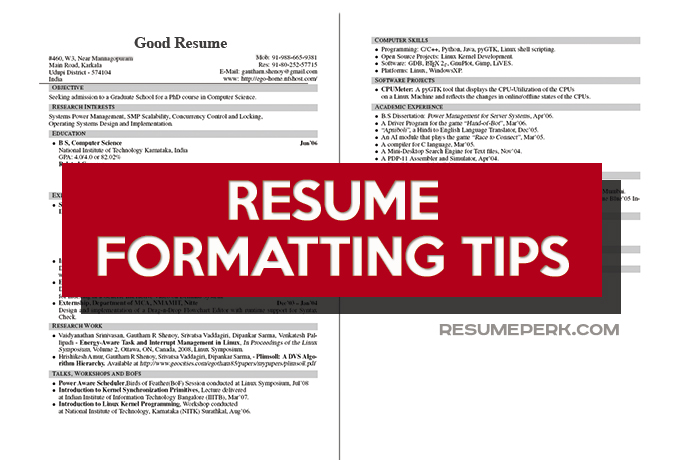 Get some inspiration
If you don't have a clue how a good resume should look like, you'll likely end up producing a dull, outdated or overly fancy design for your resume. Search for resume designs in your industry or check our resume samples to get the idea of what makes a visually appealing, well-designed resume. If there's a graphic designer or recruiter in your network, it will do you any if you ask them for some advice on which formatting will work better for your resume.
Get a clear target
As soon as you've understood which design you need, it's time to think over the structure that will make your resume more effective.
The resume, just like any other marketing document, has to have a clear target. Obviously, the target is to showcase your key competitive advantages – so choose the most appropriate structure for your situation. If you're just out of college, put the Education section at the top right after the Objective or Summary. If you've recently obtained a certification, include it at the top third of the first page. Your task is not only to include all necessary facts in a resume, but also to make sure the hiring manager will be able to see them at a glance.
Leave enough white space
Some applicants go to great lengths when trying to make the resume fit into one page (which isn't necessary, by the way). In particular, they often reduce font to 8 or 9 pts and remove the space between sections, which turns the resume into a total mess.
All career experts highlight the necessity of blank space in a resume: it divides sections and makes the document more convenient to read. So, let your resume breathe. The optimal number of words per page is around 300.
Cut off the obsolete, irrelevant or meaningless facts
There's still a common misconception that the resume must reflect the entire job history of yours even since you've graduated from college (or earlier). In fact, there's something weird in a job of bartender/waiter on the resume of someone who now applies for mid-level office management position. All the jobs, extracurricular activities, and even skills which aren't relevant to the job must be removed. Don't take the hiring manager's time with facts which make no value for them.
Choose one of the popular fonts
If you want to draw attention to your document by using one of rarely used fancy fonts, it can do you harm. Some fonts may be not recognized by the ATS and thus your resume won't get to a hiring manager's table. The best resume fonts to use in 2017 are Arial, Calibri and Tahoma. It's strongly recommended to use the same font throughout the resume. There's one exception, though – feel free to use the other font for your name and subheadings.
1-2 pages work best
Although there are still debates of the optimal resume length, resume experts agree that a resume should not exceed 1-2 pages. One page is convenient for career starters and professionals with less than 5 years of experience. For senior managers and experienced professionals it is acceptable to have a 2 page resume – this length is enough to showcase the value. If your resume exceeds 2 pages, it only means that you haven't filtered out the irrelevant information as it was recommended above.
Use no more than 2 colors
Adding some color to your resume will help you create a recognizable and unique design (click here for more tips on how to use color on resume). However, don't let your bursts of creativity go too far. An excess of color and colored fonts work even worse than lack of design. The best tip is to use one color in addition to black – and use it consistently to highlight the sections or the key points. Don't turn your resume into a rainbow – a hiring person will unlikely appreciate that.
Highlight the success
Did you work for some reputable company in your industry? Have you received any prestigious award during your career history? Do you have quantifiable achievements at hand that you'd like the hiring manger to notice? Then, use the typography tricks and formatting to draw attention to these. You can list your achievements under separate sections or boldface/underline them in text. Make sure your key strengths are visible at the first sight; otherwise your formatting efforts will make no sense.
Add the career summary
If your resume still lacks summary at the top of the document, don't hesitate to do it. Professional summary serves multiple purposes. First, it states the role you're applying for to avoid misunderstanding. Second, it highlights your professional value. Summary is the perfect place to include your most significant achievements, areas of specialization and core skills. Third, it's a great idea to showcase your soft skills in summary if you haven't mentioned them when outlining your professional experience.
Keep the formatting consistent
Another key thing which instantly makes your resume look professional is the consistency of formatting.
If you want to use ●bulleted lists, go ahead and use them throughout the document: in your career history, certifications, skills, etc. If you've italicized one of company names, make sure to apply the same formatting to all experience section. If you've made the subheadings bold, double check that the same bold font of the same size is used on all subheadings. Inconsistency in formatting gives the employer a 'red flag' showing that the applicant lacks attention to detail or doesn't take his responsibilities seriously.
Use the spell check and get someone to proofread your resume
The process of resume writing isn't finished until you've corrected all typos, grammar and punctuation errors. Editing and proofreading are necessary to polish your resume and make sure that your resume is spotless before you send it in. As stated by LiveCareer, it's recommended to get the other person check your resume. As the document is new to them, they'll likely spot the language and formatting issues which you've missed. You can entrust this mission to a friend of yours or, which is even better, professional resume editor who is capable of checking the other aspects of your resume as well.
Writing an effective resume is a real challenge. However, if you work at creating a proper design and applying the formatting, this will significantly increase the effectiveness of your resume. And, accordingly, you won't have to wait long for a desired interview call!
Not sure if your resume is written and formatted effectively? Send your resume free resume critique to hear a professional opinion on your resume!