Writing A Perfect Research Assistant CV: 10 Tips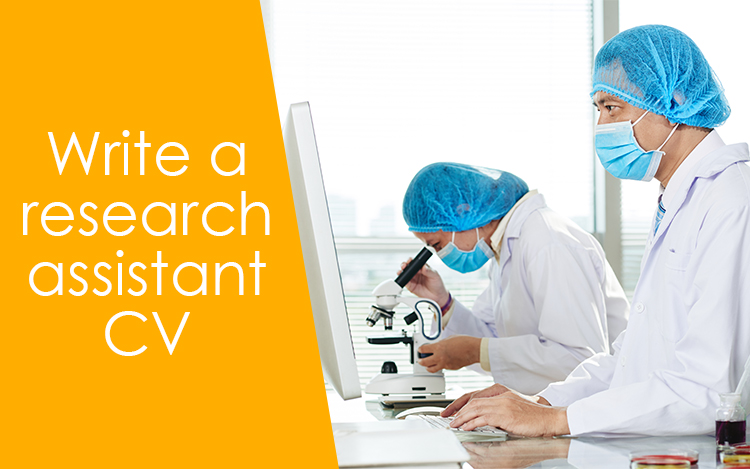 Write a winning CV of a research assistant in 10 steps
The research assistant is a popular career option for students and recent graduates. This job assumes gathering and analyzing information and data, overseeing experiments, interview research subjects, and update records. As a rule, research assistants are employed by universities or research institutions, consulting companies, colleges, or companies doing market research. On average, research assistants make $37,320 per year.
To beat the competition and get more interview invitations from the prospective employers, you should take your resume creation seriously. Not only it should highlight your research interests, technical skills, attention to detail and ability to collaborate with other researchers, but also it has to look professional and neat to win the recruiter's attention. Today, a professional resume maker from our team will guide you through the resume writing process, explaining the following:
• What to include in a research assistant's CV,
• Skills and personality traits to highlight on a CV, and
• The example of a strong, high-impact resume for your inspiration.
Get expert resume help today
Your first resume after college is of superior importance as it increases your chance to get a job with a reputable institution or company. And your first employer, in its turn, sets the tone for the further course of your career. So, if you feel that the resume doesn't represent you well, don't hesitate to turn to professional resume creators of Resumeperk.com. We've already helped hundreds of students to land their first jobs and will be glad to improve your resume as well.
Do you apply with a CV or a resume for a research assistant job?
If you intend to apply for a job with a university or scientific research organization, you will need an academic CV to apply. Curriculum vitae is the longer and more detailed version of the resume that specifically focuses on your academic experience, research, publications, teaching, and presentations. Unlike the resume, a CV should contain all the information about your education and employment.
However, if you apply for a marketing firm or a polling organization, you may need to submit a resume. In either case, read the job listing carefully or clarify it with the prospective employer whether they expect to receive a CV or a resume from you.
CV of a research assistant: writing tips
Can't wait to gather data, analyze the results, conduct surveys and draw meaningful conclusions? You are one step away from your dream job. Take these steps to create an informative and persuasive CV:
1. Start with a strong objective or career summary
The use of a summary or an objective should be dictated by your career situation. If you are a college student whose research experience is limited to university papers and projects, it makes sense for you to write an objective. In it, you can explain your strengths and research interests to position yourself as the right fit.
If you are an experienced research assistant, write a summary. Use it to concisely present your key accomplishments, skills and career highlights. In either case, keep your resume introductory section brief and relevant to the employer's demands – it will increase the chance that your resume will be read.
2. Double-check the contact details
Quite often the recruiters cannot reach a good candidate simply because they misspelled the phone number or forgot to include a phone or email at all. So, check your contact information multiple times to make sure it's complete and correct. Also, a casual email address such as 'jonthecoolguy@yahoo.com' can easily ruin the job opportunities for you.
If you still use an email address like this, create a professional one that can be used in a CV. A good email address consists of your first and last name and the professional impression it makes will help you in getting a job after you graduate.
3. Describe your education strategically
In a CV, the education section is placed above professional experience even if you have graduated years ago. Since this section is an asset to your CV, you want to make it as detailed for the prospective employer as possible. In addition to listing your major, degree, and university, you might add GPA in your resume if it's high and the relevant coursework.
It's also encouraged that you list academic accomplishments (Dean's List, Magna Cum Laude, etc.), your thesis, extracurricular or research experience. Anything that proves your research capabilities and academic successes are absolutely welcomed on this section. If you've had extensive research experience while in college, you might want to create a separate section for your research projects and publications.
4. Present your experience effectively
Simply listing your previous employers and day-to-day duties are not enough to capture the recruiter's eye. Firstly, you need to describe previous research experience focusing on the results you've delivered. Instead of saying that you 'Maintained archives and records', write that you 'Maintained resource archives for computer files and hard copy with 97% accuracy'.
Secondly, if the job listing is looking for someone with a prior lab experience, focus on your ability to prepare and maintain laboratory equipment, conducting experiments, using a microscope, etc. The ability to meet and exceed expectations and the relevance of your prior experience are what matter most for getting your candidacy shortlisted. Finally, keep your job descriptions short: 5-6 bullets will suffice.
Pro tip: Student with no experience here? Fill out the education section with voluntary commitments, part-time jobs, and internships. In an entry-level resume, any experience counts. However, it's strongly recommended that you find a way to align it with your research goals and the expectations of the target employers.
5. List your publications and conference presentations
CVs are all about showcasing the breadth of your academic work. So, if you delivered presentations during student or professional conferences, published articles or book chapters, or performed other kinds of research work under the supervision of your professors, make this experience count. List the details of each speech or research paper published so that the target employer could take a look if they're interested. Even if you have no experience as a research assistant, this section will demonstrate your capabilities as a researcher as well as outline your research interests.
If you're an experienced researcher with teaching, consulting experience or memberships in the professional affiliations, be sure to create specific sections in your CV and share this information as well.
6. Show off your academic awards
Have you been a top performing student while in college? Then, your CV should absolutely reflect this. After listing the mandatory sections, also create a section to collect the examples of your most prominent academic performance. You'll want to list your academic awards, scholarships, fellowships, student athletic awards, and more. Large companies prefer hiring top-performing students as they typically make result-oriented and dedicated employees. So, don't be shy to list all the amazing things you've accomplished. You might also want to incorporate the most significant academic awards into your career summary.
The familiarity with proper office etiquette will help you make a strong impression during the interview. Check out our code of office conduct.
7. Demonstrate your language proficiency
If English is not the only language you speak, that's a huge plus. The universities and other research settings prefer hiring bilingual research assistants or those who know one or more foreign language. If you also speak German, French or Spanish, it allows you to better communicate while working in international teams and assist with the translation if necessary. Moreover, people with foreign language proficiencies typically get a higher starting salary.
How do you reflect your language proficiency in a CV? List the languages you speak, indicating your level – beginner, intermediate, advanced or fluent. Note that knowing a few words in Italian doesn't count as a language proficiency.
8. Don't limit the document length
If you are asked to apply for a research assistant position with a resume, note that an entry-level resume should be one page in length. But when it comes to writing a CV, more is better. A longer CV means that you have a broader professional experience, more publications, research projects, more academic activities and awards. You needn't leave anything out for the sake of saving the space in a document.
List all your academic and professional experience since the year you've entered the university. Give the recruiter every reason to choose you over other applicants. Add the extra sections such as hobbies, certifications and training, and even professional blog if you believe that including this will help you stand out.
9. Mind the keywords
In 2020, you can't neglect the importance of keywording in CV writing. If you don't add the relevant keywords from the job listing or other job resources, your CV is likely to be rejected even before the human recruiter sees it. That's why it's helpful to use the same language that the job posting uses. The names of skills, qualifications and competencies are likely to be keywords.
The experts also recommend that you concentrate the keywords closer to the top of the document. Here, they count more for the ATS. However, avoid what they call 'keyword staffing' – writing the CV for keyword purposes only. First of all, it should be concise and written for a human hiring manager.
Not sure if it's time to resign and look for better opportunities? Take a look at the 10 surefire signs that it's time for the next step in your career: http://resumeperk.com/blog/10-signs-its-time-to-look-for-a-new-job.
10. Edit and proofread
On average, 77% of hiring managers disqualify resumes because of mistakes or typos. Don't let the minor resume issues become huge deal-breakers. Edit the document as many times as it takes to get rid of syntax, stylistic, grammar, and punctuation errors. Professional proof readers recommend that you read it aloud to make sure everything sounds concise. It's also a good idea to use an online grammar checker such as Grammarly.com to eliminate minor issues in writing.
As for punctuation in your CV, use it strategically. It means that if you've decided to use period at the end of each bullet point, do it throughout the document so that the document looks neat.
Skills for a research assistant CV
Research assistants are hired to perform and assist with the research, conduct interviews, administer lab equipment, maintain the records and evaluate the data gathered. To show that you make a great candidate for this role, add the skills from the list below to your resume. Don't copy the list word for word – choose the skills to include depending on the job requirements and your own experience.
• Data collection and analysis
• Lab maintenance
• Project management
• Problem solving
• Database management
• Verbal and written communication
• Time management
• Interviewing
• Report generation
• Organizational skills
• Field research
• Project budgeting
The best place to list your skills on a resume is after the objective or summary. In this case, your skills immediately catch the recruiter's attention. Now that you know the components that your CV should have, let's take a look at the example.
Example of a research assistant CV
Take a look at the experienced research assistant's resume sample below. This candidate makes their career goals clear in the summary. They also provide a comprehensive list of technical skills needed for the job. When describing the professional experience, this job-seeker provides context for their responsibility and shows the results of their work using percentages.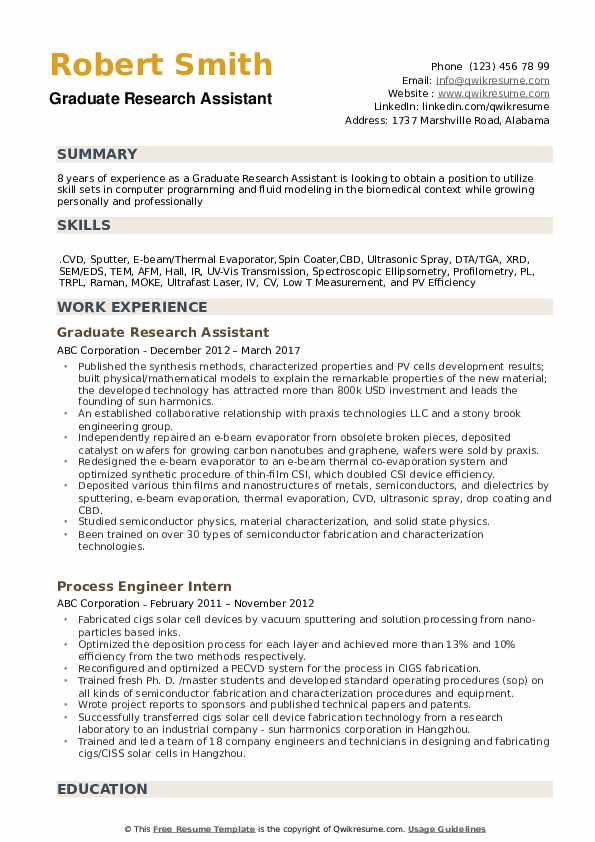 Image source: https://assets.qwikresume.com/resume-samples/pdf/screenshots/graduate-research-assistant-1556709810-pdf.jpg
Apart from resume tips in this career blog, we are also ready to give practical solutions.
How we can help with your research assistant resume
The research assistant job has its specifics, and our team knows everything about it. For years of successful experience, we have gained enough theoretical and practical background to cope with this issue.
65+ successful CVs for research assistant jobs
We have already helped numerous candidates become research assistants. Our career writer has created awesome CVs for such knowledge fields as molecular biology, volunteer research project, health, medicine, nursing, psychology, education, mathematics, etc. We efficiently work with representatives of all career levels, beginning from an entry-level research assistant. One can purchase an undergraduate research assistant resume, a graduate research assistant resume, an academic CV, etc. here. Whatever research position you want to occupy, our resume writing service will help you with that.
A database with research assistant resume examples
When working on your projects, we constantly deal with the cover letter, create resumes, and CVs. As a result, we have collected a bunch of useful materials and drafts. Of course, we do not blindly use a research assistant resume template or even a perfect cover letter template. Yet such information minimizes time on creating a new document.
Thousands of ideas for your brilliant research resume
By combining creative talents and professional knowledge, we'll compose a perfect resume for any research job. Our services are not about filling in a research assistant resume sample. Every document is crafted from scratch.
It all begins with the research assistant job description. It can be mentioned in the job ad. We always carefully analyze the title of your position to come up with a spot-on CV. Due to in-depth research of your dream job and company, we select the most suitable research assistant skills and facts that will interest your hiring manager.
How we create a CV for a research assistant
Our team knows from experience about the expectations of hiring managers.
A well-structured CV
As a result of our CV writing services, you'll receive a logically structured document.  All the information is divided into sections. Our writers pay precise attention to such parts as a research assistant resume summary and research assistant resume objective.
Meaningful research assistant CV
The CV by our author is always informative and shows your value to the future employer. Depending on the situation we choose priorities for your CV. These could be:
relevant research experience (report writing, practical background in working with specific research methods, participation in research projects, professional research assistant experience, etc.);
relevant skills (research skills, hard skills according to your professional field, analytical skills, essential skills for work in a team, other soft skills, etc.).
A well-thought-out resume format
The right resume format improves your chances to get a dream job. We deliver your document in PDF or Google Docs format, as well as come up with a beautiful design.
Have your CV reviewed by an expert, free of charge
Once you're done composing your CV, have an expert to review it. If you don't work in human resource, it's hard to objectively understand if the CV is effective or not. Our resume creator will analyze your CV from the employer's perspective, explaining you what works in it and what should be fixed to make it a magnet for hiring managers.
Have no time to write your CV for a research position on your own? On our website, you can buy cheap CV online urgently. Our expert can compose a custom resume in less than 24 hours, keeping the quality of writing high. Take a look at our prices and special offers and contact us via chat to get your special 20% discount.