Where To Buy Cheap CV Online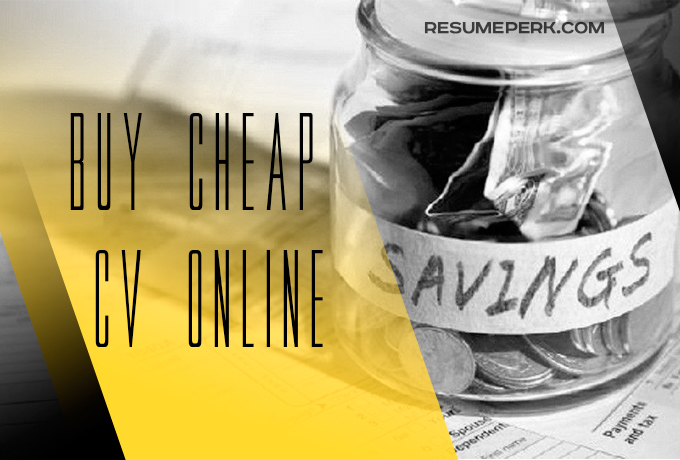 Are you sick and tired of your current job and can't wait to change a company or even industry? Feel stuck and demotivated and even professional advice on motivation can't save the situation? Eager to look for new job opportunities straightaway but don't know where to get started? Well, it's a wise decision to start with starting reliable best professional resume writing services.
The major advantage of collaboration with our writer is that you'll get an excellent result with no effort. Our writer will access your career history, educational background, skills and strengths to create an effective document for you. All you'll need to do is to provide in-depth information about your career and keep in touch with your CV expert in case any questions arise. You'll get a far more effective resume than if you'd done it by yourself; moreover, the fee will be under $100. So, if you're looking to speed up job search, a resume expert is the perfect option for you.
Why cheap resume writing services can make a difference in your job search?
Companies get hundreds of professional resumes in response to a job vacancy. Only a few will be selected for a job interview, so the selection is quite rigorous. Hiring managers may reject your CV because of poor formatting, writing issues, grammar mistakes or use of slang. Or, they may assume that your experience is poorly described or irrelevant to the job description.
Resume issues are many, and it's hard to anticipate them all unless you're an HR professional. A professional resume writer can build a perfect resume that will surely draw attention. Experts of our CV services are familiar with expectations of modern employers and the mechanics of hiring in every industry. We create resumes that use persuasive language, impress with customized design and are compatible with applicant tracking systems.
Buying resume with us is also good for your budget. Resume writing from scratch costs $117, and this fee includes unlimited revisions, keyword optimization and direct communication with your writer. Moreover, you can order a customized cover letter, LinkedIn profile and a thank-you note with a 20% economy!
Why resume building services don't work
Every online resume builder promises to do an impressive resume for cheap or even for free. But let's look at the situation closer. What they offer is ready-made resume templates where you can insert your job duties and skills. They also offer pre-written bullet points that you can add to your new resume or cover letters.
The problem is, professional writers aren't involved in the process. There's nobody to strengthen your writing, correct mistakes or guide you along the process. Moreover, the resume or cover letter templates you've chosen had been used by other job-seekers already. By using a resume builder, you lose the opportunity to look unique for prospective employers!
A resume writer, on the contrary, works with you to develop a customized great resume with strong format and content. They pour their expertise and knowledge of best resume practices to help you succeed in the job market.
Do you need a professionally written resume?
We assist every job-seeker with building strong resumes and LinkedIn profiles that will get many employers interested. Yet, buy resume services will be particularly helpful if:
You are fresh out of college with little knowledge of the hiring process and are unsure what to include on a resume;
You have gaps in your work history because of the coronavirus pandemic or other reasons, and have no idea how to explain them to your target employers;
Your writing skills aren't perfect so you aren't sure you'll be able to write in perfect business English and describe your background in a compelling manner;
You aim for a promotion or a high-paying job and need help to fill all the information about your accomplishment into one page;
You are in the middle of career change and would like to translate skills from your prior career for a completely new industry.
Many candidates are held back by the idea that resume writing has to be expensive. In fact, even a cheap CV can effectively help pursue your career goals. At ResumePerk.com, we only work with qualified CV writers, so you can rest assured in the high quality of documents we provide.
Looking to get your old CV updated? Then, order in-depth Resume Editing instead of a resume writing service. It includes the improvement of content and looks of your existing resume rather than building a new one. The writer will also add a custom personal statement and relevant skills to help you get noticed for your target career.
Also in this section:
How to buy CV online efficiently
Just like with any other service providers, you need to be careful about picking the right company as the quality of your resume (and your job-search success accordingly) totally depend on it. There are multiple reasons why workers quit job – if you're planning to leave because of one of them, here are a few hints to help you tell a reliable resume service provider:
Ask about guarantees
Companies typically don't put this at the top of their landing pages. Guarantees are the part of Terms and conditions agreement safeguarding that you'll get a high-quality document for the money you pay. As a matter of fact, best companies offer free re-write or amendments within 1-2 weeks and will refund your money in case of non-delivery.
Be cautious, however, if the resume factory claims that they guarantee job offers: no trustworthy company can guarantee that, as screening and hiring depends on a hiring manager, not resume writer.
Look up for testimonials and reviews
Every respectful company has a plenty of positive feedback out there in the web. Before you place an order, seek the testimonials on the websites and Google reviews on other resources. If there are no positive reviews, this doesn't always mean that the service provider is bad – probably, the business has just started. However, be cautious if many negative reviews or, in contrary, just the positive ones.
Talk to their support team
When you intend to buy cheap CV online, it's a good idea to talk to a company representative before purchase. You can call them or chat with them, depending on the preferred means of communication the company offers. It's easy to assume the overall quality of service judging by the customer rep's behavior. If they have responded to you quite fast (best companies typically offer 24/7 support), answered all your questions clearly and in full and demonstrated positive and courteous attitude, the quality of writing is likely to be good as well.
Have a closer look at their website
Most successful and in-demand companies have modern, well-designed websites which are pleasant and easy to skim through. If the website looks outdated, messy and has bugs, it's time to question whether it's worth it to deal with such a company.
If you are planning to quit your job, there are a plenty of things to do: http://resumeperk.com/blog/how-to-quit-your-job-in-the-right-way. So, don't stress yourself even more with resume writing – a highly qualified resume professional can do this job for you!
Tips for meeting deadlines at work
Is your work deadline-driven and meeting them is a real challenge for you? Are you one of those people who often spend late nights in the office (or in front of your laptop at home) because you postponed the important task until the very last moment? These tips will help you develop the right approach to deadlines and start meeting them without damage for your work-life balance:
Set a clear deadline
One of the reasons we have troubles meeting deadlines is because deadline is vague. "By the end of the week" and "Monday" both sound like deadlines, but that's not what they actually are: the former could mean both Friday evening and Sunday morning, while the latter can imply 9 am or 5 pm. So, agree with your client or manager on the specific time by which the project should be handled.
Negotiate it if necessary
Is the deadline for project completion realistic? If it isn't, you'd better address this issue even before you get down to work, as the client is likely to be disappointed if a few hours before the deadline you inform them that you need two extra days. Cover all extra work needed to make longer deadline a grounded request.
Break the major project into smaller tasks
This rule works for all big tasks and long-term projects. As soon as you've defined the major deadline for the work to be done, break the workload into smaller tasks – and set deadlines for each of them. As a rule, we often underestimate the scope of work needed to have the work done when looking at the project in general. Breaking the big task into smaller steps (experts recommend than each task should take an hour or less) helps you be realistic about the amount of time needed and ensures that deadline will be met.
Make a to-do list and keep your eye on it
Write down your overall project deadline, your minor tasks and deadline for each of them. You can use a paper notebook or the online list, whichever you find convenient. Make sure that you consult this list constantly, cross out the tasks done and make corrections along the way. This method is more effective than keeping all tasks in your head, and it helps you track the progress and meet that deadline.
Build in a cushion
Even if you've estimated the time needed carefully remember that it's important to foresee everything. You may surprisingly stumble upon some task and the entire plan will be screwed. To avoid this, consider building in a cushion for deadline of every minor task in your list. Thus, you'll feel secured if any delays occur. If they don't, the client or your boss will be pleased at your completing the task earlier.
Communicate each milestone
For long-term projects (which take weeks or even months of work), it's essential that you agree on and communicate each milestone. This output isn't the completed project, of course; still, you'll have the opportunity to show work in progress and get feedback from the client. The latter will save you time and effort if it turns out that you've done something not as they have expected: making corrections at the early stages are far easier than when the entire work is done.
Define a clear outcome
This is the step that many miss, which leads to dissatisfaction and missed deadlines. Don't assume that you know the employer's expectations from the project – you need to be 100% sure. And it's better to clarify this issue even before you start working on the task, so ask as many questions as necessary until you're on the same page. This will ensure you've set a realistic deadline and increase their satisfaction with the work you'll have done.
Managing deadlines is quite easy – it only takes some planning and organizational skills. So, by using the tips above, you'll master it and become more productive. Moreover, your ability to meet deadlines is closely tied to your levels of motivation. If you lack motivation for working now, here is some first-hand guidance on how to regain it: http://resumeperk.com/blog/simple-ideas-to-regain-motivation-for-working.
Real cost for CV writing service
Do you still think that quality CV writing services are expensive? It isn't always like that, though. There are a plenty of web companies offering first-class CV writing at a very affordable price – and our company is one of them.
Yes, resume writing might look costly even if the price is affordable. Nevertheless, think of how much money you'll miss while being unemployed and job-hunting. It's been proven that professionally written resumes generate more interview calls than DIY ones. So, by investing a reasonable sum of money into resume writing, you'll find a job faster and save the efforts you'd put into writing and re-writing of your resume.
Urgent assistance with your resume – get it done in 24 hours
Do you need a resume for tomorrow to apply for a dream job? Are you short of time for rewriting your old resume because of your full-time job or family commitments? Our company offers the 24 hour resume service. In addition to a resume, you can order cover letter, thank you note, online profile completion and other services to make your online application even more effective.
If you need to make a online resume for tomorrow, just contact us or place an order for the next day delivery and attach your instruction. The rapid delivery will not affect the quality of service, though – we guarantee high-quality writing regardless of deadline.
Have you ever bought affordable resumes online? Were you happy with the quality of writing and service you received?
Popular Posts: