Professional Resume And Cover Letter Writers For Hire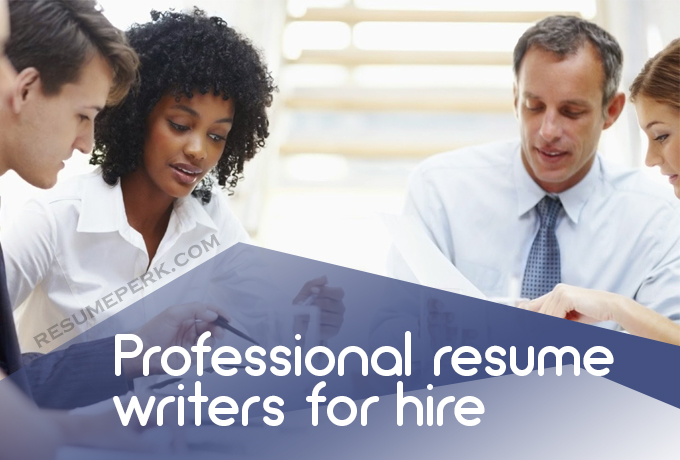 Are you a graduate who is looking for a first serious employment? Or, you're a mid-level professional who is looking to switch to different industry? Or maybe, you're an experienced manager with an ambition to get employed for a C-level role? Regardless of the category you fall under, the truth is that you need a solid, attention-grabbing resume to support your professional ambitions. And in today's severe competition, your resume needs to be outstanding to get noticed.
But what if your resume is old, too brief or you don't have a resume at all?
Basically, there are two possible solutions.
First, you can familiarize yourself with the modern rules of resume writing here: http://resumeperk.com/blog/must-dos-and-donts-for-modern-resume-you-should-know. And then, step by step, construct your own resume according to the expectation of contemporary employers.
And second, you can make a professional resume with a reputable company and boost your chances to get noticed and invited for an interview. Got interested? Then, you'll be curious to know about the advantages of referring to experts in resume writing.
Getting noticed in busy world with cover letter and resume help
Also in this section:
When considering create my resumes cover letters, professional assistance can benefit you in a number of ways.
Take full advantage of the resume expertise
As well as with any other type of services, when paying a professional, you pay for their expertise that can save you time and money and help you achieve certain results. When ordering help writing a cover letter for a resume, you get the top-notch knowledge of resume writing rules and practices to work for your advantage.
Just like any other professional in their field, a resume writer has been trained to make your resume shine. Professional resume and cover letter writers know which language to use, how to organize your resume visually and how to make it eye-catching. Thus, such a resume generates more interest to your candidacy and helps you find a job faster. It's been proven that a professionally written resume generates more interviews than a DIY one.
Save your time
There's no doubt that a resume writing is time consuming. Rewriting your resume, targeting it for job posting, adding necessary keywords (learn how to add relevant keywords here: http://resumeperk.com/blog/why-keywords-are-so-important-for-successful-resume ) take a plenty of time you could spend making money or networking. A well-versed writer can do the entire job for you, thus allowing you to focus your effort on other aspects of job-hunting.
Invest in your future
Do you think that professional resumes cover letters are expensive? Then, do a simple math and calculate what months of unemployment will cost you. Since a professionally written resume will generate you more calls, you'll find the job faster. The amount you pay for a resume is a small investment that will pay off.
By the way, if you believe that quality resume writing is expensive, take a look at our prices. Our company provides quality assistance for a fee that everyone can afford.
Make a shiny first impression
A hiring manager evaluates your resume in a matter of seconds. What do they pay attention to? Your resume summary, set of skills, job titles, company names, and keywords. If your resume didn't catch their attention during this stage, they'll unlikely ever return to it. Professional writers use the best working resume format, structure and language to make sure your resume will be read.
You'll have no second chance to make the first impression. And this means that every little thing matters for the success of your resume. That's why punctuation and grammar should be flawless – check the punctuation in resume tips .
Get totally prepared for job-hunting
In 2017, job search isn't all about a single resume. There are a plenty of secondary aspects that determine whether you'll get an interview call from a dream company.
Firstly, you'll need a strong social media profile. It comes as no surprise that employer will check your social media to determine whether you fit into the organizational culture. Moreover, 89% of recruiters have hired someone using LinkedIn. If you don't have a LinkedIn profile (or you haven't used it for years), it's a good idea to update it. Our writers can assist with LinkedIn profile completion as well.
Secondly, you'll need to accompany your resume with an informative cover letter. Our writers recommend sending your cover letter even if the vacancy doesn't specifically mention that. Last year, 45% of resumes were rejected because of no cover letters attached
Finally, a successful interview requires long preparation. If you have little time to study the rules of passing the interview successfully, you can use the expert advice from our blog or order Interview Tips along with your resume.
More and more seasoned professionals tend to use professionally written resumes these days. To compete with them, you will need to have a flawlessly written resume as well.
Why our professional resume and cover letters services?
The internet offers you dozens and hundreds of resume companies across the world. You can choose between the individual writers and huge writing companies, between the US and overseas services. What makes our company unique and highly helpful when it comes to resume writing?
Over 95% satisfaction rate – an overwhelming majority of our clients are happy with the product they get.
9+ years in the resume writing market – we have already helped hundreds of job-seekers from the US, Canada and overseas with getting the job faster. We keep up with the latest resume writing trends and HR practices to provide a contemporary help with cover letter for resume.
Expert writers – we staff writing experts with a degree in English or Journalism and years of experience to ensure the stellar quality of writing.
Ongoing cooperation – while your resume is being written, you can talk to your writer directly and discuss any issues regarding your documents.
Guarantee of quality – if you aren't happy with a resume prepared for you, you'll have 2 weeks to request changes or improvements free of charge.
If you are seeking resume help online at modest prices, we are open 24/7 to provide you with quality writing help.
How to use your smartphone to search for jobs?
Today, searching and applying for jobs through mobile phone has become common. In fact, 78% of millennials use mobile devices to find jobs. And since this trend is here to stay, it's helpful to know how to optimize your mobile job search.
Install applications
Most popular job boards have their own applications for smartphones and tablets. These apps allow you to take the advantages of a desktop version from a mobile device. You can search for jobs, subscribe for e-mail notifications and even apply with your resume if you have one saved on the site.
Check for new jobs on the go
It's a fact that early birds have more chances to get the job than those who have applied days (or 1-2 weeks) after the job was first advertised. So, a smartphone is very convenient to check whether the new jobs have been posted. You can do it literally from anywhere, and apply for jobs you liked through the application. This will save you a lot of time.
Bookmark the job ads you liked
If you don't have the opportunity to apply through a mobile device, you can bookmark the job posting and apply for it when you get to a desktop. Thus, you won't miss any job posting and you won't have to look up for them again.
Set a professional e-mail signature
A good professional signature includes your contact phone number, e-mail address and a link to your LinkedIn profile. Sometimes signatures are generated automatically (i.e. Sent from my iPhone). Instead, you can give your contact detail and get in touch in other platform if e-mail communication isn't convenient.
Fill out the application forms carefully
If the job posting requires to fill out a specific form at the company website, it's better to do it from a laptop. The matter is, we often make typos and don't follow the grammar and punctuation closely when typing from mobile devices. Thus, upon reading our submission, a hiring manager will have to read into a number of mistakes and typos which won't make a good impression about you as a candidate.
Network
A smartphone is great for networking. You can easily answer messages on the go and keep up-to-dated with the industry news.
There are multiple reasons why people quit jobs. If you are curious to know why to quit job, learn the most popular reasons here.
Are you ready for the new big step in your career?
Professionally written resume can help you in terms of improving the speed and quality of your job search. You won't need to worry whether you've written your resume in a right way; all you'll need to do is to use a completed resume to apply for jobs.
If you still have any questions, learn more about our company and writers. Moreover, you can order our free resume critique to hear an expert opinion about your old resume and find out whether it needs rewriting.
Have you ever ordered professional resume assistance? Were you happy with the result?
Also in this section:
How to choose a writer from professional resume company?
To get all of the above advantages out of cooperating with resume building services, you need to choose the right person to complete your resume. It's your career success we're talking about, so be choosey about whom to cooperate with. We are going to give you a few helpful tips to find a reliable writer or company to entrust your resume to.
Look for online reviews and testimonials
Before you pay a writer, go and find out what other customers had to say. The excess of negative feedback should warn you. If there isn't much feedback online, it could mean anything but often indicates that the company hasn't been around for too long.
Ask about the writer's experience and certifications
If your resume writer has an industry recognized certification (such as CPRW or PARW), it serves as a proof of their professionalism. However, not every professional chooses to obtain a certification. It's important that your writer has at least 2 years of experience.
Review the terms of use
Check out the terms of service and the guarantees that the resume writing company offers. To avoid dishonest service providers, make sure that the company provides money back guarantee. The best writers also guarantee unlimited revisions until you are satisfied.
Talk with the company support representatives
A small conversation with the writer or support representative can give you a hint about the quality of service you will receive. Moreover, you can ask any specific questions that you have to ensure that the writer is capable of delivering the kind of resume that you need.
Choose a service that offers direct contact with your writer
Note that not every company gives you an opportunity to talk to your writer directly. Meanwhile, this is essential for creating a quality resume that matches your expectations. At Resumeperk.com, you can message your writer anytime and ask any questions pertaining to your resume.
Get a professional resumes created especially for you
Want to get your resume done professionally? A qualified writer of Resumeperk.com can help. Our specialist will prepare your resume up to the recent standards and highlight your relevant experience and skills to help you get noticed. We also guarantee satisfaction with your newly written resume.