Where Can I Get a Resume Made?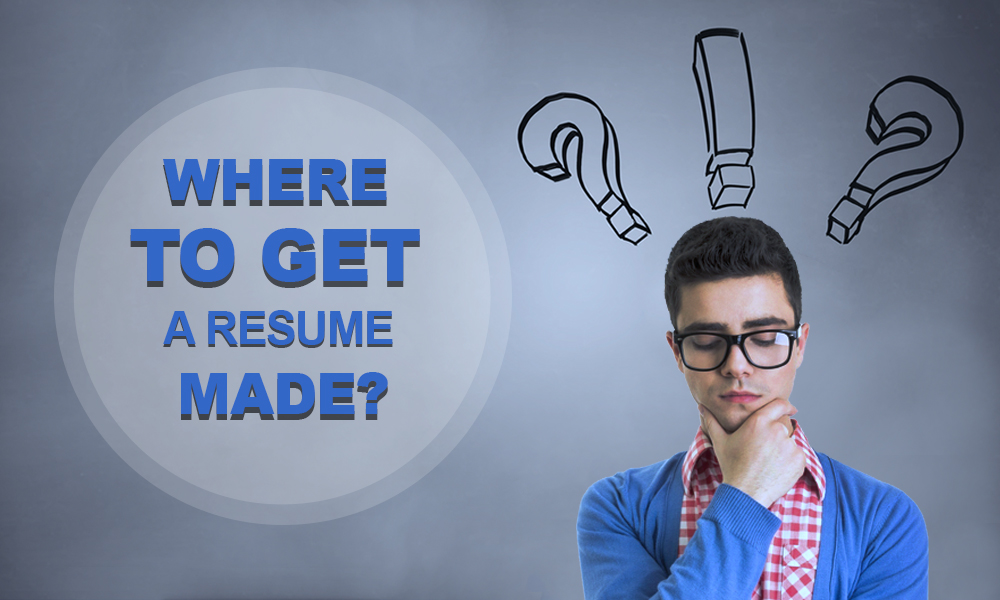 Finding a new job can be pretty tough. It takes time, money, effort, and does not always bring results as soon as you had expected. And the statistics explain why: in average, an online job posting attracts 250 resumes. Only top 2% of applicants will be invited for an interview. Obviously, the biggest challenge for the job-seekers is to get noticed at the resume stage. With this competition, you need to work really hard at your resume to attract the hiring manager's attention and come across as a great candidate.
Why pay to have a resume written?
If your resume looks pale comparing to the professionally written ones you see online, it's time for some serious work. It often happens that great candidates struggle to find a new employment just because they aren't good at presenting themselves on the paper. You have the relevant experience, required skills and recognition in your field but still no quality interview calls? If so, you'll benefit a lot from cooperation with professional resume writers. Our expert will rewrite your resume in a way that will clearly showcase your accomplishments, skills and value you can deliver, thus increasing your chances for your resume to reach the top of pile.
Also in this section: 
Where to get a resume made? 3 possible scenarios
For a job-seeker in need of a resume, there are three possible ways to get the application documents done. Each one has its pros and cons; and the choice is totally up to you. Below, we'll consider the three most popular ways of preparing your resume.
#1. Writing a resume on your own
The simplest (as it may seem) and the most convenient way to get your resume done. Creating a resume on your own only requires a laptop, a plenty of articles with hands-on resume tips and 2-3 hours of your time.
Pros:
Nobody knows your experience better than you. If you take enough time and get serious about the process, you'll undoubtedly remember enough information, including relevant accomplishments, and incorporate it into your new resume. You possess the unique knowledge about your education and career, therefore, can look at it under different angles and decide on what will make your resume shine.
It's fast and convenient. You won't have to browse customer reviews, negotiate with the company and explain over and over again what exactly you'd like your resume to look like. You won't need to wait for a week or so either – as mentioned above, you can create your resume in one evening after work.
Cons:
You'll likely feel confused. There's an abundance of resume writing advice on the internet, and those pieces of advice often contradict each other (for example, take an ongoing argument about how to determine resume length which is perfect for you). After a few hours of learning the basics and writing you'll likely feel wandering aimlessly in the world of resume writing.
Mistakes you aren't aware of. When you write a resume with no guidance from the HR professional or resume guidance, you'll probably make mistakes without even realizing it. The hiring manager, in his turn, can reject your resume due to one of such mistakes. By the way, here is the list of the most popular resume mistakes: http://resumeperk.com/blog/top-30-common-resume-mistakes-you-should-avoid.
Writing a resume on your own is convenient since you can work on it at your pace and edit whenever you feel the need to. However, unless you're an experienced resume writer or HR professional, the quality of writing will leave much to be desired.
#2. Using a resume builder
Creating resumes using online software is on the rise these days. And it's not surprising: these builders are often cheap (or even free) and take minimal effort from your side: all you need to do is to paste your pre-written resume into each section and get a beautifully designed document.
Pros:
Great design. The biggest strength of resume builders is that they offer beautiful design options which are also customizable. A visually attractive resume inevitably attracts the attention and helps you stand out from the pile or black-and-white ones.
It's very fast.If you have a pre-written resume, creating one via resume builder can literally take minutes. All you need to do is to fill out the blanks, and the software will do the rest. Moreover, some of such builders offer basic writing assistance – you can choose from pre-written sentences created for your industry and add them to your resume directly.
Looking to speed up your job search? Check out the proven ways: http://resumeperk.com/blog/10-useful-tips-to-speed-up-job-search.
Cons:
ATS-unfriendly. Some of the builders create resumes in a format which isn't ATS-friendly (for instance, .jpeg file). Given that all big and mid-sized companies screen candidates via ATS first, a resume sent in a format which isn't recognized by ATS closes you the door to the interview.
No quality writing. Resume builders only work on the visual part of your resume and doesn't improve your writing at all. In other words, all the resume mistakes you've made in writing will remain on your newly updated resume. And the hiring managers pay most of their attention to the content – so, if yours is poor, no great formatting will win you an interview.
A perfectly designed resume can help you win the first impression – however, if the content isn't up to scratch, your job search won't bring the results you want. Consider strengthening your writing skills and improving your resume content prior to using it. Don't know where to get started? Check our content writing tips for beginners – most of the principles outlined in the post work for resumes as well.
#3. Hiring a professional resume writer
Typically, hiring a resume writer is an option for those job-seekers who are looking to make a difference to their job search. Sometimes it's enough to eliminate the biggest resume mistakes and polish the language, and the resume will start bringing more results. And if your writer knows the rules of keyword optimization and personal branding, this will inevitably help you get more quality interview calls faster. The top five resume-building agencies can be found here.
Pros:
Resume writing expertise. Resume writers with years of experience know how to approach each unique case to make the resume appealing for the hiring manager, while keeping it ATS-friendly. Writing skills combined with awareness of the hiring practices are the key to knowing employer's demands and expectations. Therefore, you are likely to get more feedback in response to your applications.
Easy process. Most resume companies only ask you to fill out the questionnaire about your experience and answer a few questions from the writer. In response, you'll get a submission-ready resume and a cover letter. This takes minimum time from your side – a good choice for busy professionals.
Cons:
Limited information. Since the writer doesn't know you in person, he/she is limited by the information that you provide. Therefore, if you forgot to mention something, the resume might not reflect your qualifications in full.
Risks of choosing a provider. When it comes to your career, choosing a reliable service provider is highly important. So, before making a purchase, try finding out about the company's guarantees and talk to them via phone or chat. A trustworthy company will answer all your questions and provide a set of guarantees that you'll get a quality product for your money.
With the interview process taking approximately 23 days and the entire job-seeking process taking you months, you probably want to do your best to shorten your period of unemployment. Getting a qualified resume help is a good option, especially if you are qualified for the job but get little responses from hiring managers.
If you contact the hiring managers via email, have a look at email marketing tips – they'll help your letters get opened.
Get your resume done professionally
Getting a professional to have a look at your resume can benefit professionals of all career levels. Our team has been providing resume assistance for 9+ years and prepared thousands of top-notch resumes for the clients from the US and Canada. We are looking forward to help you with getting a dream job too - get a resume, a cover letter and a LinkedIn profile that showcases your biggest strengths.
Not sure if you need professional help? Contact us for a free evaluation of your current resume.
Popular Posts: