Help Me Write A CV: Efficient Resume Checklist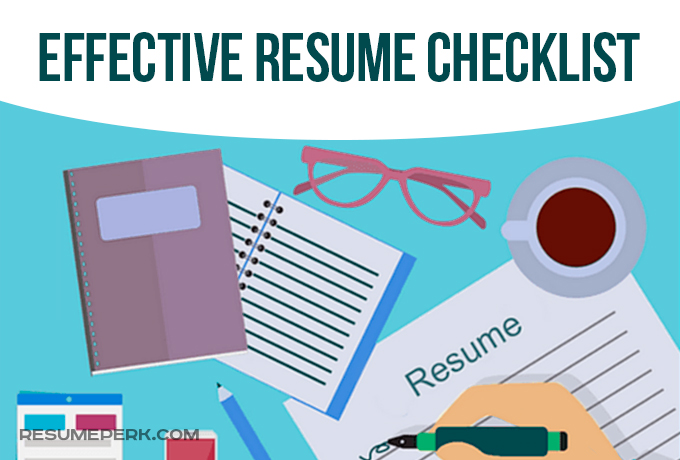 Despite the influence of social media and brand new ways to look for jobs, a classical text resume isn't going to disappear. And this means that your resume should be written very well, taking into account the competition out there.
However, if you aren't the HR professional or a writer of professional resume service, it's hard to objectively evaluate the quality of your resume. A successful resume consists of so many tiniest details that it's hard to remember all of them. Sometimes the process looks so daunting that you start thinking "Who can write my CV for me?"
Also in this section:
There's one tool that can help you access the quality of your current resume, though. It's called a resume checklist – a list of criteria your resume needs to meet. So, if you lack knowledge how to write my CV, check it out according to the bullets below – and feel more confident in the quality of your resume:
General resume appearance
Use the appropriate length of your resume, depending on your industry and experience (most often, it's 1-2 pages). If you have doubts regarding resume length, use the guidance from here: http://resumeperk.com/blog/perfect-length-of-your-resume.
Make sure fonts are readable – no less than 10-12 pts. Use bigger fonts for your name of the top of the resume and the section headings.
Boldface or italicize the section names, position names, and key achievements – but don't use these tricks too often.
Incorporating bullet points for your responsibilities, achievements and lists is the best ways to write a CV. Lists make it easier to skim through the document and find the necessary information.
Leave more blank space between the sections and to separate different elements within one section.
Ensure the borders are even and the margins are adequate.
Use up to two colors (the other color should be used to highlight most important information). The excess of creativity in resume is not always appropriate.
Clearly separate the sections to make them easier to look through.
Make sure that formatting is consistent throughout the document and the resume looks neat and accurate.
Contact information
Your name should go at the top of the document and be bold-faced and bigger in size.
The contact field should contain your phone number, e-mail, home address, LinkedIn profile (only if used and active) and Skype login (for remote positions).
Make sure to use a professional e-mail address (no fancy nicknames) registered with a reliable domain (such as Gmail or Outlook). Outdated domains can turn off the tech-savvy companies.
No need to include full address – leave off your street address to prevent identity theft. If you're not local candidate who is willing to relocate for work, you can remove your current address.
Include the link to your website or blog only if highly relevant for the role.
Career summary
Including career summary isn't a must, but it's highly recommended that you use this section. If you're still typing "help me write a CV" into a search engine, remember: a well-written summary is an effective attention-grabber for hiring managers.
Highlight your most relevant skills, competences and achievements in no longer than 3-4 clear and concise sentences.
Give the idea of your career aspirations and preferred work environment, if appropriate.
Tailor this statement for each position you apply for to highlight you as an ideal candidate for a specific position.
Don't use personal pronouns and delete buzzwords that are not supported by facts (i.e. 'creative', 'hard-working', 'initiative').
Mention any points that are critical for employer (i.e. willingness to relocate, readiness to go on business trips, security clearance, etc.)
Work history/Employment
Start description of each job you had with a position name, company name (both in bold or highlighted in any other way), location and start-end dates.
For graduates: divide the experience you had into two sections: Professional/Relevant experience (for positions relevant for your prospected job) and Other experience (for the jobs which don't match your career goals).
For experienced professionals: only list jobs which aren't older than 10-15 years. If you run a financial department, nobody is interested in your associate accountant position you had 20 years ago.
Under the each position, include 5-6 bullets for your responsibilities and the same number (or less) of achievements.
Use figures whenever possible to illustrate your success.
Each bullet point should start with the strong action verb (i.e. Supervised, facilitated, oversaw). For examples of effective action verbs and adverbs, see here: http://resumeperk.com/blog/185-powerful-verbs-and-45-adverbs-to-make-your-resume-awesom.
Mention the type of employment and a brief (1-2 lines) description of business, thus clarifying for hiring manager whether you possess relevant skills and experience.
Do not copy and paste the general description of the role or from someone's resume from the internet. The first doesn't show your individuality, the latter is inappropriate.
If you ask "Help me writing my CV", keep in mind that you need to be specific (leave out the irrelevant details from the past jobs) and be result-oriented rather than task-oriented when writing the Employment section of your resume.
Need help strategizing resume content and can't figure out what is most important? Consider consulting top professional resume writing services online.
Education
Include the university name, degree name (in full), your major and graduation date. If you're still at school, indicate the anticipated graduation in your resume. If you've graduated over 15 years ago, feel free to skip the date.
List your educational achievements in resume (i.e. high GPA, Dean's list).
If you are a recent graduate, be more detailed about this section. Include relevant coursework, title of your thesis, and attach your Academic Transcript.
Summary of skills
Put the list of minimum 8 skills at the top half of your resume to identify the areas you are most proficient with to show what exactly you have to offer for a prospective employer.
Only indicate the skills you're highly proficient with rather than list standard skills for this role.
Make sure your resume demonstrates the proficiency in skills you've mentioned.
Indicate your technical skills, including proficiency with professional software and general PC skills (especially if the employer specifically mentions that in a job posting).
For technical skills, it can be appropriate to indicate the level of proficiency if these skills are required for the role (i.e. for programmers).
Other resume sections
As long as the above resume sections are obligatory, the other sections can be included depending on your background and goals.
Create specific sections for your Volunteering experience, Community involvement, Academic publications, Training and certifications, and Language proficiency.
Make sure that the information in additional sections supports your career summary and is relevant for the role you're going to apply for.
Language and style
Concentrate the most important information at the top third of your resume where the hiring manager is most likely to see it.
Avoid using personal pronouns (i.e. I, my)
Include a bunch of keywords to make sure your resume passes the ATS screening. Keywords can be sourced from the job listing and job boards.
Remove any slang, your organization's jargon or unprofessional language. All of them downplay your professional image as the clear, concise sentences serve as another proof of your education and professionalism.
Proofread the entire document prior to sending out to eliminate any grammar, punctuation errors and typos. Use efficient punctuation tips for resume for reference to ensure the flawless result.
Prepare the reference list to attach to your resume upon request of employer.
Cover letter
Address the hiring manager directly using their name – this information can be easily found via LinkedIn – to build personal connection.
In the opening paragraph, indicate the position name and mention where you found the job posting.
If you were recommended by an affiliate working in this company, write it straightaway.
Keep your cover letter 3-5 paragraphs in length, depending on your experience.
The best cover letter length is one page, and the text shouldn't take the entire page.
Include a professional closing to show courtesy.
Focus on the benefits that you can bring to a prospective employer rather than your needs.
Mention that you will follow up on the status of your application to highlight your genuine interest and be sure to do so.
Keep the same font, writing style and formatting that you used for resume.
A free practical guide for job seekers
We've decided to add some recommendations to help you create brilliant resumes. Everything is getting easy when you have enough theoretical knowledge.
Write for your reader
It all begins with your goal. Different jobs require various approaches. Your resume must, above all, demonstrate facts that are interesting to hiring managers. Thus, you'll make a good impression on the recruiter and target employer.
Describe only relevant information
Use exact facts making you the best candidate for the position. Choose the suitable accomplishment, awards, things that you are passionate about. For example, skip information that you attended singing courses, held seminars, or worked as an actor if it's not your new job. Relevance of mentioned facts is a crucial parameter for a contemporary resume and a good sign that the author has perfect analytical skills.
Fit in the culture
When applying to a specific company, learn more about its values and philosophy. It will help you stay focused on the correct things, submit a suitable resume, and prepare for the interview.
Use reverse chronological order
It is a general rule to describe a work experience, recent job positions, education section.
Quantify results
Figures and numbers look better than a bunch of words. Simplify sentences to come up with a short-and-to-the-point text. It is not only about your GPA, college graduation year, the number of languages. Explain the way you work and reach goals with the help of figures.
Use action words
Verbs sound more persuasive than adverbs and nouns, especially when it deals with job applications and resumes.
Use bullet points to systemize data
Lists attract attention and help to perceive information better. Plus, they help you formulate thoughts concisely. And it is very convenient for a one-page resume.
Editing and proofreading
We recommend reviewing the final draft of the resume. A fresh set of eyes is always a good idea. Simply turn to our experts, and we'll quickly check spelling and other mistakes.
Most common mistakes in resumes and CV:
• grammar mistakes, misspelled words, wrong industry acronyms, improper articles;
• too many adverbs;
• a lack of white space (spacing between lines);
• too many different font sizes;
• weird appearance and inappropriate design;
• syntax errors (missed commas, points at the end of sentences, etc.);
• wrong formats of numbers and figures;
• too much bolding;
• the font that is hard to read (illegible or a too little font size);
• no objective explaining why you deserve this job;
• a too long resume (several pages);
• overlooked keywords;
• no personal information (marital status, age, city);
Impact of the design: Helpful tips from our resume writers
We recommend you not to overboard with the original design. It must demonstrate your talent to visualize information and harmoniously create content.
Please, note that contemporary trends and styles can be fleeting or unsuitable for your industry. Exact same resume looks awesome for a designer and weird for an accountant. What you need is a good balance between a pleasant view and informativeness. In this case, you will not be labeled as a person with bad taste.
Meantime, such essentials as logic and harmony remain the same.
So, what makes good resumes?
Is there something special that turns your resume into an efficient instrument of winning dream positions? There is also a worse scenario: some mistakes make recruiters take your paper to the trash.
The list of helpful tips for a resume can be endless, especially when it deals with detailed explanations for particular cases. However, for now, all of them boil down to the following points:
• clear presentation of information;
• adequate readability and visually appealing design of the page;
• focus on the expectations of your future employers and companies;
• headings and text friendly to applicant tracking systems.
Conclusion
The resume checklist is aimed to find out whether your resume is up to scratch and can secure interviews for you. It can help you access the main points that contribute to the quality of your resume and cover letter, and understand the areas which need to be edited or rewritten. Create a resume online free is easy  – you only need to follow certain guidelines and resume trends you can find in our blog.
Does the writing of your own resume seem daunting? Then, you can contact our support team anytime and say, "Write my CV for me". We will match you to a highly skilled resume writer who will create you a brand new resume with your requirements in mind. During 9+ years in the market, we have helped thousands of clients from the US and Canada to speed up their job search. And the prices we charge will be a pleasant surprise – learn more about our packages and prices.
Issues with checking your resume?
Do not have time to review your career documents? Please, send them to the representatives of our company, and we'll give you professional feedback. If you are seeking someone who can complete or edit your resume, this website is right for you.
Past experience and present accomplishments enable us to check and improve resumes with skill. You can rely on our qualified writers if you need competent assistance with your resume, CV, or any other similar documents for your career goal. For years of fruitful practical background, we have developed all the necessary skills.
We understand the line between creativity and style, expectations of hiring managers in various industries, secrets making your personality stand out among others, and other essential points of perfecting resumes. 
Importantly, we respect your rights to keep information concerning your order secret. Whatever paper or service you purchase here, we adhere to strict confidentiality rules.
We are glad to contribute to your career success and turn your potential employer into a real one. Do you need advice, editing or writing service?  Contact our support managers to learn the details!
Popular Posts: