How to Turn Your Hobby into Job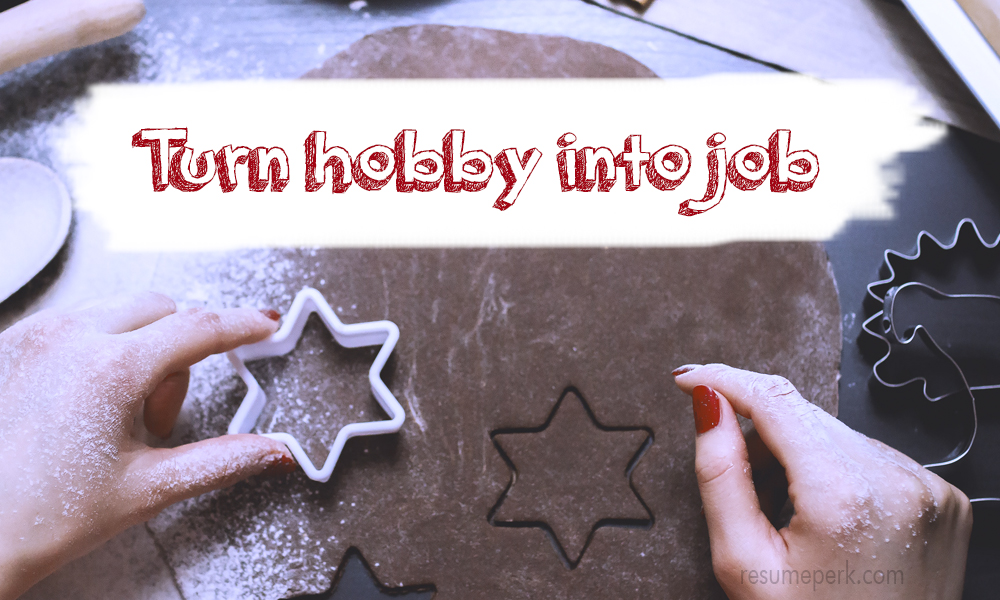 So, you have this hobby you're really passionate about.
People take up hobbies for many reasons: to get their brain recharged after a busy day, to give an outlet to their creative juices or to stay connected to the dream of youth. Since getting engaged in other activity is the best way to relax after work, hobbies help us stay motivated for our main professional activity.
But what if you find your hobby more rewarding and fulfilling than your 9-to-5 job? What if your hobby is so absorbing that you can't wait for your working day to end so you could finally return home and paint (or play bass guitar, or design jewelry)?
If it is, then you have probably asked yourself a question "Maybe, I should turn my hobby into a career?" Learn how to find a job without a resume.
Well, you're not alone. And if you feel that it's not enough hours in the day for you to spend time on your hobby, you should give it a shot. All in all, as they say, "Choose a job you love and you'll never work a day in life". Are you ready to give your dream career a try? Below, you'll find a step-by-step guide from professional resume maker to transforming your hobby into a full-time career.
Step 1. Do your homework
Every long-term project (which is turning your hobby into a job) requires thorough evaluation and planning. Quitting your job and rushing headlong into a new activity is barely acceptable for a professional who has family obligations and bills to pay. By the way, here are the most popular reasons why people quit jobs.
Also in this section: 
All the greatest affairs start small. Before you take any serious steps, be sure to do the following:
Evaluate your skills
We take on hobbies simply because we love doing something. But if you intend to go professional, the first thing to do is determine your strengths and weaknesses in the chosen field.
Let's say you're a singer who has already performed on public. If you decide to make a career out of it, you'll likely have to perform in the local pubs and community events. Some of the beginning singers perform on public for hours a day – are you ready for it?
Regardless of the career you intend to take on, this is the question you need to answer yourself – are your skills enough to go professional?
If they aren't, don't get upset. It only means that you should practice a few months more to really hone your skills and think over the entire idea of monetizing your hobby.
By the way, it's during the career crisis that people are most willing to turn their hobby into a source of income (here are a few more facts on career crisis from experts: http://resumeperk.com/blog/career-crisis-why-does-it-happen-and-what-to-do). You may be surprised, but hobby isn't always something creative – some people take on teaching children, and some take charge of running a small restaurant.
If you want to get hired, not to start a business, things are even simpler here. All you need to do is to browse a few job listings and check the requirements for the entry-level candidates (no need to get your resume written and apply so far). You need to meet at least 70-80% of job requirements to be qualified enough.
Have you found out that you've got what it takes to get an entry-level role or start a small business? Great! Then, go to the next step and…
Learn the basics
Most likely, you know a lot about your hobby. For example, as an amateur programmer, you are aware of some basic technologies, know the difference between "stroke-width" and "stroke miterlimit." You know what works and how to go better about it. But maybe, you've never thought about your hobby as a business (or a full-time employment). Before you transform it into a source of income, you need to know the big picture of making a living out of your hobby.
For instance, you may be truly passionate about photography. However, a life of a freelance photographer is not just creativity and meeting new people.
You'll need to spend long hours editing and retouching the shots you've taken, deal with difficult clients and handle a high volume of criticism. In addition, you'll need excellent people skills since your success will heavily depend on getting along with your clients. Are you ready for these peculiarities of your hobby turned into a profession?
To cut the long story short, go and learn what your potential profession really consists of.
Talk to the people working in the industry you aim for or running a business. The career facts straight from the horse's mouth will help you avoid lots of mistakes beginners make. Moreover, if your friend works in your dream field, they might want to hire you (if they do, you'll need some guidance how to save friendship at work. Here it is: http://resumeperk.com/blog/working-for-a-friend-pros-and-cons).
Research how to succeed with your hobby in a specific profession. Many career changers blog about their experience, so you might learn a lot of helpful details. Moreover, you'll find out which additional skills or experience you need to gain.
As you are aware of the opportunities and potential pitfalls of your hobby as a profession, you'll be able to get a grounded decision.
Ask for feedback
As you are taking the first steps to enter a completely new field, it's important to hear an outside opinion about how well you perform.
Show what you've achieved with your hobby to family and friends. Be it a short story written, a song played, a program developed or a piece of clothing designed – tell everyone about your hobby and ask what they think.
Don't use a non-professional critique as a starting point for evaluating your skills, but do take everyone's opinion into consideration. All in all, they contribute to your professional and personal development and help you find areas for growth.
Join a local professional community. Again, communication with people who have already accomplished something in your dream field is very helpful. What's more important, such communities are a great place for networking.  
Make savings
So, you've accessed your skills and heard a lot of feedback encouraging you to go professional. Still, don't hurry up to quit your old job.
Even if you're skilled enough to make money out of your hobby straightaway, it can take months until your career (or business) takes off. If you have a family that depends on you, consider the career change issue twice as much seriously (by the way, if you have a hard time financially right now, this advice might help: http://resumeperk.com/blog/money-money-money-how-to-make-ends-meet).
Before you go any further with your hobby, be sure that you have enough savings on your account. Experts recommend that you have an amount equaling to a several months' household income saved. Your hobby is likely to bring little income at first, so make sure you're financially secure.
Don't have enough savings? Work more hours, find a part-time job or ask for a pay raise.
Create a business plan
Success doesn't come by occasion. In addition to possessing the right skills and personal attributes, you'll need to create a viable business plan (or write a career plan if you want to turn your hobby into an employment).
Evaluate the competition. If landscape design is your dream career and there are already a few professionals in your town, you might struggle getting orders. When the competition is strong, you need to come up with something unique that will fill the gap in the market.
Determine the investment. Calculate all the expenses that are necessary to turn your hobby into business: materials, equipment, renting an office, paid trainings, promotion etc. Certainly, the list will vary – hobbies such as writing or web design need little or no initial investment, while designing clothes and furniture can be quite costly at the beginning.
Set the price for your goods or service. Find out what other businesses charge in your area and go from there.
While creating a business plan, you'll understand if your plan survives in the real world (not all of them do). For example, let's assume you are an artist planning to sell the paintings at around $500. However, if it takes you a week to produce an artwork, the plan doesn't seem to work and needs to be changed.
If you plan to look for jobs, it's time to update your resume. Consider hiring a professional resume writer – it's not that expensive, but will give you a head start to differentiate yourself from the competitors. Check out the types of services offered by our company.
Define whether it's something that you need
The whole idea of turning your passion into source of money sounds enticing to many. They imagine a life full of joy where you do anything you want and get paid for that. In reality, however, things are slightly different.
Let's say you're a beginning fashion designer who creates fancy outfits for friends. A hobby typically takes you a few hours a day. When turning it into a profession, you'll probably have to spend no less than 10 hours a day sketching, creating and producing new clothes.
If back then you used this hobby to relax after a busy day and annoying boss, when it becomes a profession, it's not a relaxing activity any longer. You won't be able to work in your pace and wait for the right mood to come since your income will depend on it.
So, if your hobby is something that you use to recharge when things don't go smooth at work, maybe, you don't need to change a career path. Consider changing your attitude at the current workplace to help your career.
For instance, taking on more initiative (here's how to do it in the right way: http://resumeperk.com/blog/initiative-at-work-to-take-or-not-to-take) can help you get noticed. And building friendly relationships with coworkers will make you feel happier in the office. Also, check out how to behave at office corporate party – such events can make or break your professional reputation.
But if your hobby is a genuine passion you can't wait to get your hands to, using it as a source of income is worth taking a shot. As you have evaluated your skills, collected feedback and created the plan, it's time to put it into action!
Step 2. Getting started
As you've completed the preparations, calculated the investment and created an action plan, it's time for making the transition.
The smoother this transition is the better for your career and finances. Career experts recommend that you only leave your old job when your side business starts brining a sufficient income or when the growing demand for your business leaves no time for the first job.
In fact, it means having two full-time jobs for a few months which is pretty challenging. Still, this will help you minimize risks of being jobless. Here are other important steps for you to take:
Perfect your skill
The first paycheck received for your product or service (or the first salary on your new job) doesn't mean that you've already got what it takes to succeed. Most likely, you have a lot to learn.
Think about this: when entering a new field, you'll have to compete with people who have profile education and years of experience. And you need to be really good at what you do to create demand and get noticed. If your friends enjoyed your guitar play during the party, it doesn't mean that you're good enough to perform in front of hundreds of people in a bar or park.
So, streamline and perfect your skill – your success depends a lot on it. Learning in your free time is a must; however, it's also a good idea to…
Consider getting a qualification
If you're looking not only to make your living but also to build a successful business or career, consider getting training, certification or even a degree (it depends on your industry and career goals).  For instance, if you're a nail artist, a training course and practice will be more than enough; but if you plan to sell corporate trainings for mid-sized companies, a relevant university degree will evoke credibility.
When you're entering a new field, you'll find it hard to reach your goals as you have little theoretical background. A training or qualification will get your questions answered and boost your confidence.
Take advantage of online courses. If you still work full-time, you'll probably have no time to attend lectures and workshops. Sign up for an online course you'll be able to take from everywhere.
If you are starting a business, consider getting training in business administration or management. Understanding of the basics of economics and running a business will help you avoid lots of mistakes that beginning entrepreneurs make and. What is more, it will save you money on business consultants.
Know your goals. Are you planning on becoming a copywriter? Then, you don't need a university degree in English – a few months' training will be enough for you to get started.  And if you feel the drop of motivation, you can take advantage of these tips: http://resumeperk.com/blog/simple-ideas-to-regain-motivation-for-working.
Even if you had had this hobby for years and are pretty well-versed in it, don't neglect educating yourself. Formal education or training will put your knowledge together and evoke more credibility from your potential clients.
Finally, willingness to constantly learn and develop is the trait of an ideal employee – check out what other personality traits the employers value here: http://resumeperk.com/blog/watch-and-learn-top-15-qualities-of-the-ideal-employee.
Promote yourself
In the era of marketing, doing your job well is not enough to attract more clients and get recognition. A lot depends on your ability to market yourself as well. You need to let as many people know as possible as you start, and consistently broaden your network and work on your professional reputation. Being persistent not only in improving your skills but also in selling yourself is your key to a financial success.
Spread the word – as you are starting making money with your hobby, let everyone know – your friends, neighbors, family and even colleagues from your previous job can spread the word and attract potential clients to you.
Create a website – for those setting up an online business, this goes without saying. But even if you are entering a traditional or creative industry, a professional website is the perfect place to showcase your samples of work, tell more about your passion and gather feedback from former clients. If you are seeking an employment, you can even post a professionally written resume there and let the recruiters find you.
Create a portfolio – if your type of work allows it, creating a portfolio should be one of the first things to do. Offer your services for free if you are a beginner – it will help you to collect the samples of your work and eventually attract clients in the future. If you are a makeup artist, interior designer or a photographer, portfolio is the first thing your clients will be interested in, so make sure to showcase your best pieces of work.
Collect feedback and testimonials – ask your first clients to leave feedback or post a review of your services. Since people often look for testimonials when considering making a purchase or hire a professional, a few positive reviews posted online will help you look trustworthy and attract more clients.
Set up a social media profile. If you are setting up a business, be sure to create a profile in the relevant social media platform and promote yourself. Setting up a Facebook or Instagram page and sharing relevant, helpful information is a great marketing tool which requires no (or minimal) investment from your side. Do you design bags and shoes? An Instagram page is the best tool to showcase your work. Are you a singer? Then, set up a YouTube channel to attract the followers.
If you use social media to get hired faster, things are quite simple as well. Clean up your profile and connect with the companies you are interested in working with. Broaden your network on LinkedIn and promote yourself just as if you were a business, not an employee.
Volunteer or work for free
As you are making the first steps in a new industry, there will be much demand for your services in the first place. Or, you won't be hearing much from the potential employers after sending in your resume. That's completely okay and often means that you need more practice.
If you offer services, consider doing it for free for the first clients – it's a great opportunity to set up a portfolio and attract loyal clients in the future (You can also ask them to share their feedback in social media). If you are looking for employment, consider doing voluntary work in the same field to present it on your resume.
Working for free in exchange for experience will pay off in the future. What is more, it's a great opportunity to understand the pace of work which is comfortable for you – for example, choose between teamwork and individual work.
Editor's Choice: 
Step 3. Explore more ways of getting money from your hobby
If you are an expert at something, doing it isn't the only way to make money and isn't the only possible career direction. Here are a few extra ways to earn doing something you love:
Blog about your passion
When you are passionate about something, you know that feeling when you can't keep your thoughts and emotions to yourself. This is how niche communities and blogs are created.
Blogging about your hobby can be organized in different forms. You can make it strictly professional and share case studies, tips and tutorials for beginners. Or, it's also a good idea to give it a personal brand touch and share stories connected with your new field as well as express your opinion on the recent industry matters. If you're in an industry where it's better to show than tell (you're a hair stylist, makeup artist or a dancer), create a vlog to engage the audience with videos.
Through a blog, you'll spread the word about your skills, market your services and establish a reputation of the subject matter expert. There's also a chance that the blog you've seen as a side affair will take off and become a next big thing… Who knows?
Feel that your writing skills leave much to be desired? Then, you'll benefit from our guide on how to make outstanding post.
Teach others
Some say that teaching is a true calling. In fact, to teach others something, you don't have to apply to the local high school or college (unless it's something you really want). If you are a skilled musician or linguist, giving private lessons to kids or adults is the great way to earn extra money.
 Even if you don't see teaching as your future career, it is rewarding as through teaching your continue improving your own skills.
Consider giving individual lessons in your area – tutoring is quite a convenient option to make money as you have flexible hours and can develop your business or look for a full-time job in the spare time.
Teach the students – if you feel that teaching what you're great at might be a good career option for you, contact a few schools or colleges to offer your services. You might need to create a professional CV to apply to academic settings.
Give Skype lessons – Skype tutoring becomes more and more popular these days at is helps save time commuting and expands the geography of potential students for you.
By the way, Skype interviews are the common practice in modern employment as well. Learn how to win an online interview.
Repair something
If you're an expert at laptops or cars, you might know how to repair them as well. People often need help reviewing or repairing their devices; so, this type of service is always in demand.
Educate the business of the hobby
If you are not only knowledgeable about your skill but also are aware of the basics of business and promotion, you might want to share your expertise with others. There are lots of people looking to make money out of their hobbies, but they don't know how to get started.
Consider creating a blog, writing an e-book or publish a book sharing the secrets of turning hobby into a business. Great, if you share the findings from your own experience.
The above ideas can be used both as the short-term way to make extra cash while your business is growing and as a full-time career options. Whatever you choose, be sure to start with creating a plan and accessing your skills as well as the potential for business.
Step 4. Correct your plan along the way
As they say, little business plans pass the reality test. If you don't have an experience setting up a business, you'll unlikely evaluate the required investment incorrectly, miss out on some critical elements or determine your target audience wrong.
That's totally okay. Still, you need to keep your hand on the pulse and make changes into the plan. Maybe, a few months later you'll want to switch from selling homemade cakes to being a chef in a restaurant. As long as you do what you love, there are many exciting opportunities to develop professionally. At least, you won't have to invent the weird reasons to skip work.
Are you ready to make the first step?
Setting up a business or changing career takes confidence, passion and hard work. We believe that the plan above will help you step out of the comfort zone and pursue a career you will love.
Need a new resume tailored for different career field? Our resume experts will highlight your transferrable skills and potential for growth in a new industry. We provide original resumes for any industry and career level. To find out more about services and prices, see here.
Are you happy with your current job?
The decision to transform your passion into a business is bold. And if you want to succeed in it, please, consider all the possible threats and issues. You might never face them; still, this analysis will help you get prepared for potential problems.
A wrong  business idea — a lack of demand
When it is just a hobby, you might mistakenly think that your product is in demand. For example, you make wooden toys and give them to some relatives and friends from time to time. Say, last year you created about one hundred items. When it comes to a real business, such sale numbers can be extremely low.
Without a well-thought-out business model, it is impossible to evaluate if you will have enough income. It is one thing when you do it just for fun. And profitable business is quite another matter.
Economic risks for the company
The economical situation on the market influences both expenses and expenses. Of course, an unstable or unfavorable environment makes a negative impact on your brand development and complicates the process of planning long-term goals. It deals with both world and local levels.
When your hobby is not a side hustle anymore, and you have to earn a living with its help, such issues must be well thought out.
Professional burnout
Most people rarely think about psychological issues when turning a hobby into a real full-time job or business. In fact, one can encounter disappointments in this situation. It is because a hobby turns into a day job. You will have to deal with routine tasks: planning, meetings, advertising, setting business networks, development, etc. Thus, you will have less time for creativity.
Professional advice from our expert: Please, note that turning new ideas into reality takes time and effort. Get ready to solve financial issues and organizational matters. If such a new career in the sphere of management does not interest you, find someone to delegate these tasks.
Summing up: A short guide on how to build a new business
1) Discover your target audience
The market research begins with the analysis of your potential customers. Figure out if your goods or services interest someone. What is more, research how many customers are ready to pay for your product. Your further strategy must focus on their needs, preferences, and issues.
2) Calculate your business plan
Long story short, if you want to start selling something, you need to calculate your profit. When it deals with serious jobs, you cannot risk your money. In comparison with a side gig, your business becomes the main source of income.
The core steps:
decide on your product;
research your market (fill in a SWOT table);
search for an optimal distribution system;
make all the necessary financial calculations.
Do not know how to compose a business plan? Please, turn to our experts. Apart from resume writers, we also have career coaches, marketers, and researchers. Our team has unlimited access to helpful resources. We pursue the quality of our work, so one can count on professional career tips and well-considered business plans here.
3) Register your business
Do not forget about the registration procedure. An official legitimate business is always a better idea than hidden schemes. Do not complicate your life. It is a matter of transparent partnership and honest reputation.
We contribute to your successful careers and businesses. Save time and order writing services here!
Popular Posts: