Why Purchasing a Resume Building Service Pays Off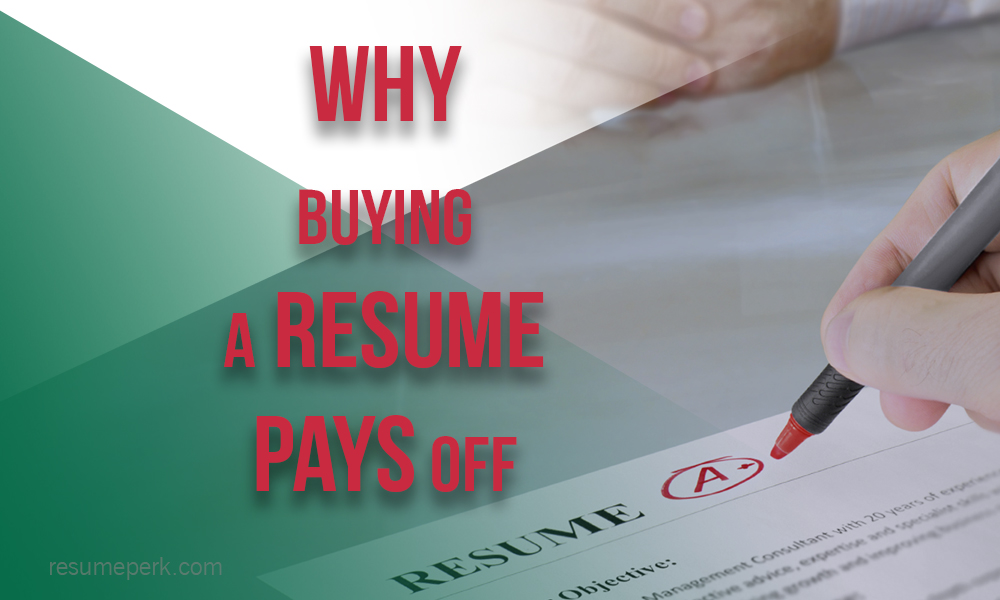 Various online resume builders have become highly popular these days. The possibility to insert your resume into a program and immediately get a brighter, perfectly formatted document attracts job-seekers worldwide. Creating your resume with such a builder is fast, cheap and gives your old resume a new professional makeover. However, such a resume is unlikely to increase your chances for the desired job.
Why? Resume builders only change the visual appearance of the document. Great design might really catch the hiring manager's eye and motivate them to read your resume more carefully. However, if your beautiful resume is full of grammar errors, weak statements and buzzwords such as "go-getter" and "team player", it will end up in "No" pile anyway.
So, how to position yourself effectively in a resume? Use an alternative to online software – professional resume help.
The difference between resume building services
Basically, there are two types of services for creating your resume. The first one is the above-mentioned resume software. Automated resume builders change the formatting and structure of your old resume without making any changes to the content. Yes, when you are only looking to make your resume brighter to post it online, online resume tools can be helpful. However, if you struggle getting interview calls, your resume might require a much serious rework.
 The second solution for resume problem is resume writing services. In companies like these, a skilled resume writer creates a completely new resume based on the interview or questionnaire. And that's exactly what we offer – a personalized assistance of the expert in resume and human resource spheres. The writer of our team will work with you as long as it takes to create a resume that meets your career requirements. You can also order to format your resume, and the editor with a degree in Journalism will eliminate all awkward wording, typos and grammar mistakes in your documents.
Also in this section:
Essential skills for career success
With an availability of resume builders for hire, you can relax and focus on your career development. The recipe for career success varies from industry to industry; nevertheless, there are a number of universal skills that are valued across various fields. So, if you are aimed at professional growth, here are the skills you'd better master:
Teamwork and collaboration
Employers are looking for team players as for most of office jobs the tasks are set for teams and you are expected to work productively on the shared project. Ability to discuss, collaborate and work towards the solution is sometimes valued more than the hard skills required for the role. Many of job-seekers claim on their resumes that they are "effective team players", however, if you really are, it's better to provide the evidence – mention the projects you've completed as a part of the team or the results you've gained.
If you can't figure out which style of work fits you better – teamwork or individual work, you might find the answer here.
Adaptability
When you get hired for the new job, it takes you weeks or months to adapt to the new conditions, leadership style, organizational rules and more. However, if you want to succeed, your willingness to learn and adapt shouldn't stop after these months. Proactive individuals adapt naturally and develop their own solution for each unique case rather than act according to the instruction. Adaptability means responsiveness to the changing business needs and readiness to act accordingly to the new rules of the game. And, since the business conditions change quite often, those who are adaptable and thrive in new environment are the first to succeed at work.
Time management
In the fast-paced business environment, time is the main asset. The same works on the individual level – if you manage your time effectively, you're likely to accomplish more in less time and your career will progress. Effective time management starts small, from showing up for work on time every day to meeting deadlines and completing everything you've planned for the day without missing a thing. There are lots of tools to plan and organize your time – to-do lists, mind maps, notifications and time management apps for your smartphone. Moreover, by carefully planning and executing tasks you'll relieve yourself from stress caused by snowballing work and approaching deadlines.
Communication
The phrase "communication skills" often mentioned in job listings is so overused that it sounds like buzzword to many. Nevertheless, in the era of technology companies are in a growing need of employees who are great communicators. So, what exactly are the companies looking for? First, it's the ability to formulate your ideas and convey them in a way that is understandable for others, be it a co-worker, a company CEO or the outside vendor. Second, in includes speaking well in front of an audience, listening actively, and negotiating. It also goes without saying that you are expected to communicate on the phone and in writing effectively as well. This attribute is really important for many careers, so if communication isn't your strong point, consider taking courses or trainings.
Problem solving
The popular employers' attitude to reading your resume is "Don't tell me what you did – show me what you've done". Why? Because this is exactly what you are expected to do when hired – handle the company's business problems within your area of competency. When the problem arises, the best tactic is to come up with a solution (or several ones) rather than report that something went wrong. When you display a proactive approach to problems, you demonstrate your initiative and dedication to the business success. Try to set your mind for finding solutions for any obstacle you encounter, and soon it will become a habit and will help your career.
Has the prospective employer invited you for a group interview? Check out the group interview tips from resume builders online.
Leadership
Are you ready to take charge of your team while the boss is away? Are you willing to take on the extra responsibility which is outside of your traditional scope of work? Are you always there to guide new team members and offer an innovative solution to a problem? If you aren't, then you probably lack leadership skills.
Basically, leadership is about setting goals for your team and motivating people towards their completion. However, in the first place, leadership is about setting the high standards for yourself and willingness to take charge. Being a leader means setting an example rather than claiming and directing. Undoubtedly, if you demonstrate leadership skills on a new job, you'll secure yourself a faster promotion.
Leadership is closely connected with taking initiative – learn how to show initiative in the right way: http://resumeperk.com/blog/initiative-at-work-to-take-or-not-to-take.
Critical thinking
Like many other soft skills, critical thinking is hard to showcase until you find yourself in a certain life situation requiring you to display it. However, the ability to think critically is so important that the employers often put the candidates to the logical tests to measure it. Briefly speaking, critical thinking stands for the ability to collect data, interpret it and make the best decision with no personal bias.
This skill is highly valued because it influences other soft skills and your style of work in general. Those with developed critical thinking skill are often more confident, willing to collaborate with other effectively and make better business decision. To develop critical thinking, set up the habit of making grounded decisions and seeing the potential for improving things in your everyday life.
Conflict resolution
Conflicts are the essential part of any working process. When there's a conflict of interest or a dispute over an idea or certain situation, it's not always possible to put your tempo under control. If not handled timely, conflicts can interfere with the pace of work and reduce productivity. Since managers are often too busy to handle any disagreement over there, employers always value people who can step in as a mediator and resolve the conflict proactively. If you can listen to both side without bias and work with them to come up to a constructive solution, be sure to mention that on your resume. Conflict resolution skill will add you extra points.
Accepting criticism
At work, you learn from practice and broaden your expertise naturally as you handle more difficult tasks. Taking feedback or criticism plays a key role in this process. Whether you have a mentor or a more experienced co-worker gives you an opinion about how you could do better, it's important not to get defensive and not to take criticism personally. People criticizing your work give you a chance to correct your mistakes early on and to perform better, and taking this feedback correctly and with gratitude eventually helps your both career and personal development.
Don't know how to accept criticism in the right way? See here: http://resumeperk.com/blog/effective-ways-to-face-criticism-at-the-workplace.
Openness to diversity
The world's leading employers appreciate diversity. Therefore, if you are looking to work for a big company, you'll likely face the co-workers with different national, religious and ethnical background. These differences cause different approach to work, working styles, personal values and many more. If you are aiming for the leadership role in the future, you need to accept and respect these differences, developing the ability to collaborate productively with co-workers regardless of their values and background.
As you can see above, the soft skills prevail in the list of in-demand qualities at the modern workplace. It's not surprising, though – in the world influenced by technology professionals who can effectively collaborate in professional settings and are self-motivated are always in demand. If you are looking to give your career a head start and take a leadership role in the future, see the above skills as your primary areas for growth.
Get your resume improved professionally
Whether you are looking for available resume proofreading or need a brand new resume to impress the potential employer with your skills and achievements, we're here to help. Unlike popular resume software, we provide personalized help from experienced resume writers who will build an original resume for you. Your resume will be written from scratch according to the recent hiring trends and your requirements. Interested? Learn more about our services and prices or contact us via live chat for immediate assistance.
Popular Posts: